Farmhouse homes have become the most popular home style for years now, and the style is here to stay! Let's be honest, farmhouses never really "left", they are a classic style that is beautiful and functional. But now, you don't need several acres and a chicken coop to achieve that typical farmhouse style.
Here are 16 farmhouse DIY's for home décor that work just about anywhere. Some of these projects take a few clicks on Amazon while others give you a project to accomplish this weekend.
#1 Cozy Textures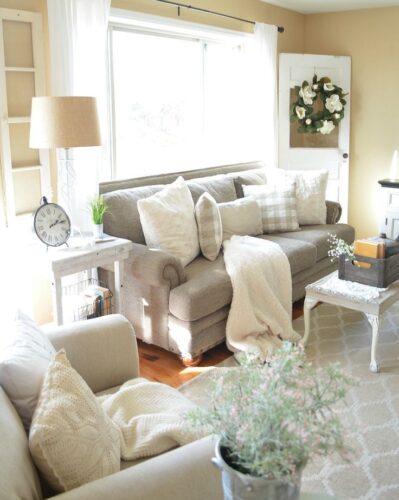 The first step to creating a farmhouse look is to add throw pillows. Pillows, rugs, and blankets all add cozy textures that are quintessential farmhouse elements. Creams, white, grays or pale blue or green are common farmhouse colors.
#2 Painted Furniture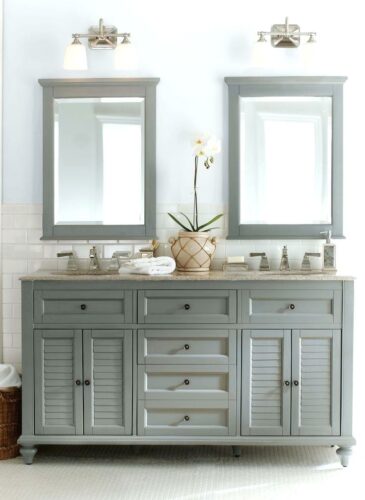 Painted furniture is a quintessential farmhouse element. It doesn't take a lot of time or money to transform just about any piece of furniture you already have into a farmhouse staple. Whitewash, antiqued styles or solid neutral colors are often best to achieve the look. I have several articles about how to get each of these different looks. You can find them here:
#3 Warm Wood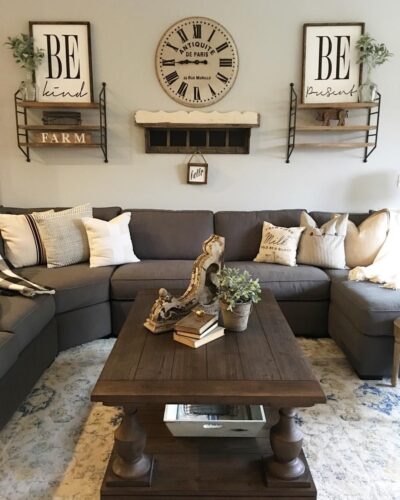 Wood is one of my favorite aspects of a farmhouse look. Now, adding large beams to your house isn't for the faint of heart, or cost efficient, but adding accent wood throughout your home is easier than you think. Wooden shelves or accent furniture bring warmth against the other white or gray, cool feeling farmhouse decor.
#4 Window Trim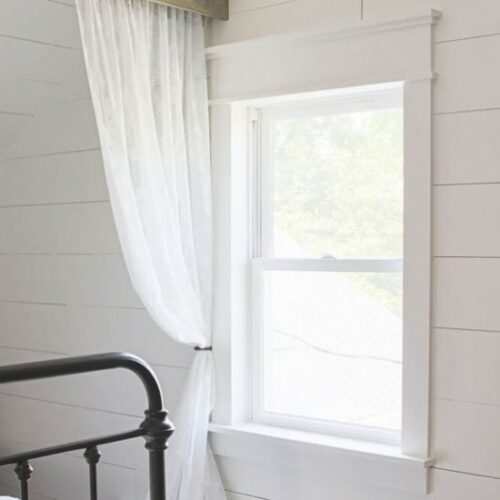 Farmhouse window trim is a great way to accent your home without a lot of effort. It's simple to do, and makes a big impact. *****Here is a tutorial to give you step by step instructions on how to build them yourself. You will need a table saw or a chop saw, and a trip to your local hardware store.
#5 Simple Frames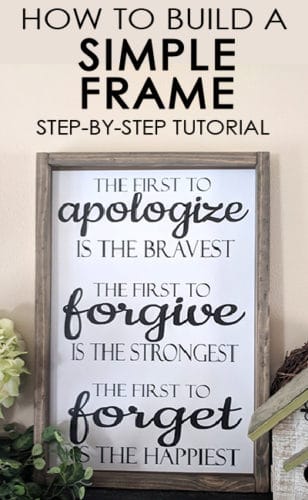 This is one of my all-time favorite DIY farmhouse projects! Thin wooden frames! These frames are also super easy to make. You can stain them any tone you want, and create them any size. Large frames, chunky horizontal frames or small squares are great farmhouse looks. Find a print you like, there are a few thousand on Pinterest to make your life easier.
#6 Open shelving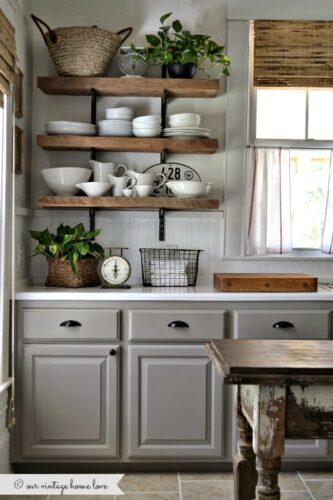 This type of shelving is a quintessential farmhouse project. Can you believe these shelves are created with just a few pieces of wood from Home Depot? You can find the metal shelf anchors as well as the wood slabs all in one place!
#7 Framed Mirror

Don't forget the other areas of the home like bathrooms. Framing the mirror can make a big impact and take a cookie-cutter bathroom to custom in less than a day. The frame can be wooden or white, bought, or created yourself. If you are framing your own mirror, use Mirror Adhesive to adhere the wood to your mirror.
#8 Blanket Stand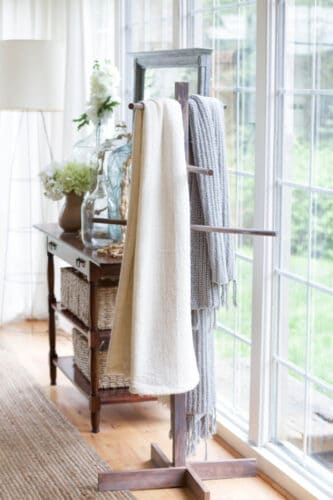 The blanket rack is a regular stapel in every farmhouse. It's functional, and beautiful, with endless versatility. These blanket stands incorporate the warmth of the wood with the cozy texture of the fabric. If you don't have time to make one- you can buy one on Amazon, there are several different styles.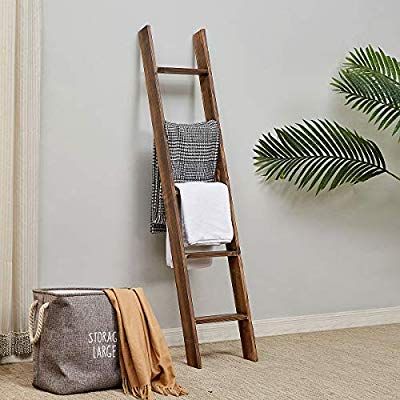 #9 Metal Lights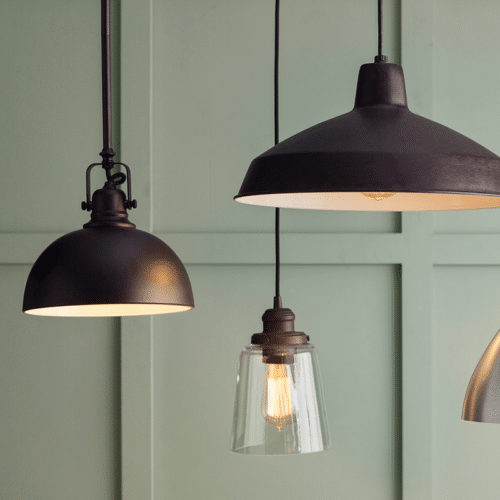 Even light fixtures can take on a farmhouse style by using chicken wire as a replacement for your typical overhead lighting. Here is a tutorial to make this light fixture! http://www.thewoodgraincottage.com/2013/09/05/laundry-room-farmhouse-light/
#10 Galvanized Anything
This repurposed galvanized side table is an awesome idea, but a lot of us don't' have any galvanized barrels laying around. Luckily, they do make galvanized metal spray paint! If you don't have room for a side table, you can spray paint a vase, a clock, or shelves.
#11 Bench Table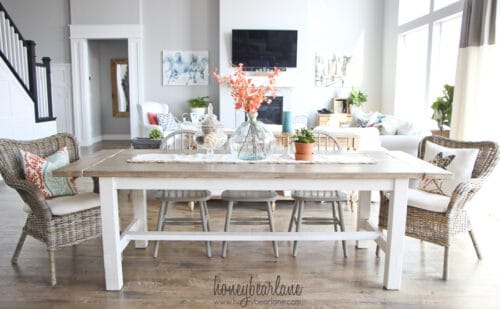 You can't have a farmhouse without a farm kitchen table. I love this farmhouse DIY project, especially the oversized wicker chairs at the ends. Great job honeybearlane!
#12 Display Dishes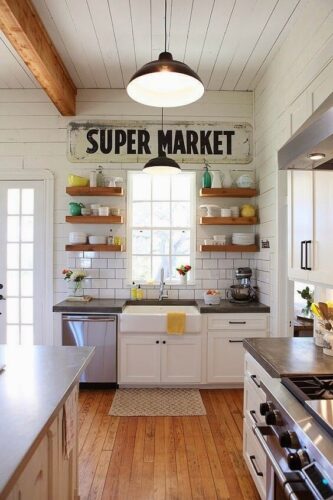 Farmhouse owners value function over beauty, and often kept mugs, close at hand for convenience. Today though you can combine function and beauty to create a perfect addition to the kitchen. Add a hanging mug holder under a kitchen cabinet, or display dishes on open shelving, or the corner of your kitchen counter. White dishes, or white and blue dishes are common, but this is where you can add a bit of color if you'd like. Grab that rooster plate and display it for all to see!
#13 Organizer Cubbies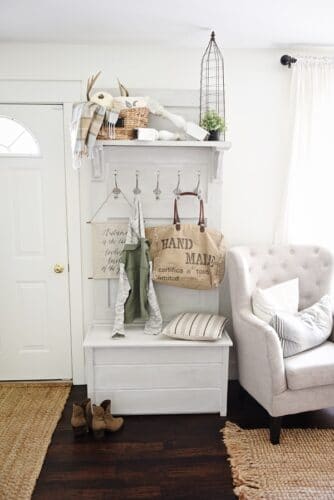 A white hall tree is another wonderful way to bring a farmhouse element to your space. I love this idea and it works perfectly in a small entryway, mudroom, or laundry room. Thank you lizmarie for sharing your cute idea!
#14 Chalkboard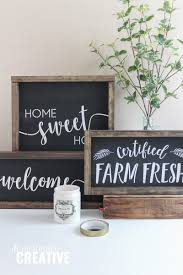 Chalkboard are a great way to add personalized decor to your home. Many home owners will rotate their chalkboard drawings with the season of the year. You can have a quote of the month that you enjoy reading as you eat your breakfast. Chalkboards can also be used for calendars, menu planners!
#15 Cake Stands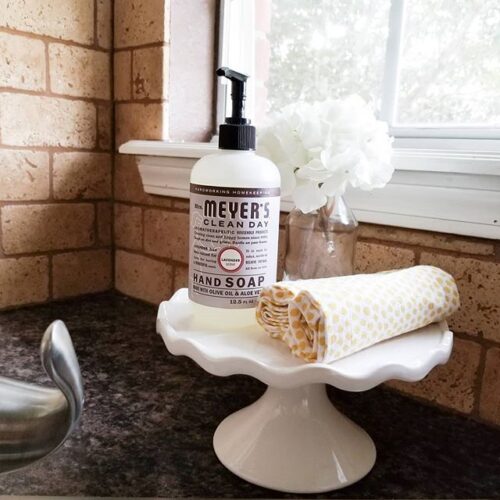 Cake stands aren't just for cake anymore, or even sweets! They make a great place to store and use a variety of items, like soap and towels, fresh fruit, or colorful plates and bowls. They add height and variety to texture, that each kitchen and bathroom need.
#16 Bring Nature In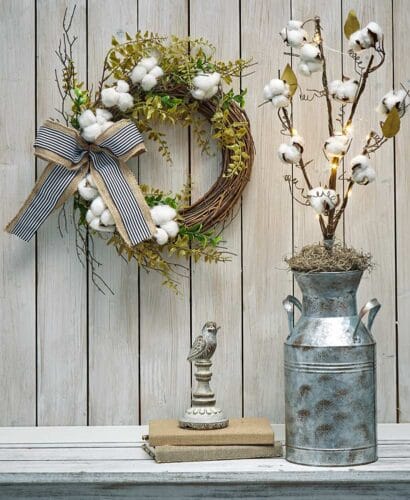 Nature always has an important role in the farmhouse. Green plants or moss balls placed here and there add a pop of the outdoors. However, it doesn't always have to be green. I love using cotton branches as a natural element in any room.
Love these farmhouse DIY projects? Share a pin with a friend!