I am so excited for you to learn how to build a simple frame for your home!  Once you make them, you will be surprised at how easy they are, and like me, you may start framing everything you have.  I love these simple frames because they give a simple farmhouse fill to any home decor and they are easy to make!
Did I mention that they inexpensive to make? $3 folks for this large frame! So shall we begin?  You can get all the following supplies at your local hardware store, or if you are handy, most you will already own.
 ¼" Fiberboard – $1.50

1×1" board-$ .98 -My Lowes only had 2" so I split it with a table saw to make it 1" wide   

 Stain or paint -I used one I had on hand, "Classic Gray 271" by Minwax

 Table saw or Chop saw- If you don't have one of these, you can bring your dimensions to Lowes or Home Depot and they will cut it for you!

 Staple gun, or penny nails

Quote or picture- I have included a FREE image of my quote
The first thing you want to do is plan what you will be framing.  This tutorial works for any size, so make it custom to your needs. I once made a series of 6″x 6″ square frames for individual photos.  It is the same process.
For this project, I wanted to frame a 12×16 quote I had printed.  
Use the fiberboard to measure out your opening area of the frame.  Adding 1 inch to the top and 1 inch to the bottom, for a total of 2 extra inches vertically.  Add 2 extra inches sideways as well. For my quote, the fiberboard was cut to 14×18.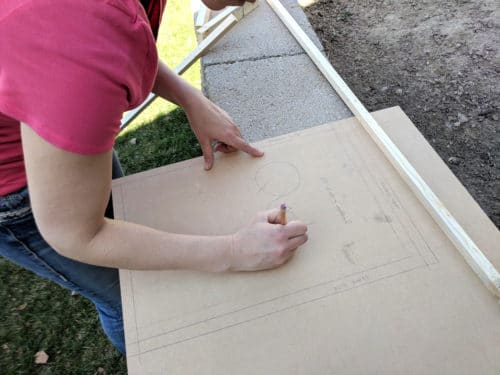 You can double check the measurements by laying the photograph or quote down with the framed boards next to it.  "Measure twice, cut once" right? Making sure the frame edges are cut to the right length will give you beautiful 90-degree angles on your frame.
Once you have your fiberboard mapped out, use a table saw or chop saw to cut it.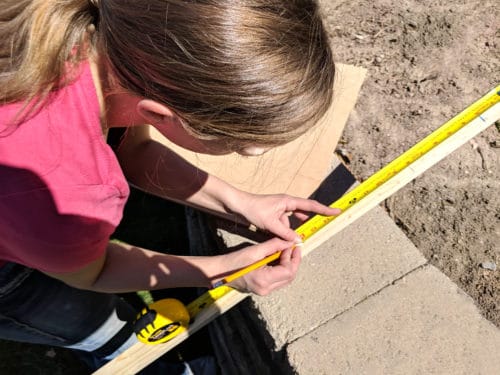 Next, we will build the 4-sided frame.  Measure how long you will need your frame edges on the sides.  You will need two side pieces that measure from the top of the fiberboard to the bottom (18" for my quote).  Your horizontal pieces will be 2" shorter than the width of the frame so they nestle in between the sides of the frame nicely.  Cut the top pieces.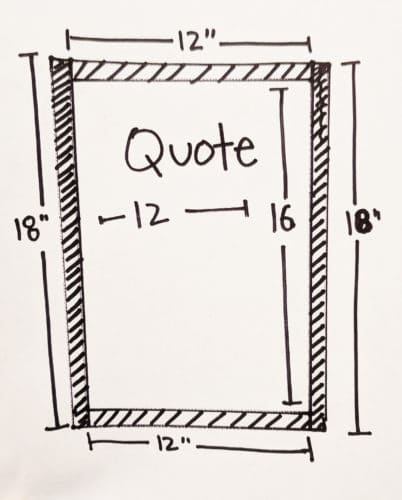 I like to stain my pieces before I assemble them so that I don't have darker corners where the stain tends to pool.  I used Minwax "Classic Grey". You can also paint or whitewash your pieces. Don't forget to stain or paint the outer edge of your fiberboard as well.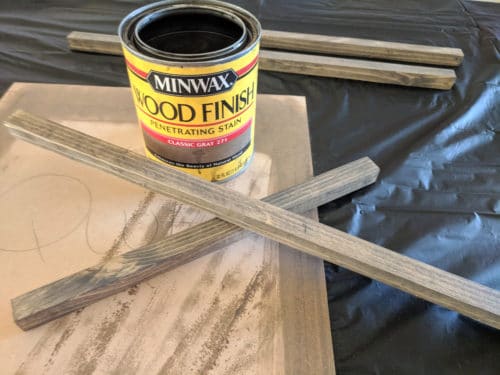 Lay out your frame edges on the fiberboard once everything is dry to visualize which pieces go where.  
Grab your staple gun and at a 90-degree angle staple a horizontal and vertical piece together, making an L shape.   Do this again with the other set. Then staple your two L's together to form your rectangle frame. This technique puts the staples on the edges, and not on the front of your frame.
Attach the fiberboard backing to your frame with additional staples on the back. Seriously it is that easy.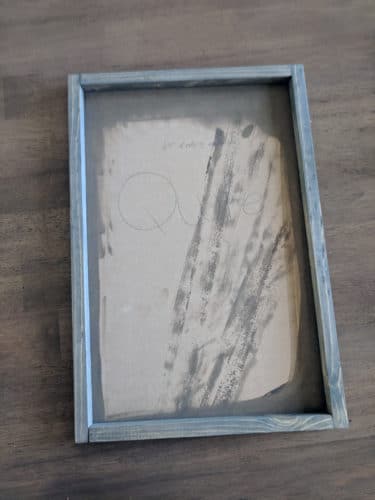 Glue in your quote or image, and stand back and remind yourself how awesome you are.  You totally made a beautiful frame and saved money! Don't you feel empowered? I love, creating something out of nothing.  Now you know how to build a frame!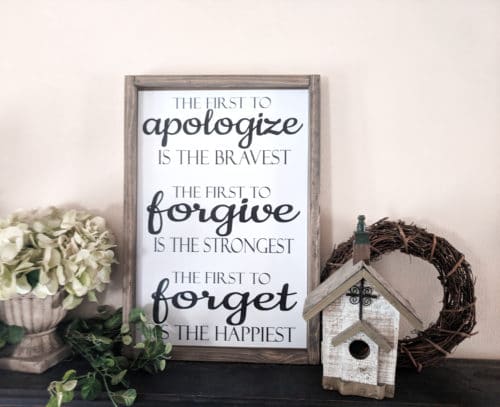 Here is another example of this same tutorial in a square shape frame.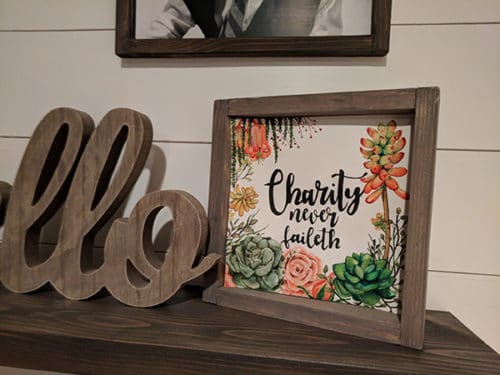 If you are ready to make your own, below is a FREE JPEG of my latest favorite quote.  I have 3 boys, and this quote is something I want them to see every day in our home.   
Don't you love the message in this quote?
I wish you the best of luck on your framing project and would love to see what you have framed.  Comment below any questions or success stories!