You're not in love with your kitchen cabinets, are you? You see them everyday, and they are just blah. New color? New style? Remodeling is expensive. If you want to give your kitchen cabinets a facelift without the cost and hassle of tearing out your cabinets, here are some great options for you. Upgrade your existing kitchen cabinets with a little DIYer knowledge.
Paint -With paint you have lots of options. You can use chalk paint, latex paint, milk paint or even go with lacquer or an oil based paint. You can do a shiny, sleek finish or a rustic, distressed finish. You'll want to remove the cabinet doors and hinges before painting each door.
You'll also need to mask off the areas around the cabinets in your kitchen, before you paint. This is a low cost option. You'll only need the cost of the paint, primer and painting supplies.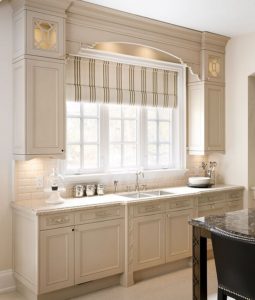 Cabinet Refacing – With this option, you can visit your local hardware store and actually replace the doors of your kitchen cabinets. You then will need to apply a new layer of veneer over the existing cabinetry that will perfectly match the new doors and drawers. This can be an expensive process, but not nearly as expensive as a full tear out and replace project. It would also be less time consuming that a full remodel.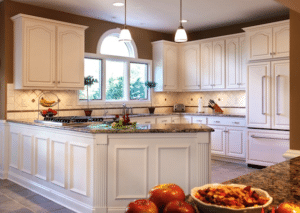 Re-stain/Refinish – This option might save a little more time and money compared to painting. The process would entail sanding the cabinets, cleaning them thoroughly, staining them completely until you are satisfied with the color, then applying a clear coat over them. This is also a job that might be able to be completed a little here and a little there, one cabinet door at a time if needed.
Refinished kitchen cabinets can improve the whole look of a kitchen. Don't forget also, that you can add new hardware to the doors and drawers to enhance the new look. Check out the following article for more info: 6 Kitchen Cabinet Painting Tips & Tutorials.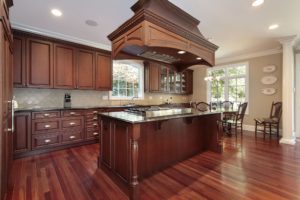 For more details on how to paint your cabinets read here: Mistakes People Make When Painting Kitchen Cabinets to see what others have done check out this article: 30 Kitchen Cabinet Tips & Tricks