I've had a few inquiries from followers of my site asking for tips on painting kitchen cabinets.  A new coat of paint on your cabinets can make the entire kitchen have a face lift.  With all the great new colors and DIY tutorials it is no wonder why painting kitchen cabinets is becoming popular.
Save money and do it yourself!  Here are some of the things I've done or seen people do that have caused headache for them later on.  Learning from others mistakes will help you have a successful paint job.
1. Not Removing Doors From Hinges
If you remove the cabinet doors from their hinges, then you won't have to worry about painting over the hinge or masking them off.  Sure you can just tape hinges over…that tip is all over pinterest, but they don't ever show you the final product.  For a professional finish take the 10 minutes to remove your hinges.   It gives your cabinets a much cleaner look.
Store the hardware and screws in baggies that are labeled for drawers and cupboards.  If want to repaint your hardware check out this article: How to Paint Knobs & Hardware.  And if you want to upgrade to new hardware research here: Choosing Hardware For Your Kitchen Cabinet Makeover.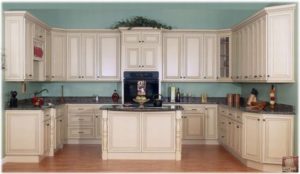 2.  Not Laying Doors Flat to Paint
The best way to spray or paint cabinet doors is to lay them flat on the ground – on top of an object.   You can use quart cans, jars, 5 gallon buckets or whatever you need to in order to get them off the ground.   I have used painter pyramid stands
to lift my projects up and they work wonderfully. Let each side dry completely before turning them over to do the other side.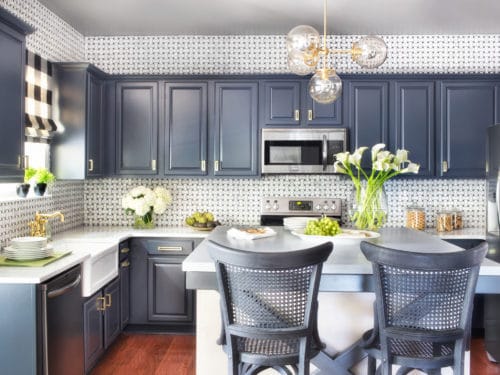 3. Failing to Prime First
Unless you are using chalk paint which doesn't require a primer, make sure that you prime your cabinets well before painting.  Kitchen cabinet painting is a major undertaking and not one I would want to have to do twice because of paint peeling.  I would use a good, oil based primer like Cover Stain, possibly even two coats.  (If  you are painting your cabinets white you MUST avoid oil paint, to prevent yellowing- use latex paint only).
Painting your kitchen cabinets is a big job, and one that you will look at EVERY. DAY.  If you want a smooth finish I would strongly encourage you to skip the brushes and use a paint sprayer for your job.  There are 50$ paint sprayers at Walmart that you can use, however, they require frequent refills,and with my experience drip paint and often get clogged.   This paint sprayer
will be an investment in any DIY projects, giving you a flawless finish, and saving you hours of work. Graco is the best company out there when it comes to paint sprayers.  Think about it.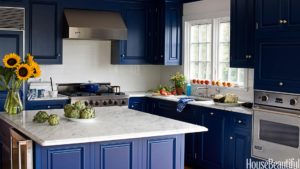 4. Forgetting a Clear Coat
I would do either a coat of wax if you are using chalk paint or a clear coat of satin finish polyurethane
 after you have finished painting.  Kitchen cabinets take a lot of abuse and any extra protection or durability you can add to your paint job will give you years more value from your work.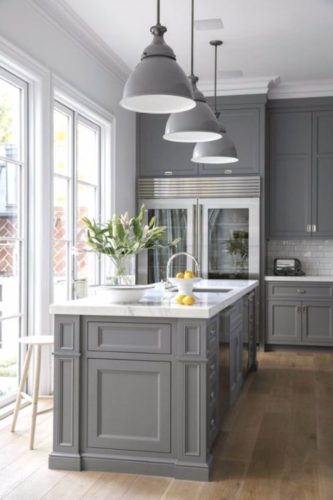 And as a bonus #5
Don't forget to wait for your cabinets to fully cure before you use them.  Your cabinets will feel dry to the touch in a few hours, and you will be tempted to finish the job by adding hardware and putting them to good use, however, painted wood doesn't cure, or harden fully for a few DAYS- I know, you don't want to wait, but for a non chip, perfectly perfect finish you need to wait!  You'll thank me later.  Good luck with your DIY cabinet project.  I'd love to hear how it goes in the comments below.
If you are ready to start your painting job research what type of paint to use: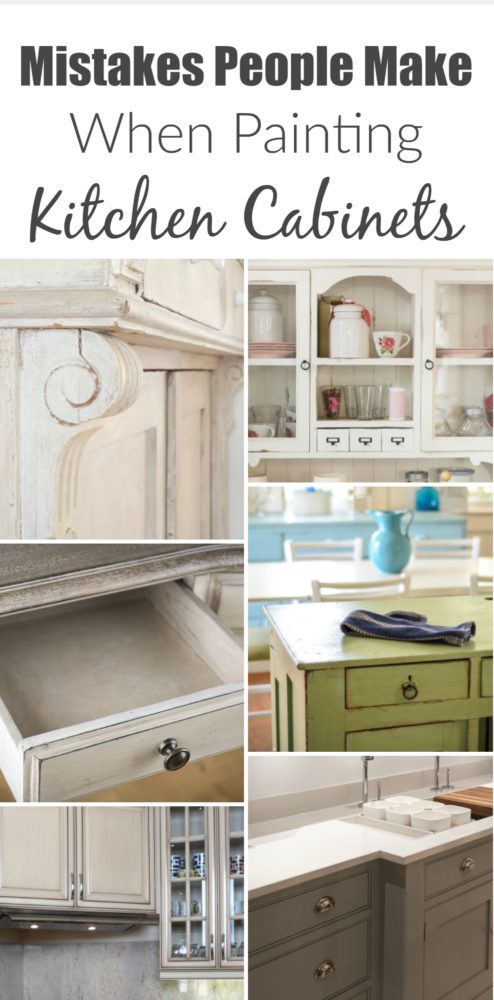 Types of Paint Best For Painting Kitchen Cabinets
(Visited 11,407 times, 629 visits today)