Whether you have a tiny counter in the corner or a gourmet space fit for a chef, the kitchen is the center of any home. Updating your kitchen breathes new life throughout your entire home.
Because cabinets take up more square footage than any other kitchen fixture, even small changes can make a big impact. Here are the best kitchen cabinet tricks and tips to update your home without a home major renovation.
     1-Paint is always a good way to update a kitchen without a lot of expense. Bright white, bold colors, or a popular two-toned look is a great option to bring life into the space.
     2-Task lighting gives a modern and elegant update to the kitchen and can be installed without a lot of hassle.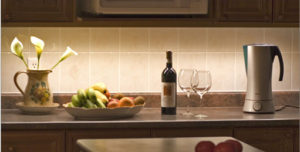 3-Remove the doors of the cabinets and allow the kitchen to breath a little more. Open shelving is a great way to embrace the farmhouse look.
    4- If open shelving isn't your style, swap out the doors and add glass in their place. It gives an elegant look and an updated style to outdated cabinets.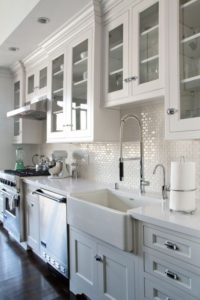 5-Roll-out shelving makes a kitchen so much easier to use, it is easily installed on your own and makes working in the kitchen a breeze!
    6- If you're looking to create a shabby chic, or farmhouse style kitchen, swap out the doors for chicken wire and unique hardware.
   7-  Crown molding around the top of the cabinets makes a beautiful statement and adds a finished look to standard contractor cabinets.
     8-Creating effective lid storage on your cabinet doors is a great way to make your current cabinets work better and more efficiently.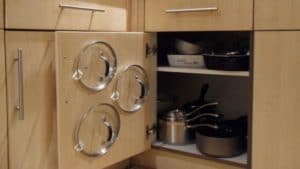 9- Add additional shelving to the doors of the spice cabinet to make it easier to find exactly what you're looking for.
  10-Swap out hardware for something new, modern, or unique. Without much time or effort you can make a big difference.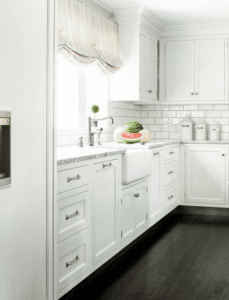 11-Create a colorful backdrop by painting just the inside of kitchen cabinets, this makes a big statement, especially if you remove the doors or replace them with glass.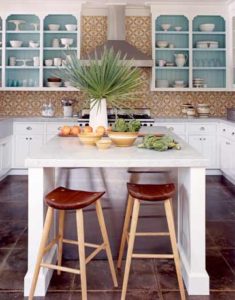 12-Under cabinet shelving creates additional storage without a kitchen remodel by storing twice as much in the space you already have.
  13-If your cabinets have good structural integrity, give them a facelift by replacing the doors, but not replacing the entire cabinet.
  14-Add a plate rack or other amenities to existing cabinets like a wine storage center or display shelves.
15- Custom paneling is a great way to update the look of your kitchen. Paneling can be added to cabinets and appliances to create a integrated look.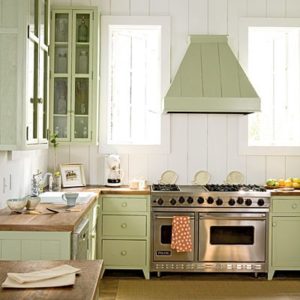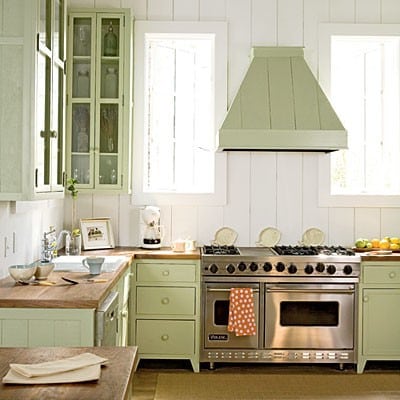 16-Rather than replace your current cabinets, extend cabinetry into adjacent living or dining rooms to add additional storage and enhance the space.
17- Add a dramatic accent by contrasting light-color cabinetry with a dark-stained cabinet or a multicolor tile backsplash.
  18-If you already have painted cabinets, consider adding stencil detailing for a completely custom look.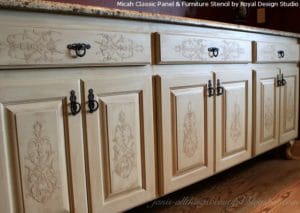 19- Add wallpaper in the back of your cabinets to integrate beautiful art into the kitchen and a nice pop of color
  20-A message center is a convenient kitchen upgrade that is easy to create and simple to use.
  21-Sometimes a kitchen cabinet makeover is as simple as cleaning everything out and giving your space a fresh start with organization and unique storage solutions.
  22-Distress what you already have to give your kitchen a new look. If you have stark white cabinets, try distressing them for a more vintage vibe.
  23-Homes with beautiful cabinetry work can still be updated with a fresh coat of stain that can bring back the brilliance in solid wood cabinets.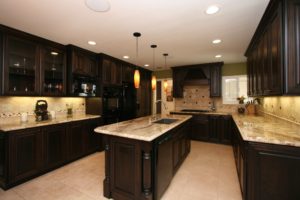 24- Consider installing new shelving above the windows in your kitchen, they make a great space to add updated decorative elements.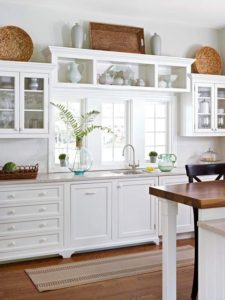 25-If painting the cabinets makes you cringe, consider painting the walls instead. A rich wall color can naturally enhance the existing elements in your kitchen.
  26-Chalkboard paint is a great way to update your current kitchen. Add it to the front panel of your drawers or pantry for a fun new look.
27- Add cozy elements to your kitchen with kitchen chair cushions, pillows, rugs, or curtains that add a bright color or pattern.
  28-Consider a unique backsplash that adds color, character, and style to your current space with tile, wood, or stone.
  29-Upgrade your accessories by adding beautiful décor, trays, pantry items, and other kitchen accessories to your countertops.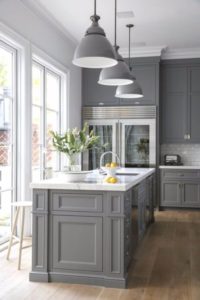 30-You may be surprised what a big difference a deep clean can make to existing cabinets. Scrub off the grease, dirt, dust, and grime to reveal true beauty underneath.  If your cabinets are wood, oil them for a new finished look.