You have laminate cabinets, welcome to the club! Most homes have laminate cupboards because they are cheaper than real wood. This shouldn't stop you from having beautiful cabinets. Repaint them and give them the look you have been dreaming about.
With a little bit of time your kitchen will look like a whole new room!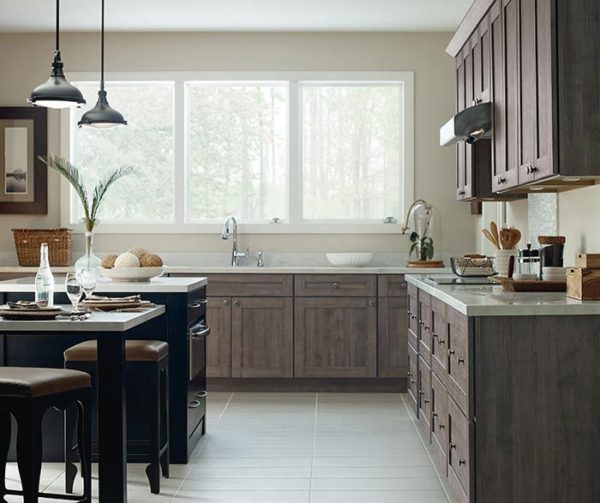 Painting laminate requires that a few things are done correctly or you will run into problems with paint chipping, peeling and generally not adhering to the surface. Please refer to my other articles about the general process of painting cabinets. (Links can be found below this article. )
1. Clean Thoroughly
Since laminate is basically plastic, sanding the surface of your cabinet doors is not an option, all it will do is scuff up the surface and make your surface bumpy. It's crucial to clean every crack and crevice of the cabinets thoroughly with Windex. That will cut through any grease or oil and wipe away any dust that might keep the primer from adhering to the surface.
Part of the cleaning process is preparing the surface to be painted. Fix any peeling laminate. You can so this using wood glue and clamping the area over night. You can also use a wood filler to fill any holes, or dings you may have.
Do this preparation at least the day before painting day to allow adequate drying time.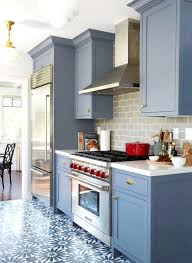 2. Primer is CRUCIAL
You MUST prime laminate. Primer will allow the smooth surface of laminate to grip the paint. Without primer, your paint will bubble up and not even adhere to your cabinets.
Primer can be brushed on. This is the cheapest step, however there are other options. Primer comes in spray paint cans. I always spray my primer for many reasons. Spray paint take a fraction of the time to apply. It also dries faster, so my project doesn't last all day. Spray paint also gives a smooth surface. You don't want to start your painting job with brush strokes.
I would recommend using Rust-Oleum Zinsser Spray primer 6 pack you can find this at your hardware store, however purchasing this 6 pack from Amazon will save you money if you are painting a large amount of cabinets, such as your entire kitchen.
Make sure that you spray far enough back that the paint won't build up and start dripping. Drips are a real pain to clean up. If a drip starts, just let it dry and then peel and sand it flat. Then, you'll need to lightly spray that area again. One coat of primer is fine.
Make sure you have 100% coverage over all the areas that will be painted. Let the primer dry thoroughly before applying paint. I would give it at least half a day to dry.
3. Apply at Least 2 Coats of Paint
Now it is painting time! Do the happy dance.
You can use any paint you would like to paint your cabinets – chalk paint, latex, milk paint, anything. Each kind of paint has strengths and weaknesses. For a more detailed guide to the best kinds of paint to use on cabinets, click here.
You can apply the paint using a roller, brush or a sprayer. Rollers are great because they are cheaper, and with floetrol and a smoothly textured roller, you can get a good looking finish. But it takes FOREVER.
If your time is worth saving, consider investing in a paint sprayer. I absolutely love mine! It cute the time of painting in half, and gives a superior smooth finish. This paint sprayer is a Graco- the best sprayer company out there (what I have). It is light, and small enough for home projects but durable enough to paint walls, dressers, chairs, tables. You may think you won't paint all those things, but over time and with one of these sprayer you will find reasons to paint furniture. If your see more painting projects in your future, buy one. It will save you so much time, and give a more professional look.
When painting or spraying remember, thin coats chip less often then thick coats. Kitchen cabinets are used everyday, and often by little people that slam them, climb on them, and pull them. These cabinets also need to be durable enough to clean- so do yourself a big favor and so three- four thin coats. It will be more durable than 2 thick coats.
If you want to stay away from a shiny finish, consider using chalk paint. Chalk paint gives a dull color with a soft finish. Check out this article for more info: What to Know About Painting Kitchen Cabinets With Chalk Paint

4. Apply a Clear Coat
I always recommend applying a clear, protective coat over the top of your paint job with cabinets. Like I said, kitchen cabinets take a lot of wear and tear and need to be cleaned often. I would recommend applying a polyurethane coat. Coat it with two thin coats. You can even sand between these coats to give your surface an even smoother feel.
Wax is a protective coat option, but need to be applied each year. With my experience, wax isn't as durable as polyurethane. I use a water-based polyurethane on all my projects, including my chalk paint. Wax traditionally is a chalk paint topcoat, because it keeps the matte finish. I prefer durability, and son't mind a shiny finish, so I keep using polyurethane.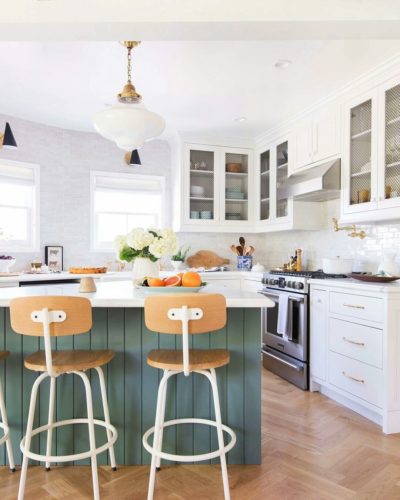 I hope this article has helped you learn how painting laminate is not only achievable but simple. This technique for cabinets is the same for any laminate furniture.
Painting your cabinets can give your kitchen or bathroom a whole new look. If you are looking to upgrade without the renovation price do it yourself and enjoy your new room!
Please refer to my other articles about painting cabinets for the general process of painting cabinets. Inspiring Kitchen Cabinet Makeover Ideas 6 Kitchen Cabinet Painting Tips &Tutorials and How is Painting Cabinets Different Than Painting Furniture?
If you loved this article- pin it for future use!