Painting kitchen cabinets, demands a high-quality paint that is durable and looks beautiful. Here we will discuss all the options of paint that will produce great results on kitchen cabinets. Remember you will see them every day and put a lot of wear and tear on them. The cheapest paint will not be the answer for this project. There is also no reason you need to buy the top of the line paint with all the bells and whistles.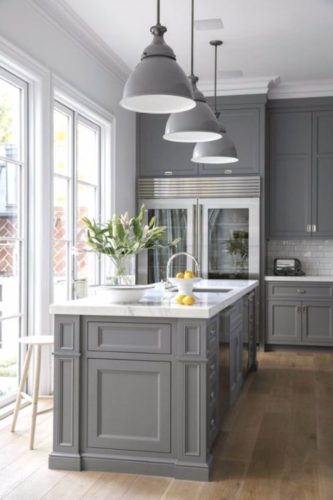 Before we get into specific types there are two things you need to do to make sure these paints all look beautiful.
#1- Prime
Prime your kitchen cabinets. Do not buy a primer/paint mix together. You need durable cabinets over all and that requires a separate primer. If you happen to purchase a paint that has primer in it, great. You still need to prime. Chalkpaint is the only paint that doesn't require a primer…I'll address that later.
Primers don't need to be expensive, and the brand really doesn't matter to much if the wood you are painting is bare. Kilz is sold at every hardware store and has good coverage.
If your cabinets have been stained, you will need a shellac primer to seal in the stain, and revent that from discoloring your cabinets. I always use Zinzzer primer shellac on stained wood. Even after I have sanded down the cabinets, I use this shellac.
Let the primer dry fully before you begin painting.

#2- Spray don't brush
No, put down the spray paint. Do not use any spray paint cans. Your cabinets need to be sprayed with canned paint. Brushing creates brush strokes, produces uneven coats, causes more mess, and takes FOREVER.
Local hardware stores rent sprayers at a reasonable price. Sprayers are easier to use than you think and come with detailed instructions. If you need more help, youtube is your friend. Not only will the sprayer give a flat smooth finish but save you hours of work.

Water or oil based paints? This is the question of all DIYers. Some argue that oil is better because it dries harder. This is true, but the smell and trouble working with it deters many homeowners. In some states repainting interiors with oil paint is actually against the law. Oil paints also tend to yellow, when painting white kitchen cabinets. For these reasons, I only use water-based paints.
The following paints for kitchen cabinet remodels are all water-based latex.

Sherwin Williams Pro-classic Interior Paint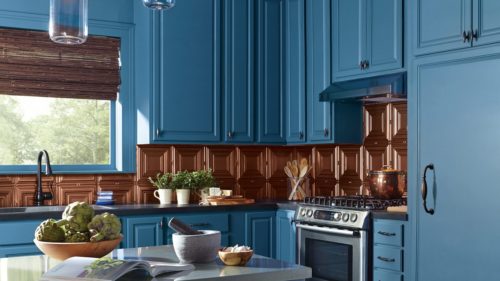 This paint brand is a high quality, durable paint with a nice finish that is definitely sturdy enough for kitchen cabinets. Sherwin Williams is a great brand, and if it had more locations near me I would choose it as my favorite. Choose a paint that is sold at a store near you. No matter how well I plan projects, there is always a dash for more paint. Sherwin Williams has great customer service and has hundreds of colors to choose from. Cost=$47 per Gallon
Manor Hall Interior Paint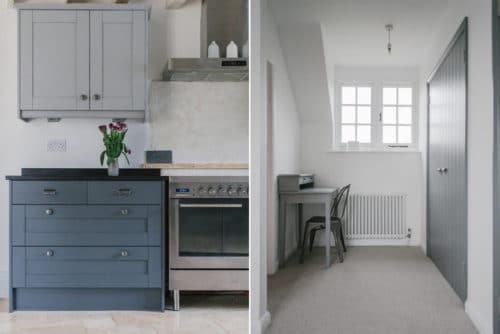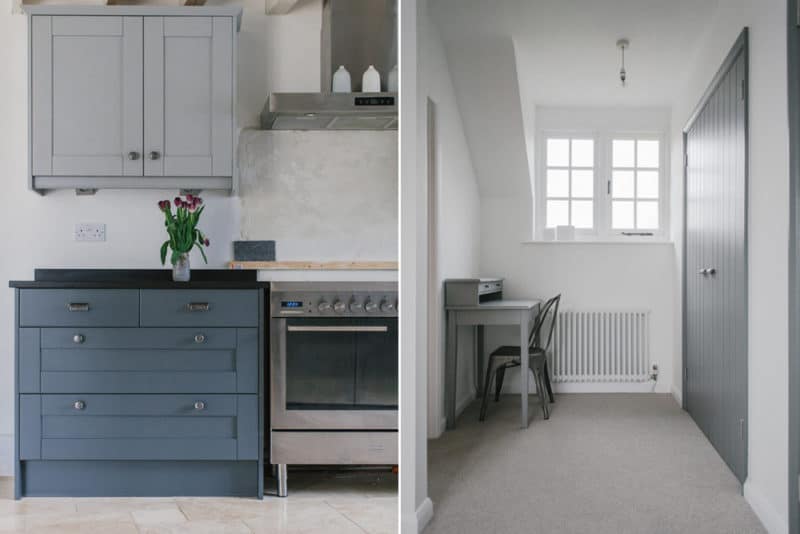 This paint is my staple product for painting furniture. It is very durable and definitely a good fit for doing kitchen cabinets. It is one of the best values, as one of the lowest prices and a high quality of paint. It is easy to clean, but requires several coats to get good coverage. Cost=$40 per gallon
Benjamin Moore's Advance Waterborne Interior Alkyd Paint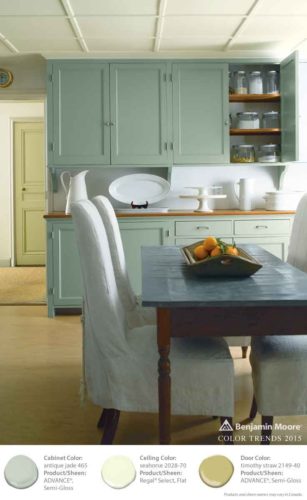 This paint acts much like an oil paint in it's durability, but is still a water based paint that is easy to clean up. This paint is slightly thicker that others, and can be difficult to apply. Many users have complained that this paint requires a longer cure time. You will need to wait about 16 hours between coats. For some, four weeks after painting, there was still a tacky finish. Once it hardens though, it is beautiful and durable. This paint has scored high in all cleaning tests, allowing homeowners to scrub away, without removing paint. Benjamin Moore touts that no top coat is required. Benjamin Moore offers Cost $56 per gallon
Pratt & Lambert Aquanamel Paint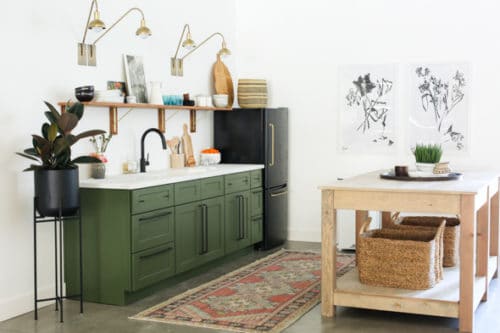 Pratt & Lambert makes a superior paints that gives true colors a beautiful, durable finish. This paint glides on smooth and is easy to work with. Coverage is well and requires fewer coats than other brands. This paint has a higher cost than others, but for good reason. There really are no cons for this paint. Cost $62
Annie Sloan Chalk Paint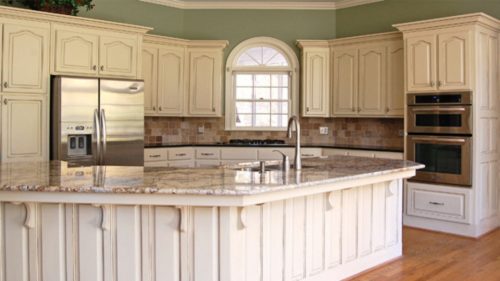 Annie Sloan paint is great because it doesn't require a primer, just a light sanding and start painting. Chalk paint has a matte finish naturally and requires a yearly wax top coat, or a poly sealer one time. The poly sealer will be much more durable, but will add a shine to your cabinets. Annie Sloan paint is the highest priced paint on this list. Cost $161 per gallon (sold only in liters)
You can add floetrol to any water- based paints, to give you a smoother finish. Floetrol also extends drying time, something many new painter thing is a bad thing, but the slower the drying time, the more time the paint has to go with gravity and lay flat.
If you are ready to begin your project, make sure you research Mistakes People Make When Painting Kitchen Cabinets so that your cabinets turn out beautiful!
Love these tips? Pin them!