Is chalk paint taking over your Pinterest feed and sneaking into your dreams at night? I know the feeling. It seems like every picture I click on in my feed is another example of gorgeous chalk paint.
Chalk paint has become so popular because of it's unique qualities. Chalk paint's best quality is the fact that there is no primer needed. The limestone in chalk give this paint an ability to grab at any surface, wood, laminate, plastic, etc. So repainting DIY home owners love the easy of just grabbing chalk paint.
Chalkpaint also has a matte finish. Interior decor designers have traded shiny in for flat. The unique chalky- finish is very flat and will not shine at all. Some people love this paint finish, others hate it. It really is up to personal taste.
I absolutely love the look and think it creates stunning furniture. However, before you start covering every surface in sight, there are a few important things to know before painting with chalk paint.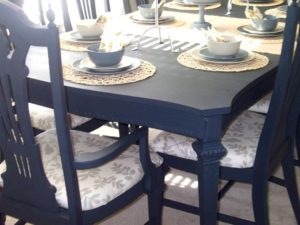 #5- It's not fast, but is simple.
Creating a beautiful piece of furniture with chalk paint requires several stages. There is painting, sealing, waxing, and buffing involved, which need drying time. Chalk paint can be applied to any surface, so skip priming! Be sure you have plenty of time and patience. Rome wasn't built in a day and neither is stunning furniture.
#4- It's not cheap
.
When compared with other basic latex paint, chalk paint might cause a little bit of sticker shock. Between $30-$45 per quart is significantly higher than regular paint. This makes chalk paint more of an investment, but it will definitely pay off in pride, beauty and durability. If you want to save more money, check out my recipe for chalk paint: DIY Furniture Paint Recipe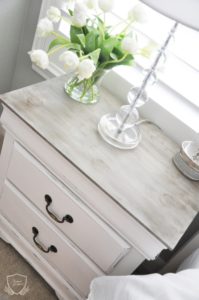 #3-Start out clean
.
Some of the best refinished pieces are those found in attic, garages, or antique stores. Unfortunately, these type of old pieces are also covered in decades of dust and dirt. Chalk paint doesn't require sanding or priming, (although I still do both of these thing) the surface needs to be as clean as possible. This means using plenty of soap, warm water, and a good scrub brush. After cleaning, you'll need to let the piece dry completely, which may take a couple of days.
#2- You'll need two coats, maybe three.
The miracle of chalk paint is that it is forgiving, and as it dries, brush strokes literally disappear. This gives you that smooth, matte, professional finish. However, you will most definitely need two coats of paint. This is usually sufficient, unless you have a dark spot you're trying to cover up when you might need three coats. Don't go overboard, more coats will not help the situation.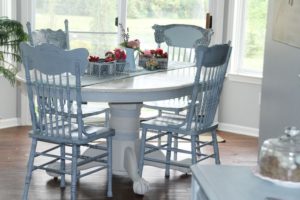 #1 – Don't skip the top coat
When working with latex paint, a polyurethane clear coat is optional. It's nice, but not required and most people skip it. With chalk paint, you don't want to skip the top coat step. There are two top coats you can use, wax or a polyurethane top coat.
If you are painting a side table, dressers then a wax coating seals the paint enough. Wax also enhances the color, and prevents chipping and peeling later. It comes out like Crisco and you massage it into the wood like you would grease a cookie sheet. Reapply the wax a few time a year to protect your piece. If you are painting high traffic items like a kitchen table, or cabinets the wax will not be sufficient. You need to add a lacquer or poly top coat. Give it 2-3 thin coats.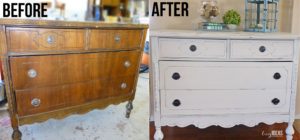 Chalk paint doesn't have to be intimidating. A lot of people think it is harder and more difficult to work with than latex paint, but I actually think it is easier in several aspects. Plus, I love the results, and you simply can't duplicate the look with plain old paint. if you know what to expect going in, the process is relatively easy and creates beautiful, seamless results that you won't get anywhere else. If you have any questions or comments, leave them below and I will get back to you!
Love this article?  Pin it to remember it!