Painted Furniture Ideas
One of the best ways to take a basic piece of painted furniture create a custom piece is to add an image. Add a beautiful image to a rustic crate, create a farmhouse sign out of basic wood, put vintage images to accent a side table, or even add your kids favorite characters to their bedroom furniture.
Adding an image to a tabletop or a dresser front takes a plain piece from "cute" to completely over-the-top amazing.
There are several ways to add an image to either natural or painted wood. You don't need to have any fancy materials or expensive supplies. Chances are you already have everything you need to create beautiful custom pieces.
Chalking
This method uses only a regular home printer, a few pieces of paper, a paint pen (or small paint brush), and chalk. Thanks to the website blockposters.com, you can blow up any image to any size and print it at home, using regular printer paper.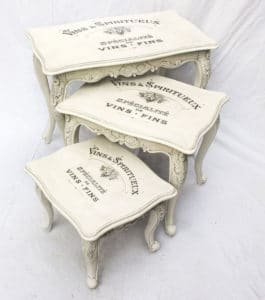 Once you print your image, you tape the papers together to form a poster-size image, then chalk the back, place it on the dresser, and rub the front to allow the chalk to transfer onto the furniture. Now you have an outline to trace with paint. It takes a little time and patience, but you can't argue with the professional results.
Gel Transfer Medium
This is a product recommended by The Graphics Fairy that you place on the back side of the image, place it on the furniture, and allow it to cure overnight. 1Gel by Heirloom Traditions Image Transfer and Decoupage All-in-One Gel
is an image transfer and decoupage solution in one, and works with images printed on regular paper from ink jet or laser printers.
Once the solution has cured, you wet everything down with water and wipe away the soaked paper, leaving only a clean and clear image on the surface. This is one of the best ways to get full color images and maintain their brightness.
Packing Tape Sticker
This is probably one of the fastest techniques if you're looking for something quick, but you must have a laser printer, this technique will not work with ink jet printers. It tends to work really well on glass, ceramic, or other very smooth surfaces. Simply print your image, trim it down, apply the packing tape and then rub the image with a burnisher, bone folder, or spoon.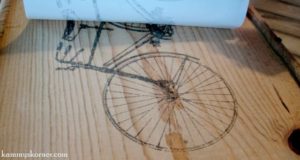 Soak the taped image in water to remove the paper, and once it dries, it adheres to your surface like a sticker.
Wax Paper
To use this technique, you need to reverse your image before you print it. This way it will print as a mirror image, making the transfer perfect. All you need to do is find the "flip/rotate" option in your Word processor or image software.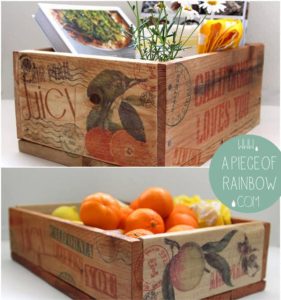 Then simply insert the wax paper into your printer and the image will print slightly wet. Work quickly to lay the wax paper on your wooden surface and use a burnisher, bone folder, or spoon to rub the image into the wood. You can use this same technique on freezer paper.
Mod Podge
Every self-respecting DIY-er has a bottle of Mod Podge laying around somewhere, now you can use for something new. Before you print your image, paint Elmer's glue on a piece of cardstock paper and let it dry. Then print your image on top of the dried glue.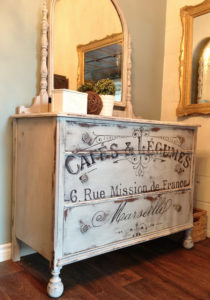 Paint the Mod Podge directly onto your wooden surface, and stick the image face down into the wet mod podge. Press it smooth and let it dry overnight. Once it's completely dry, soak the entire area in water to gently remove the paper and the glue revealing a perfectly transferred image.
If you need tips on painting that dresser check this article out: 3 Mistakes That Cause Chipped Paint