Is it okay to paint laminate furniture? It definitely is!  There are a few things you need to know before you start painting. Painting laminate furniture is a different process than painting wood, because you are basically painting over plastic. Here are a few tips before you start:
Laminate furniture isn't ideal to paint, however, if there was something I already have that needs a facelift, it's definitely much cheaper than buying new furniture.  You can tell a piece of furniture is laminate if you look closely and see that there is a thin coating on the outside that is made of plastic.  The piece won't be sand-able. Clean it really well, with Windex and make sure it's totally dry before you start painting.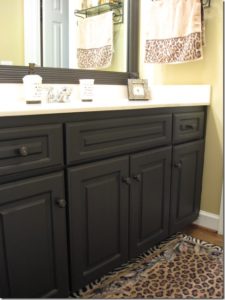 Sanding laminate furniture is different than with wood.  Instead of making the surface smoother, it adds friction so the paint will adhere.  Chalk paint is a great option for laminate projects because it requires no primer, or sanding to adhere.  If you can use chalk paint, skip sanding and priming steps!
I often use a shellac based Primer.  I recommend the BIN shellac based primer that's made by Rustoleum.  In my opinion, this is one of the stronger primers that adheres the best to pretty much every surface.  It also cures the fastest.  Avoid chips and scratches in the future by doing 2 coats of primer.
Continue to paint your project now the same as painting any other piece of furniture.  Make sure to do at least 2 coats or paint and a clear coat for extra durability, depending on what you are using the piece for.
Are you painting your kitchen?  Check out this article for detail tips: How to paint laminate cabinets