The factor that makes painting a kitchen table different than any other type of furniture is the fact that it is going have a lot of wear and tear on the surface.  It's important to choose a paint that is able to withstand that kind of wear and still retain a nice finish.  Meals, parties and afternoon conversations are all centered around the table.  Just think for a moment how often you use your table in a day.
To repaint a table could transform the whole feel of your kitchen. Learn what kitchen table paints will not only improve the look of your overall kitchen, but paints that will last years and years!
Lacquer
Lacquer is the best type of paint you can use on a table top as far as looks and durability.  You can apply it with a brush.  I usually apply it with a paint sprayer.  Lacquer can be tinted to match almost any color you can find. It might not be an exact match, but they can usually get pretty close.
Lacquer is an oil based paint that doesn't require a primer underneath.  Just sand and paint.  I would do 2-3 coats at least.  Since it's oil based, it will be pretty smelly and need mineral spirits to clean.  It cannot be cleaned with water unless you cover it with several coats of polyurethane.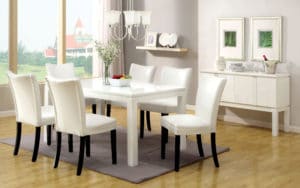 Enamel Paint
If you would rather use a water based paint on your table, I would go with a 100% acrylic or enamel paint.  These types of paints are much more durable than your typical latex paint.  If you do decide to use a water based paint, I would make sure to do at least 3-4 or more coats of clear coat on top of it for extra protection.
Give the paint a day or so to dry before adding the clear coat.  I would use Polycrylic or Polyurethane as a sealer.  For enamel paints I would recommend Benjamin Moore, Sherwin Williams or Pittsburgh's Manor Hall line.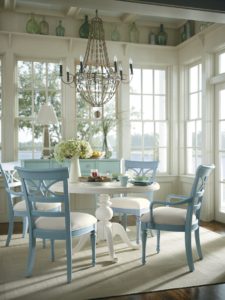 Annie Sloan Chalk Paint
ASCP is another great water based paint that I would recommend on a tabletop.  I would make sure to do 3 or more coats on the top.  With this type of paint, most people apply wax over the surface for durability and to get a nice sheen.  However, I have heard of people having trouble with hot plates and things melting the wax and ruining the surface.  So, you may want to consider clear coating with Polycrylic or Polyurethane instead.
I wish you the best of luck on your next project.  For more information check out these kitchen upgrades: Ways to Make Painting Kitchen Cabinets Easier or The 4 Biggest Mistakes People Make When Painting Their Kitchen Table