I've used quite a few different types of paint for a silver or metallic finish on the pieces I've worked on. There are some I like and some I don't like. Here are some paints I've used that I like.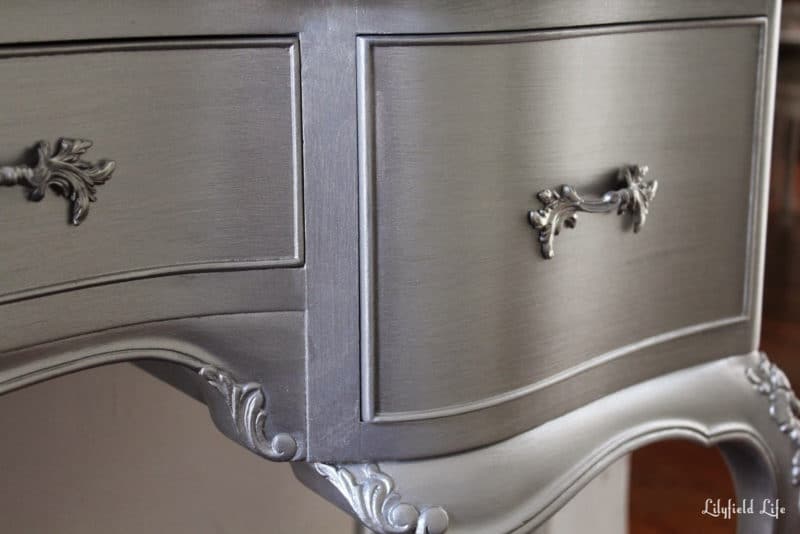 Martha Stewart's Metallic Paint Line
I have used several of her metallic paints on different pieces and I think they look really nice. Two of my favorites are Quayside and Silver Leaf. The silver leaf does come out looking a little more brass colored to me than silver colored, but I like it.
You can see a piece here How to Do a Tarnished Silver Finish- Tutorial that I used it on. Just know that these paints are pricey. You can't buy sample sizes either. Each quart is at least $22 a can. However on Amazon you can find Martha Stewart Metallic Spray Paint here for $6 a can
.

Rust-Oleum Metallic Paints
I really like Rust-Oleum for all my spray painting. It has a thick paint that comes out smooth everytime. They have several metal finishes however the a brushed nickel paint which is my favorite. The paint is not only the color of metal but the finish as well, inside the paint is micro sparkles that make your piece look truly metallic.
Remember to get a true metallic finish you need to do several thin coats. We don't want our metal finish dripping. You can find the Rust-Oleum Rubbed Bronze Metallic paint here
or check out other finishes such as gold and silver.

Metallic Glaze
Another option if you can't find the exact metallic color you are looking for is to do a metallic glaze (Martha Stewart has a good one) and do a metallic glaze on top of the paint color you want to use. That's a great way to give yourself some more color options.
For now, these are the brands I like. I have tried several other brands, but haven't been as happy with the finish or sheen once the paint dried. The other metallic paints I have tried looked a little too cheap looking, more like a cheap substitute than close to the real thing (a silver leaf or gold leaf finish).