Painted Furniture Ideas
There are a few different techniques you can use to give your painted furniture piece an antique look.  Here are 3 of the most common ways:
1. Paint – Distress – Stain–
This process involves doing the basic painting process and then using some kind of hand (not electric) sander to lightly sand the edges down to the wood in some areas.
Once this is done, you go over those parts that have exposed wood with a cotton cloth and wood stain.  Remember to wipe away the excess stain quickly and leave only what has soaked into the wood.  You can also do a final clear coat for extra protection.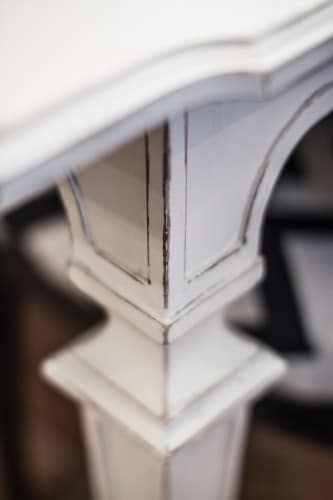 2. Paint – Dark Wax- 
Another technique is quite easy and popular for those who are using Annie Sloan's chalk paint.  This technique involves painting the piece as usual and then afterward rubbing on a dark tinted wax over the whole piece, especially the details and beveled edges.  Then, wipe away the dark wax so that it is mostly left in the cracks and crevices of the piece.
This is a great way to get an aged or antiqued look and this method doesn't require a clear coat afterward.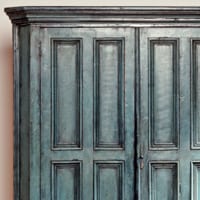 3. Paint – Dark Glaze
Similar to the antiqued technique listed before is the option of doing a dark glaze mixture after your normal paint job.  So, instead of wiping on dark wax, you would apply a glaze mixture that is half dark or black paint and half glaze mixture with a few drops of water added.
Remember that with glaze, it dries VERY quickly so you need to work fast to wipe away the excess glaze.  If you wait too long, you may have to go back and sand away the glaze and go over it again.
There are pros and cons to using each of these antiqued techniques.  The one that is probably easiest for you is one that you already have some experience with.