Brick is so popular in kitchens, family rooms and accent walls.  If you have old brick are looking for a way to update brick in your home you are at the right site. Here are different painting styles to upgrade brick easily.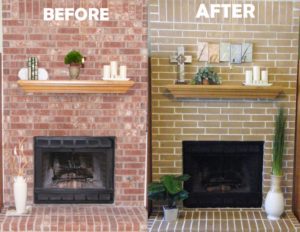 Solid Color Paint
You can just pick a color and paint it with a solid color with a brush.  I've done this before in a house we remodeled and I painted the brick white. If you want a solid color it will take a while to get all textured brick covered.  It looked well and went with the decor.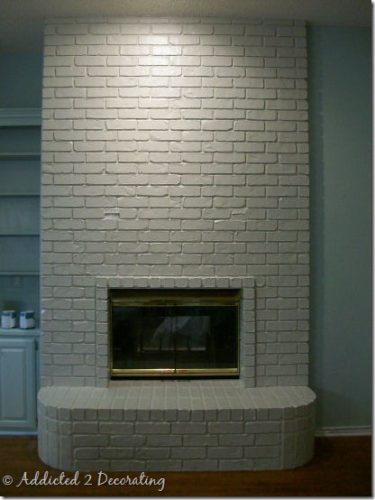 After experimenting with so many other styles of painting since then, I would go for another look that accentuates instead of covering up the texture of the bricks.  Let a darker color come through with a thinner coat of paint.
Don't be scared of using multiple paint tones.  I love the colors in this family room.  If you are painting around a functioning fireplace use heat resistant paint.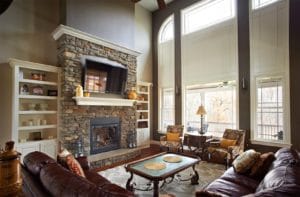 Whitewashing
With this technique, you would paint the bricks a solid color, but you would water down the paint first.  You can do a half and half mixture of paint and water, but actually, I would start with a small mixture of 3/4 water and 1/4 paint and slowly do small tests, adding a little more paint, until you get the transparency in the paint that you want.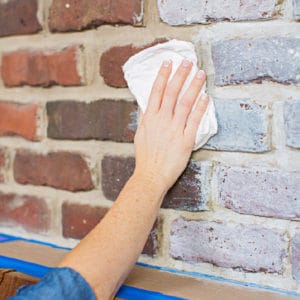 You can use regular latex wall paint (100% acrylic is best), I've used it before on brick and it turned out fine.  With brick, it's harder to remove the paint, so you want to start with more watered down paint and slowly add paint to your mixture than the other way around.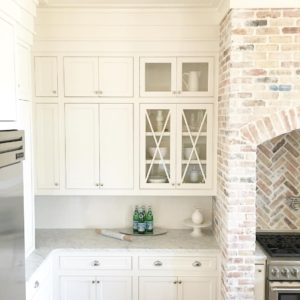 Two-Toned Look
You can also create more layers of color and depth to the look by painting the spaces between the bricks white and then painting the bricks themselves charcoal gray or any other color.  This could really make the bricks pop and add style to the room.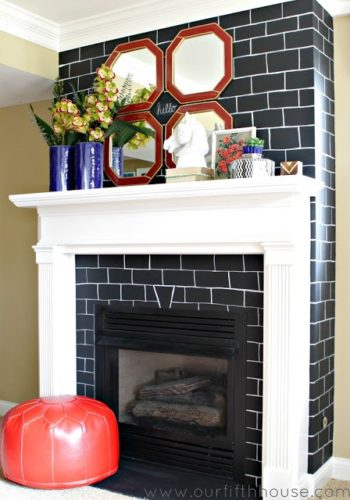 http://www.ourfifthhouse.com/ actually just painted a brick look, instead of actually painting bricks, but the look would still work painting actual bricks.  I love it!
Concrete Stain
Another option is to buy concrete stain and using your paintbrush, brush on a stain color over the bricks.  This can help bring the color back to life with old bricks.  Here is an example of how this can be done, from the wonderful www.askannamoseley.com.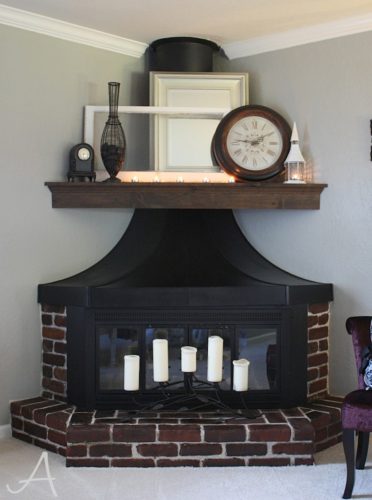 If you don't have brick you can paint faux brick!  Virginiahouse  used a regular $2 sponge that she dipped in red stain to get a naturally texture brick like stamp.