Spray painting is easy, fast and one of every DIY's favorite tool, but is best for only for certain types of furniture. Learn what types of furniture are best for spray painting, and what is not.
Kitchen tables, coffee tables, dressers and armoires, seem like good options for spray paint.  How wants to spend all that time with a roller?  People who want the furniture to look good.  With large furniture pieces put the can down and get out a bucket of paint.  Smaller, more detailed pieces, are perfect for spray paint.  Here is a list of the types of furniture pieces I think spray paint is most suited for:
With the smaller surface areas, it's easier to get an even finish. Furniture with legs and beveled detail, spray paint works better at getting an even finish over these areas.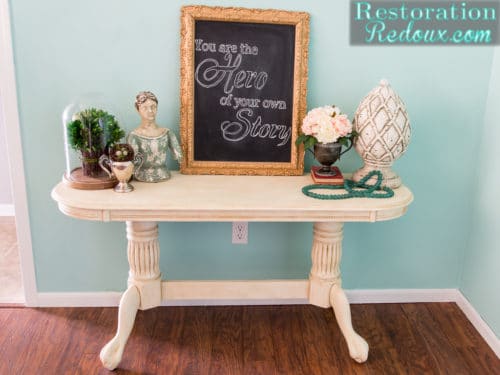 Nightstands – Nightstands are similar to small side tables, in that they have details the can gets to easier than a brush.  Nightstands usually have drawers and sides that will require.  Remember to tape of the drawers, behind the drawer front to prevent over spray.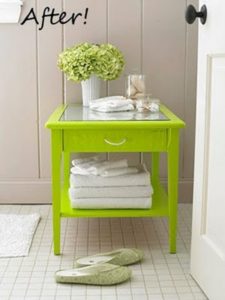 Bar stools – Barstools are ideal for spray painting!   Most of the surface areas are narrow, which is conducive to the 3″-5″ spray pattern that spray paint produces. Painting your barstools is an inexpensive way to add some color to your kitchen.  I have gone through several different colors on my barstools, because they are just so easy to paint.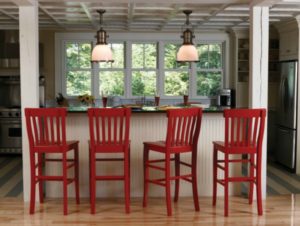 Chairs –Chairs also are mostly vertical legs and narrow surfaces, which are much easier to paint with spray paint than a brush. The paint dries fast to get an even layer, and you will not need to fight those darn drips that traditional paint gives on vertical objects.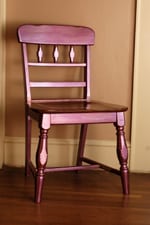 Small Console Tables – Tables usually  have legs and beveled detail, spray paint works better than a brush at getting an even finish over these areas.  The top of tables can still get a smooth finish, if you keep to the instructions of holding the can 8-12 inches away from your table with even strokes side to side.  Many thin coats is key with spray paint.  
You will run into problems with aerosol spray paint when doing large surface areas. In order to get an even finish, you really need to sand, which then requires a finish coat – another step than can often be skipped if you are using a professional paint sprayer.  I prefer a pro paint sprayer for pieces larger than the ones I listed here. Other items that are great for spray painting are: lamps, garbage cans, picture frames, rails, baskets, bottles, containers and much more… but, another article for another day!