Spray painting drawer fronts can be tricky.  I have a few tips that I have learned over the years.  Not only will painting drawers be easier, and faster but your drawers will still easily glide in and out, without paint build up.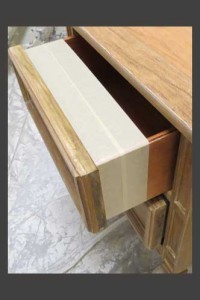 If you pull the drawers out, then you will need to mask the entire drawer, except the drawer front. Then, you will also have the added problem of spraying the inside of the dresser or piece, which can cause the drawers not to glide as easily.
The other tricky part about drawers is that you have to hit them from multiple angles without overlapping too much – or else the paint will run.  The best tricks I have found to spraying drawers, is to always keep the drawer inside the piece of furniture. Very rarely do I need to take it out.
For drawers that sink in past the frame of the furniture piece,  I do the first coat with the drawer sticking out.  Then after the first coat is dry, I push the drawer all the way in and spray the second coat that way, making sure to cover any exposed areas that were not painted during the first coat. I hope this simple tip helps you on your next project.