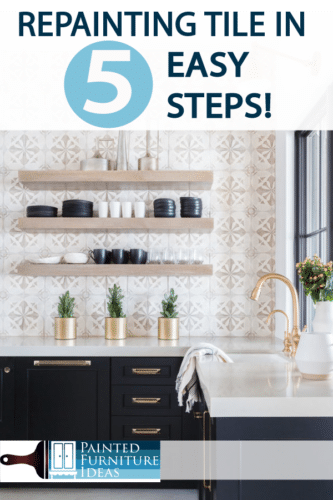 For years I had a pink tile, with gray grout. The grout didn't start gray, it was once white but over the years, millions of baby footprints stained the grout no matter how much I washed it…which wasn't very often because…cleaning grout…not fun. The old pink tile didn't thrill me either. It has a magic way of reflecting on my cream walls and making the whole room feel warm and sticky in a bad way. I am pretty sure it was the cheapest tile the previous home owner found.
Is your tile outdated?
Do you hate your tile flooring like me? Maybe you have dated kitchen tile backsplash. Or worse, a shower wall that is stained with who knows what…eww!
No matter where your tile is, this DIY repainting tile project will not only get rid of the old, but brings in the new! Repainting is easer and cheaper than retiling, and takes a lot less time! That is a win- win- win! I mean look at these great before and after photos!
Now before you begin you will need supplies. These can all be found at your local hardware store. You will need paint rollers (use the smoothest grade of roller), tile paint or flooring paint, and sandpaper or hand sander. Plan to not use the area you are painting for 48 hours.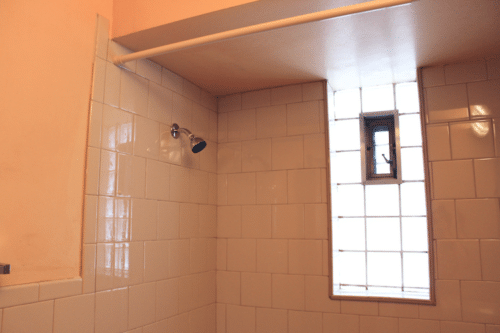 Step 1: Cleaning!
Clean your existing tile. Using a simple windex spray or warm water with soap. Make sure to get all the edges of the tile, especially if your tile is textured. Ir you are working on your floor, mop it on our hands and knees. A Swiffer, or general mop usually won't get it perfectly clean. Be patient and start this project on the right foot.
Dry the tiles completely. A simple towel will do the job.
Step 2: Sanding!
Sand your tile down. This can lightly be done, no need to take all day on it. You just need to sand enough to create a texture for the paint to adhere to. Use a hand sander to make this step go by quickly. Of course, the tile need to be wiped down again to remove all the dust from the sander. If your project is a floor, vacuum it up.
Step 3: Taping!
This will only take a few minutes. It insures a crisp edge to your painting, and prevents any accidental painting. You will want to tape around any toilets, outlets, trim, baseboard or countertops.
Step 4: Painting!
This is where it gets really fun. Choose a epoxy acrylic paint, such as this one offered by Rustoleum, for a porcelain finish. Rust-Oleum also has a "Home" line specifically for flooring. These rooms often have steam and more heat, and should only have a moisture resistant paint.
You won't use very much paint, even when applying multiple layers. One ½ gallon will be plenty. Use a brush to paint the grout lines, and a roller for the tile areas. The first coat should be thin! Don't worry if it is uneven at first, just keep rolling roll back and forth creating v or w's to prevent any hard lines. Allow to dry for 6 hours. Put your roller in a baggie to prevent it from drying during this time.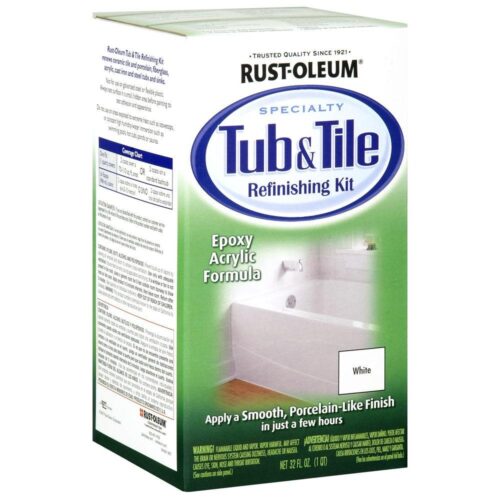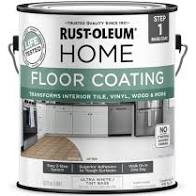 Apply a second coat, by painting the grout with a brush and then using the roller over the tiles.
Optional step: Stencil!
If you wanted to apply a stencil to your tile, this is the time. Lay the stencil down, using glue dots on the corners to keep it in place, and roll over your stencil. Lift and repeat. Allow this to dry 2 hours before you move on to the next step.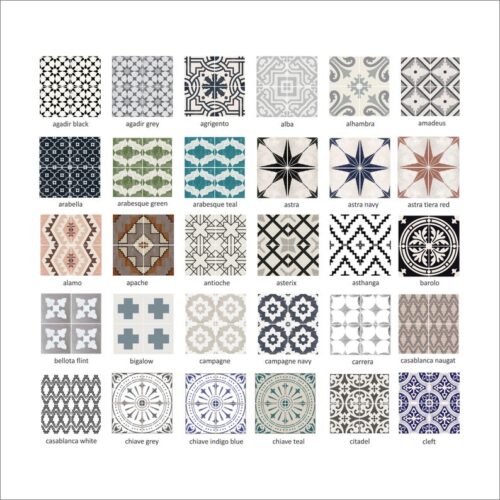 Step 5: Finish it up!
Apply the top coat with a clean roller. You can get different sheens with Rust-oleum Home line, or you can use a water-based polyurethane. This top coat helps prevent your tile from getting chips. Allow this to dry 24 hours before walking on it or placing anything heavy on it.
You can save so much money and get the exact look you want by taking on this DIY project of repainting your tile. I hope this article helped prepare you, and showed you just how simple it can be. A new room is in your near future!