Applying wax to furniture is more popular than ever.   Wax can be tinted to change the color of a piece creating darken edges or highlighting them.  It protects your furniture, while also adding something unique, thus why it is ever so popular.  I will teach you how to apply furniture wax, but first, is it what you need?
Before you grab that can of wax, educate yourself.  Removing wax is not a fun pastime of mine.  You have to sand down to the original surface, so if your piece is ornate, or curved, you are looking at a very long removal job.  Learn if wax is the best choice of top coat for you and your piece of wood furniture first.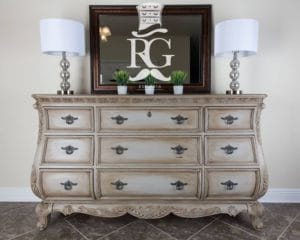 Ask yourself these questions before you begin:
What kind of paint are you using?
If you are painting a matte paint, such as milk paint, chalk paint or mud paint, then wax is a great option.  It give the shine you'd like, and absorbs well into these paints to give it a very durable finish.
You can add wax to a latex paint, but because it requires more effort than polyurethane (water-based) the latter is usually chosen.
Do I want to waterproof my furniture?
If this is a yes, wax is a must.  Many poeple opt to add wax to furniture that will see water, such as a side table or kitchen table.  Water from spills or rings from glasses are easily cleaned up when the top coat is wax.
Keep in mind that wax absorbs into wood and matte paint, so to keep your furniture water-proof you will need to re-apply your wax.
If you aren't concerned with water damage, then you don't necessarily need to add wax to your furniture…read on.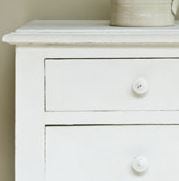 Are you willing to maintain your piece of furniture?
If you want to paint your masterpiece, and then forget about it, wax is not for you.  I like I mentioned before, wax absorbs into the paint later.  You will need to and additional coats of furniture wax, about each year to maintain your wax coat.
Polyurethane sits on top of the paint surface, and does not absorb into the paint, so it requires only one application.    This also leads me to my other question…
Do you want the most durable top coat?
If you are working with a high traffic furniture piece such as a dining table, kitchen cupboards, or anything children will use often, you need durability.
You will get a durable top coat with polyurethane, as it protects the paint as it sits on top of it.  Furniture Wax will not be as durable since it absorbs into the paint.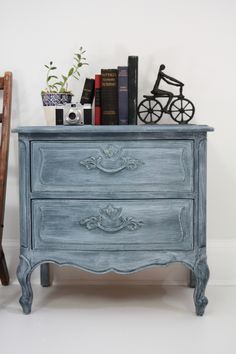 What look are you going for?
If your furniture piece is an accent piece that you want a certain look for, wax may be your only option.  Antique, aged or matte buffed finishes require wax to achieve the look.
So if you love the idea of wax, set a reminder on your phone, to reapply the wax each year.  Make sure the furniture is away from high traffic areas, and start your project off using a matte paint such as milk, mud or chalk paint.
Here are the following steps to apply furniture wax correctly:
1.  Clean Surface
Make sure your surface is totally clean from any dust or particles before you apply your wax.  I use a wet washcloth and wipe the piece down thoroughly and then give it a few minutes to dry.  Make sure you are working in an area that is clean as well.  If your garage is anything like mine, it isn't a good option.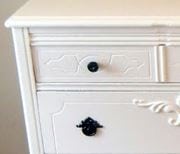 2.  Use a Wax Brush or a Cloth to Apply
I have a wax brush and I also use a cloth quite a bit to apply the wax.  Avoid using a cloth that has a lot of fibers that will end up coming out in the wax and sticking to the piece.  That can create a real mess.
Cloths sold in the paint section of a hardware store like Lowe's or Home Depot usually work great.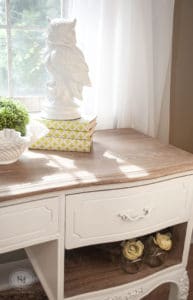 3.  Apply Thin Coats
I know you want you project done soon, but when applying furniture wax correctly it must be done in thin coats.  Remember this will absorb into the paint and harden the actual paint coat.  It takes time, and too much wax will actually slow you down.
A  thick coat of wax takes forever to cure, or harden up to feel like a solid surface.  It will often have a "waxy" feel for longer.
If you have applied too thick of a layer of wax, you can take a new cloth and wipe the excess away.  Sanding it down and restarting is also an option if you put too much on.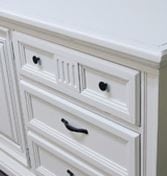 4.  Allow it to Dry – Then Buff
You can allow the wax to dry for about 30-40 minutes and then come back with a new cloth and buff it until its shiny.  HOWEVER,  the best solution I have found is to come back to the piece again the next day and buff it again.
After buffing you can use a fine sandpaper, to lightly sand the surface if you need it.
I buff it by hand but there are electric polishers that can be bought and used to create a really shiny surface.