If the idea of changing your mantel a hundred times a year to suit every holiday and season gives you hives, or a panic attack, then take a deep breath. Not everyone does that and you don't have to either. Just choose a mantel design that you love well enough to keep it all year long. Decorating a mantel is easier than you think with these simple tips. Here are some great everyday mantel ideas to help you get a professional decorator look.
Variety of Height
Farmhouse chic has become incredibly popular, and this predominantly white mantel offers a fantastic opportunity to infuse that aesthetic into your home. By combining whiteware with a chalkboard, a touch of basketry, and vibrant green sprigs for a pop of color, it exudes a charmingly pastoral vibe. An essential rule for mantel decor is to incorporate items of varying heights, and this mantel beautifully exemplifies that principle.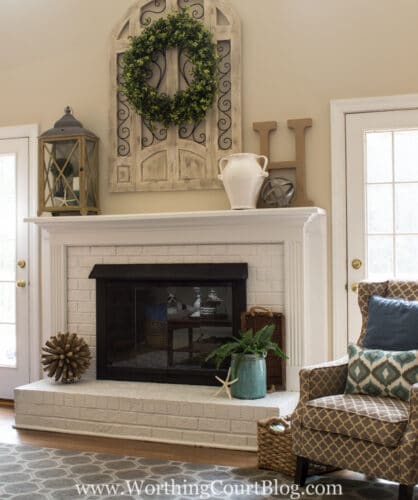 Use Multiple Textures
Okay, don't scream at me.  I know this is a Christmas mantel below, and I just said you don't have to do that.  But the elements here make for a great everyday mantel.  I love the window frame in the center and the distressed shutters on the sides.  The lamps bring warmth and could stay white but I would bring in a cute country plaid.  Use greenery for a timeless look, but it doesn't need to be pines. Soft lambs ear or ferns work lovely all year round as a greenery.  Just remember, mantels need to have a variety of textures.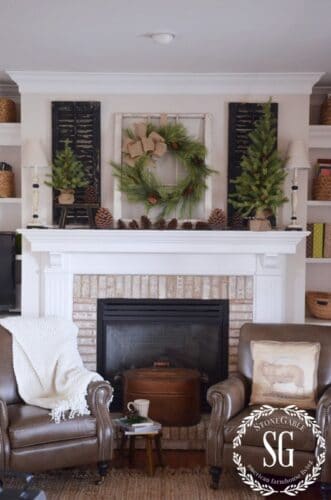 Layering Elements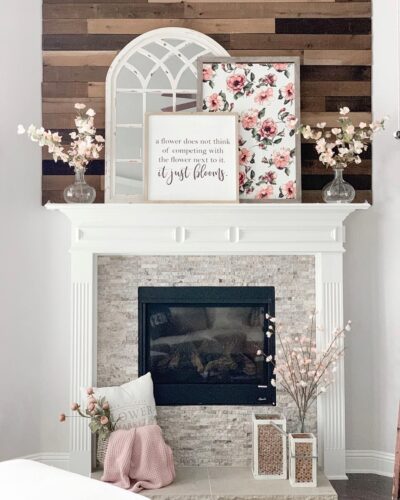 This is a great example of layering on a mantel. Don't just line everything up like little soldiers, but layer them in front of each other which creates dimension and visual interest. This is a beautiful yet simple way of achieving the layered look. The flowers on each side balance it well.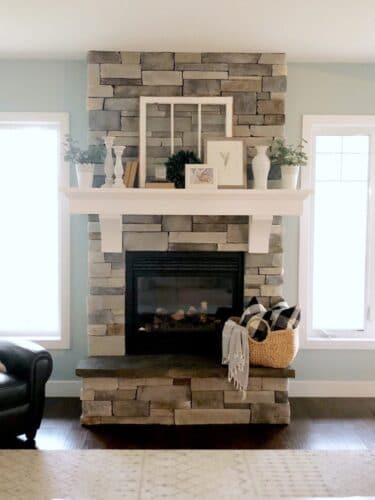 TV? No Problem
Having a TV above the mantel poses a decorating challenge for many folks. Yet, this mantel arrangement demonstrates a clever approach: position smaller items at the edges of the TV screen and flank it with larger, taller items on both sides. The key here is to consistently vary the heights of all the elements on your mantel to craft a more pleasing and seamless visual flow.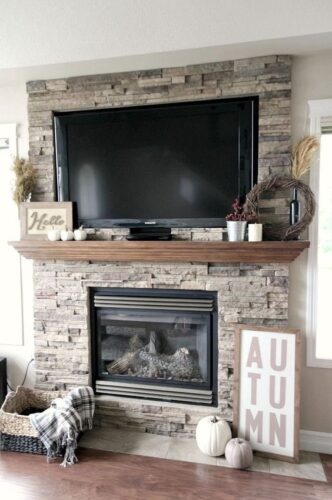 Simplify your Style
Achieve an understated yet elegant mantel design, ideal for rooms with various focal points. Take cues from the Modern Glam style by incorporating a sizable mirror as the central element. Layer a quote with textured items positioned at either end—such as a plush plant in a vase on one side and sleek metal candlesticks on the opposite side. The harmonious combination of simple colors contributes to a clean and charming aesthetic, resulting in a polished and delightful appearance.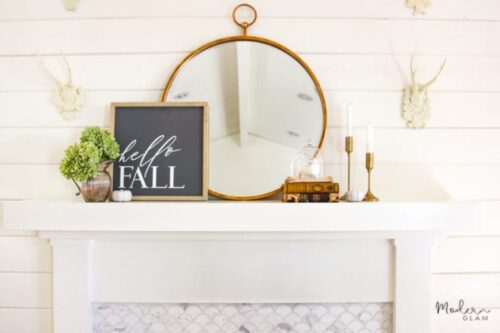 Symmetrical doesn't mean mirrored
This stunning mantel incorporates large cathedral-style candles on each side.  Notice how the heights of them vary.  The mirror in the center is a nice anchoring weight.  The grouping on the right and left of the mirror are equally weighted, even though the pumpkins are not the same size.  Sprigs of leaves tie the pumpkins down and create unity with the candle sticks.  Just doing get too excited and make it overly cluttered, which often people do with sprigs.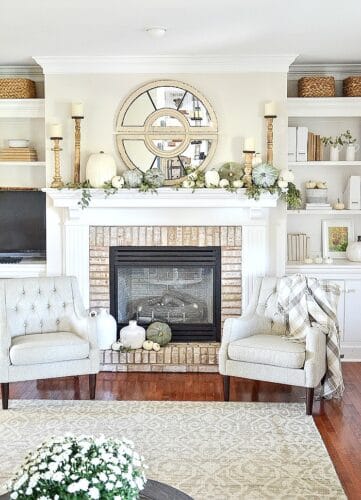 Earth Textures
Embrace a beach-inspired theme with this delightful mantel, where the standout piece is the striking driftwood. The mirror serves to expand the visual perception of the space, while the addition of candles and greenery infuses vitality and freshness into the area.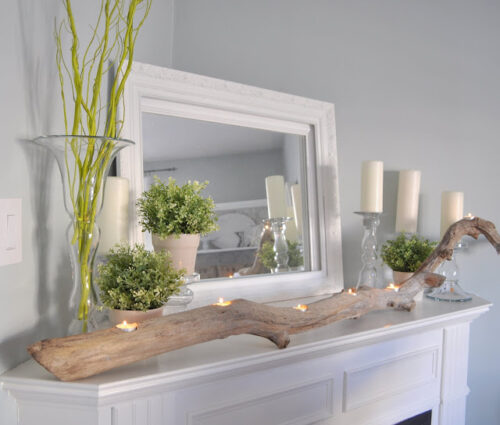 Personal Signs

Your mantel isn't restricted to showcasing a picture, clock, or mirror as its primary focus. In recent farmhouse design trends, personal signs have taken center stage. In this setup, the mantel employs a sign as the focal point, complemented by an array of items in diverse heights and colors. To create visual interest, consider incorporating taller elements on one or both sides of the mantel. This not only draws the eye upward but also effectively fills the space above the mantel. This sign can be purchased on Etsy by SalvagedchicMarket.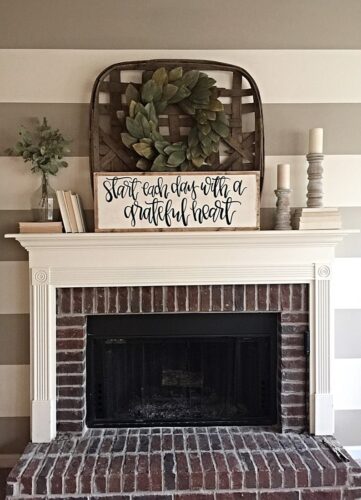 Before we end there are a few DO NOT's when decorating mantels.
DON'T use random items:
Your mantel elements should have a common theme. Many people use the current season to spark their decorating theme, or they decorate with things that speak out to their personality, such as books, boating, or the love of nature.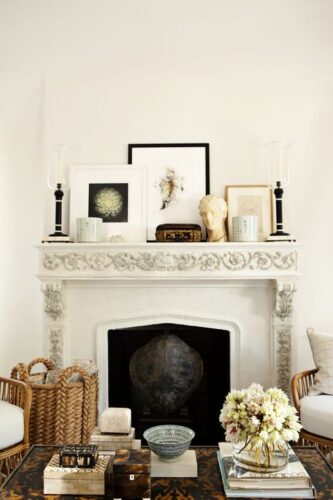 DON'T layer so much you hide items:
When layering, the main part of each object should be seen. Don't layer just for the sake of layering
DON'T forget about balance:
If you have a visually heavy object, the other side need to have some weight to it as well. If you have light objects, don't bunch them all on one side, spread them out.
DON'T use the same shape or size:
Create balance by using multiple shapes and sizes. You need something tall, something short, something round and something with angles. Using the same object, like multiple plates over is boring. It doesn't engage the viewer.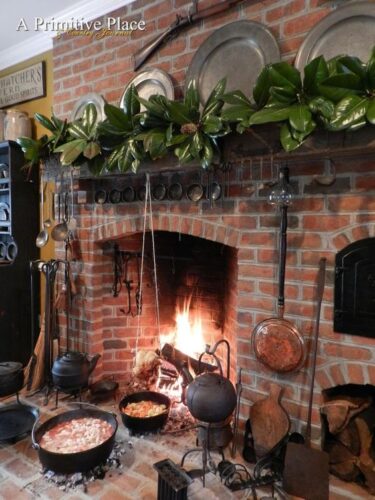 DON'T over decorate:
This happens most often at Christmas. If you have garland, and stockings, already pull back on the decor you might normally keep up there. Replace your current decor with Christmas options, don't just add to it. Remember with decorating any area of your home, less is often more.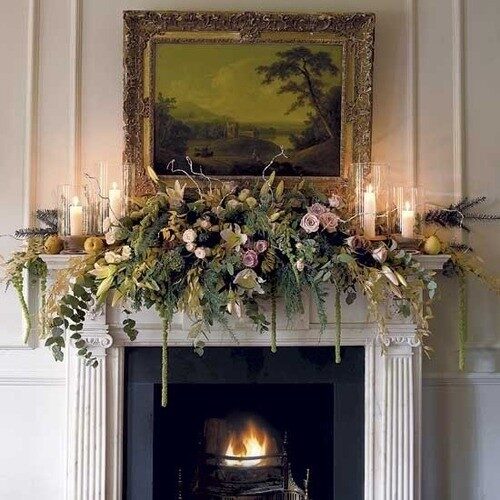 Love these ideas? Pin them on our board to refer to it again!