I've got good news! You don't have wait a hundred years or hunt in dumpsters for old glass bottles anymore! Aged, distressed, or antiqued glass is beautiful for décor accents around the house, but finding the perfect piece used to be nearly impossible.
Now, you can make-under any glass you already have around the house to make it look more aged and antique. You can take a brand new lantern and make it into a vintage chic piece. Or redo your everyday canisters or mason jars with rustic charm. Whatever type of glass you choose, there are four basic techniques for distressing them to look older. All you need is a quick trip to the hardware store and you're ready to get started.
Clean the glass thoroughly before you get started. Usually warm water and dishwashing detergent will do. Be sure to remove any dust, grease, or sticky substances from the surface. Wipe it clean and then clean the glass again with rubbing alcohol. This removes any grease from your hands, and any soap residue.
There are four techniques for aging glass, and each creates a very different look, pick your favorite, or try one of each to get the look you're going for.
Glass Paint
You can actually purchase frosted or glossy glass paint from the hardware store. Choose a pale color like turquoise or yellow, and you can create even thinner colors by adding transparent paint to the mix. Brush the paint directly onto the glass. Wait until the paint sets, about 10 minutes or so, and then rub with a lint-free cloth to get that blended, aged, tone.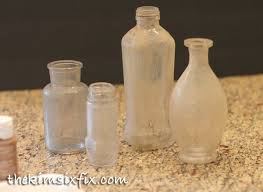 Two Tone Distress
Using glass paint, you can create a more matte finished with two tone distressing. First, paint the entire surface of the glass with any color of glass paint and allow this coat of paint to dry completely. Then brush a second color over this and let it dry as well. This technique works best if you paint a darker color first, and a lighter color on top. Once the paint is try, begin sanding the glass focusing on ridges or high points to reveal the darker paint color beneath. Sand only the edges, top, and bottom of the glass, as well as any details, lettering, or ridges.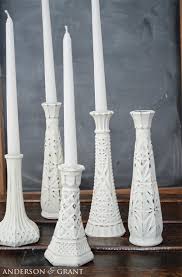 Spray Painting
Use metallic or mirror-finish spray paint from the hardware store to create a beautiful Victorian look to your glass. Be sure to select spray paint that is intended for use on glass or slick surfaces. After the paint is completely try, sand the glass randomly to remove part of the paint and reveal the glass underneath creating a more natural antiqued look.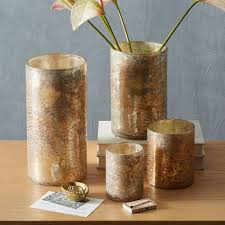 Sandpaper
Using an 80-grit sanding block, rub the bare glass in every direction. Work to create scratches on the surface and remove some of the shine. The more you sand the foggier the object appears and eventually all distinct scratch marks will disappear leaving a fogged, aged look. When you're happy with the results, rinse with clean water to remove any dust.