Christmas lights are great, but Halloween is where the outside of your home really steals the show. October is the perfect time for fabulous Halloween outdoor decor as the nights get longer and trick or treaters start to scope out the best route.
I have to be honest, I'm not a huge fan of blood and guts and graveyards on my front lawn. Something about that type of décor just makes me cringe inside. Plus, I don't want to have to step over dead bodies every time I bring the groceries in.
My style of home and yard décor for Halloween is big, bold, beautiful, and full of pumpkins. Whether you're an avid Halloween decorator, of you're just starting out and you haven't decided how to begin, we've got you covered. These simple Halloween home and yard décor ideas transform your home into an enchanting and only somewhat spooky landscape.
This pumpkin arch has my whole heart. These are pre-made jack-o-lanterns from home décor, hobby, and the dollar store. It might take me several years to save up this many (and who knows where I'd store them), but this arch is definitely on my décor bucket list.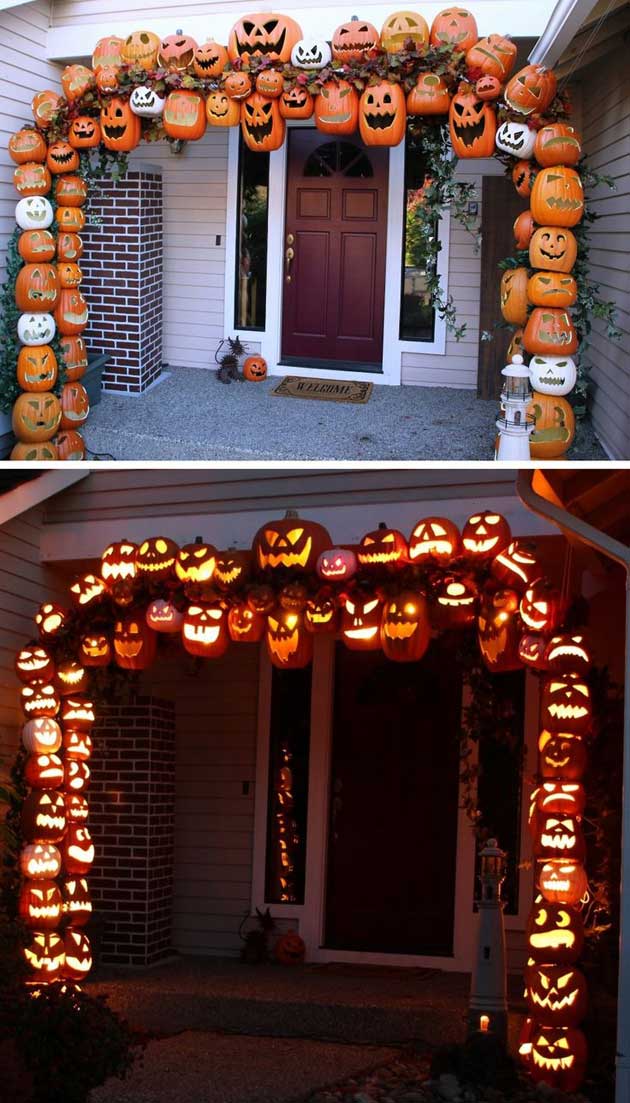 Save a few twigs from your fall pruning and use them in your Halloween décor. I love this porch because it's classically spooky. The twisted branches and black crows give the perfectHalloween setting.  It is simple, easy and looks great- win win!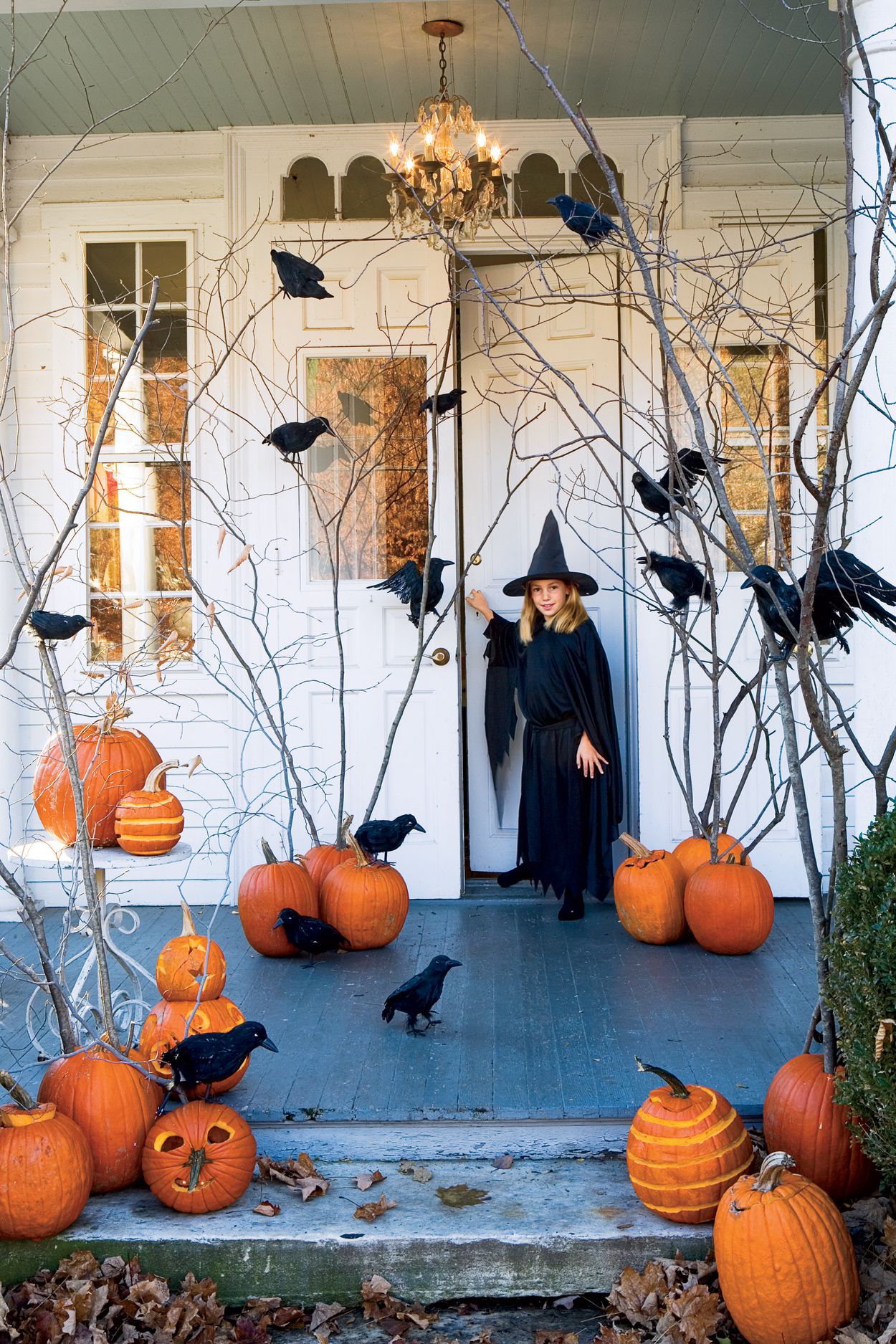 Of course you need a Halloween wreath, and this is a good spot to get a little scary. This wreath is the perfect combination of creepy and classy. Again this one is simple!  Get an old book, and paint the edge of each paper.  Roll them and with hot glue and print out of a skull- wala!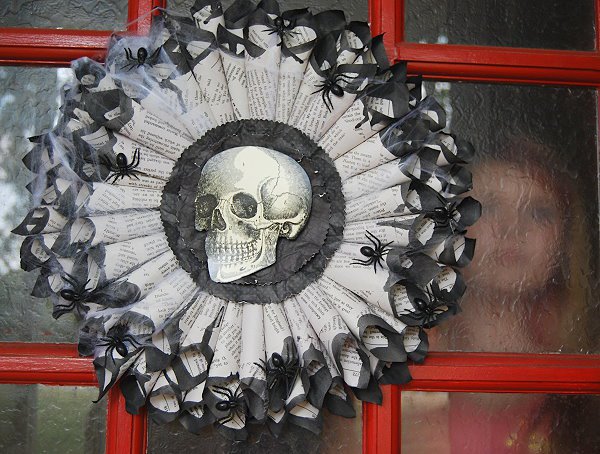 Hanging witches hats is one of my favorite ways to transform the entire porch. A few hats and a little fishing line is all it takes to give the illusion of floating hats and magic spells.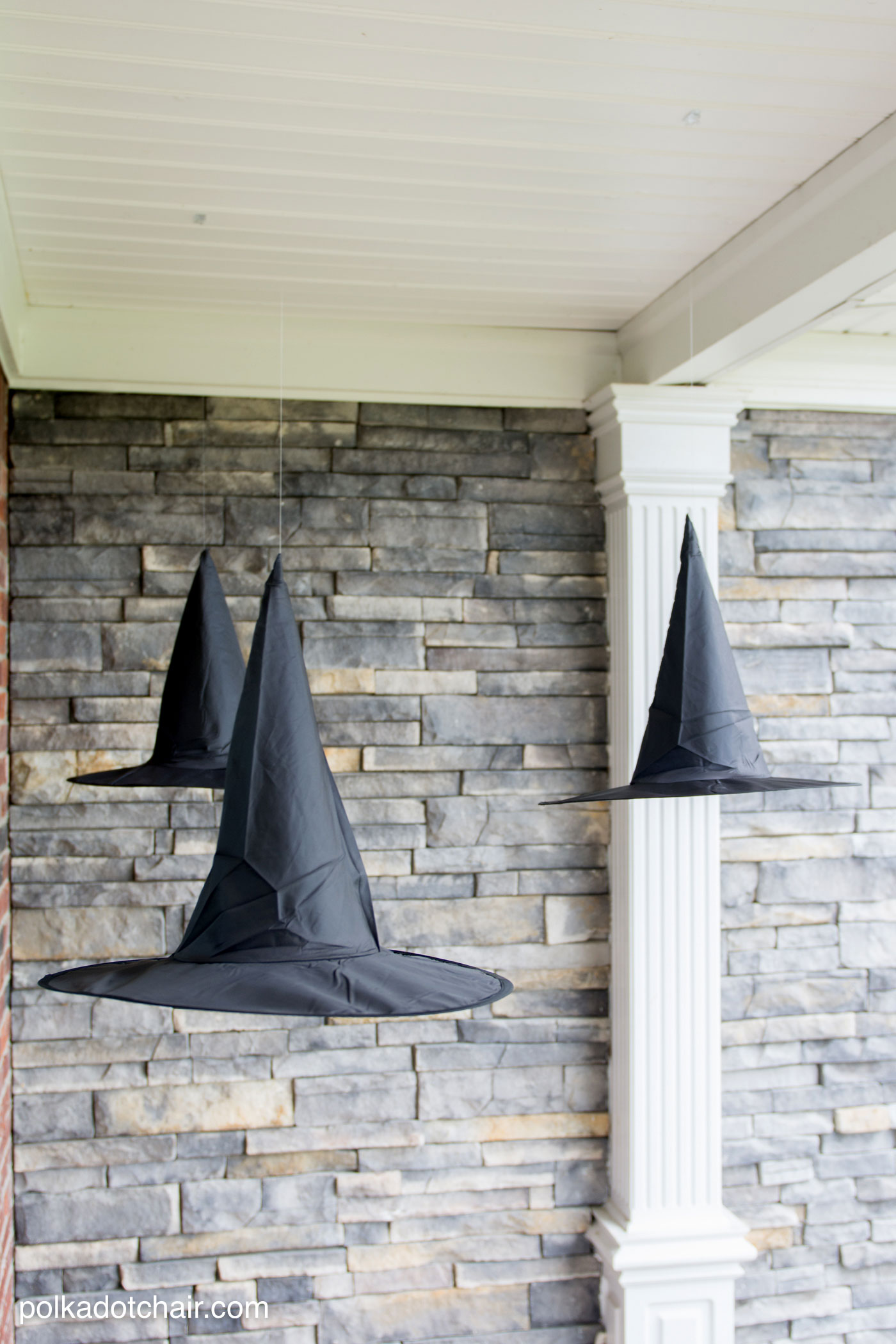 You really can never have too many pumpkins. That's not a thing. Pumpkin overload is the name of the game here. All different shapes, styles, and sizes mixed with a few fall mums. I also love the idea of a giant printable on the porch, genius!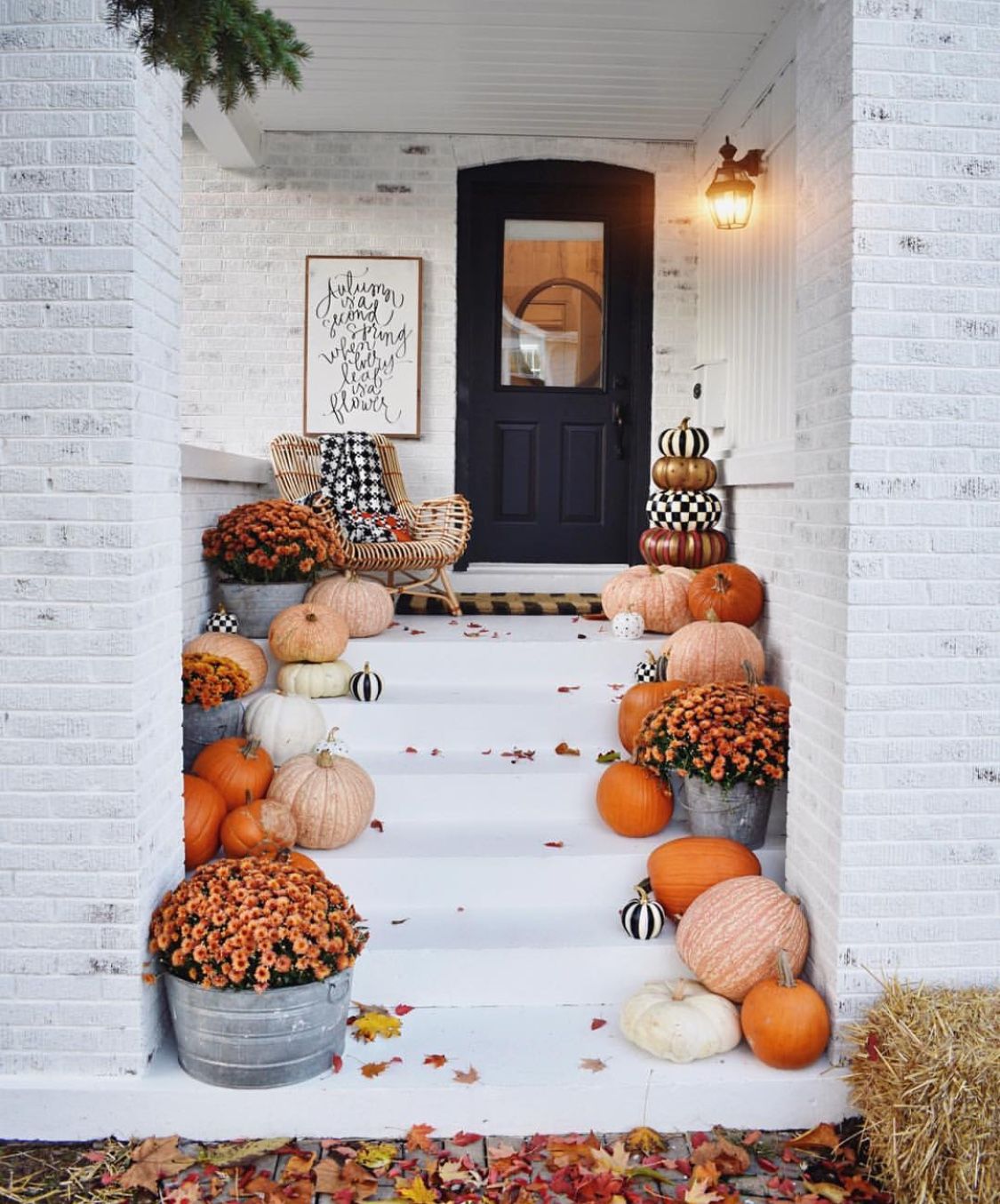 Who says the wreath has to be on the door, it doesn't. Enjoy a wreath on the shutters instead. This rustic bench and old treasure chest give a great backdrop to a more elegant fall porch.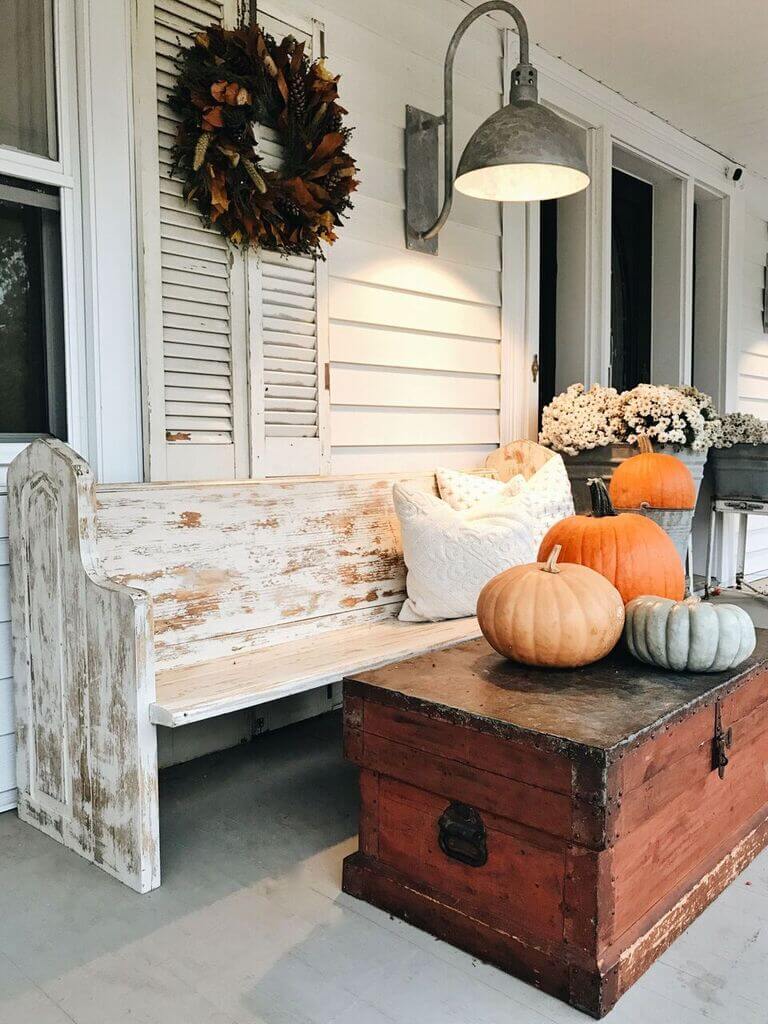 Don't toss the leftovers from harvest season, they make great tall décor for your front porch. If you don't have a garden of your own, contact friends or family or even local farmers who might be willing to let you have a few stalks to take home.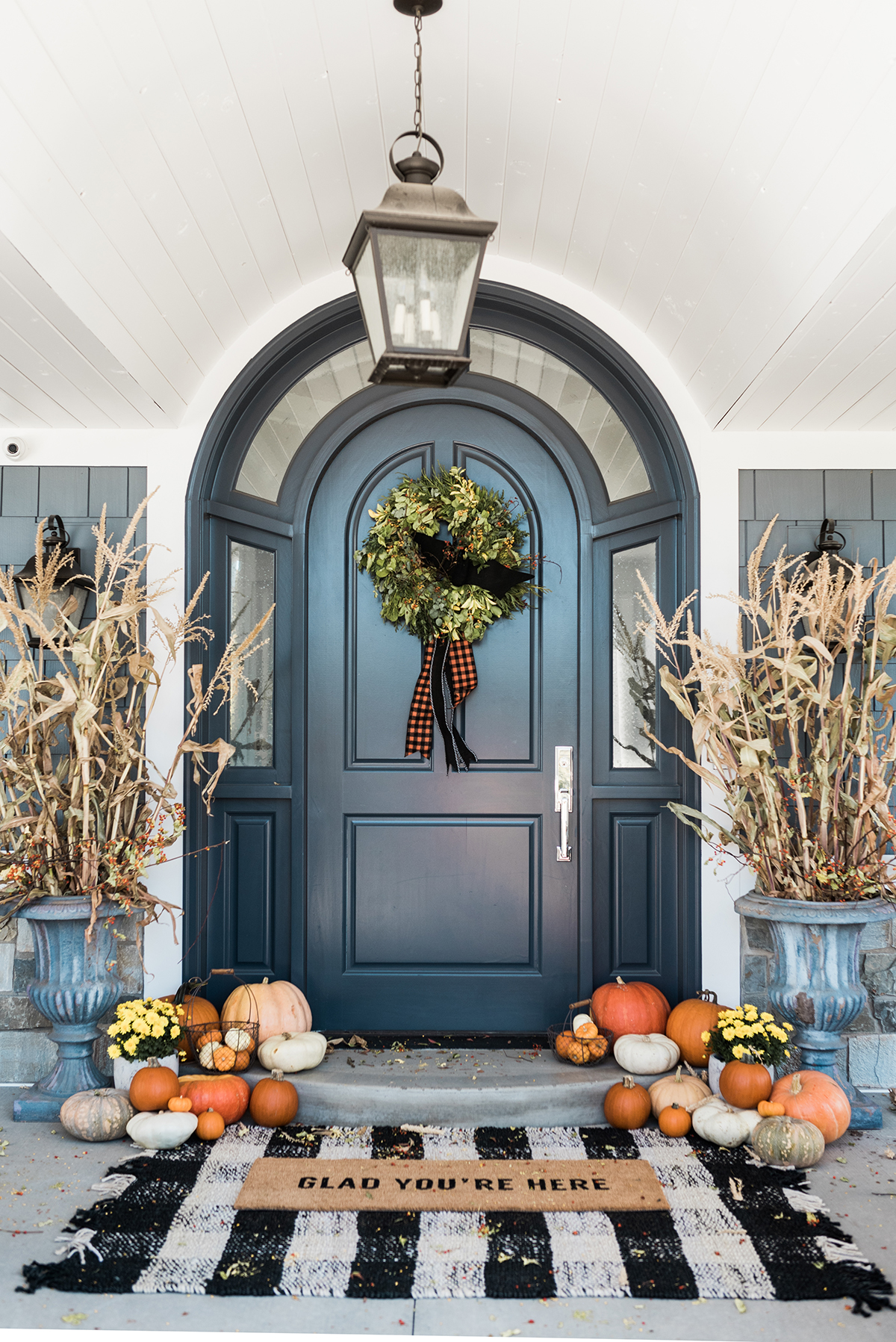 I love crates. I love white crates even more. This is such a darling pumpkin display, and the wooden signs on the wall pull it all together.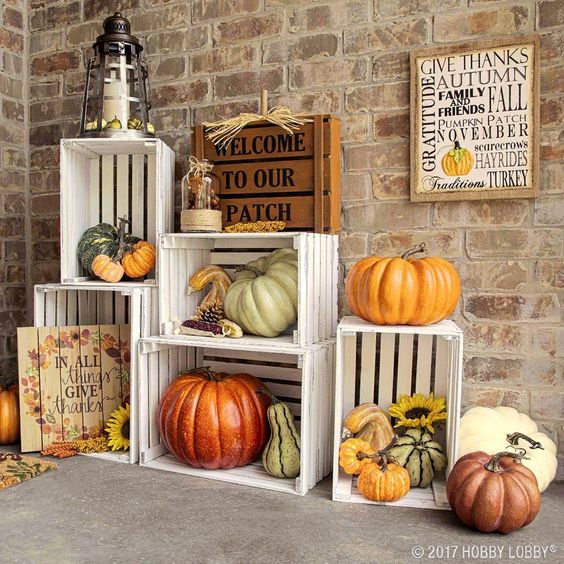 Remember how I said you really can't have enough pumpkins? It's true. Take it beyond the porch, down the stairs and all the way to the street. Looking to make a statement without a zombie on your lawn? Mission accomplished.