Distressed and antiqued furniture adds character and unique charm to any space.  Purchasing either authentic antique, or professionally made distressed style furniture can be expensive. However, a DIY antique finish is relatively inexpensive and easier than you think. There are several techniques you can use to get a vintage look, but asking me to pick one is like asking me to choose my favorite child. They are all beautiful techniques that create stunning results.
Here's a roundup of the top 5 ways to get a vintage finish.
Glazing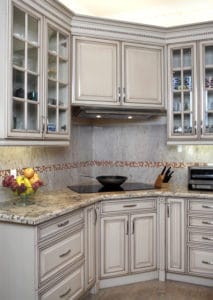 This  kitchen cabinets were painted using a combination of white paint and a dark stain. Simply paint the furniture as you normally would, then paint on a dark glaze, and remove it quickly with a rag, wiping away as much of the stain as you can.The dark glaze stays in the cracks emphasizing the woodwork.  The result is a beautiful antiqued look.
Vinegar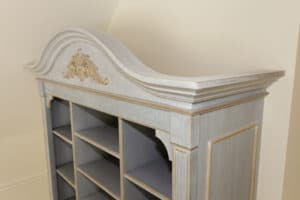 Note: this gorgeous method only works with chalkboard paint. To use vinegar as an antiquing medium, simply fill a spray bottle with a 50/50 solution of water and vinegar. Once your chalkboard-painted piece is fully dry, spray it with the vinegar mixture and rub the furniture with a cotton rag. Old tee-shirts work great for this. Work on the edges first, and in the corners to rub away some of the paint, exposing the wood underneath and giving you a beautiful vintage look.
Water Washing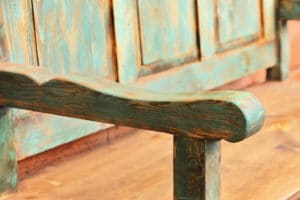 This beautiful buffet table is from Create Inspire, who used a washing technique to get the aged look with blue paint. Simply mix paint with water until it is thin, and then wash the piece paying special attention to the nooks and crannies. Wash and wipe away quickly to reveal the instant effects, repeat areas where you want more of the rust color to show through.
Vintage Wax

Waxing is a technique used specifically with chalkboard paint. It creates a beautiful effect by toning down the color without making it look dirty. You can get clear wax, or tinted wax. The darker the wax, the stronger the look.
(blue and white dresser)
Vintage Crackle
Crackle is a very specific method to creating a very specific look. The crackle medium breaks up the paint to reveal either the wood (or the previous paint color) underneath. First paint your base coat and allow it to dry. Then use your crackle medium (some say Elmers school glue works too, but I haven't personally tried it). Spread a generous amount of crackle medium on top of the base coat. While the medium is still wet, apply your top coat of paint and watch the magic happen as it dries.