Decorating for Christmas is one of my favorite times of the year. I love to pull decorations and ornaments out of boxes and bring the home to life. Holiday music will be blasting, hot chocolate is sipped…its the best!
Farmhouse Christmas themes have been around for so long there are multiple farmhouse styles now. They are all beautiful, rustic and have an old time feel with crisp new beauty. Here are my favorites!
Farmhouse Front Door
Every front door needs a wreath. It could be a simple pine wreath or an extravagant oversized wreath, but a wreath signifies Christmas is waiting inside.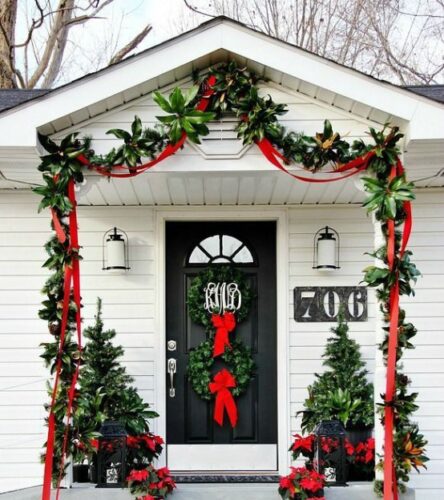 Farmhouse style decor loves natural plants, and the exterior of your home is where wreaths topiaries, and garlands shine.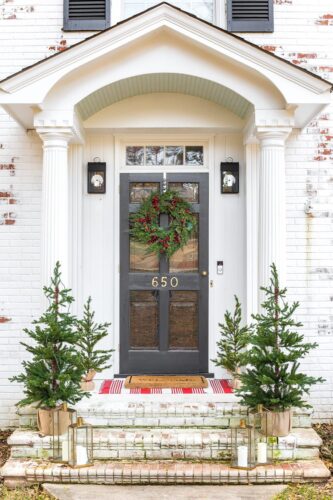 Flocked and Frosted
Imagine walking in the door and out of the cold and being welcomed by this view. Flocked greenery is perhaps one of my favorite pieces of Christmas décor. It brings the outdoors inside and if you live in a warm area, it reminds us of picturesque holiday evenings.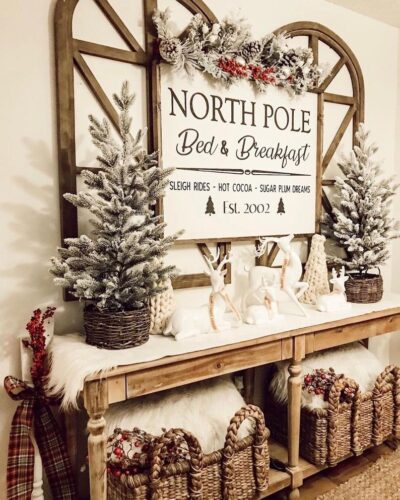 White ceramic reindeer, nativity scenes or snowmen work great with greenery.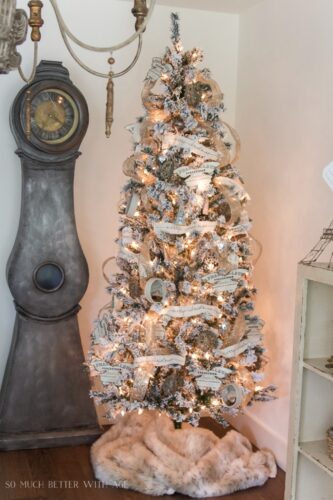 Farmhouse Christmas Kitchen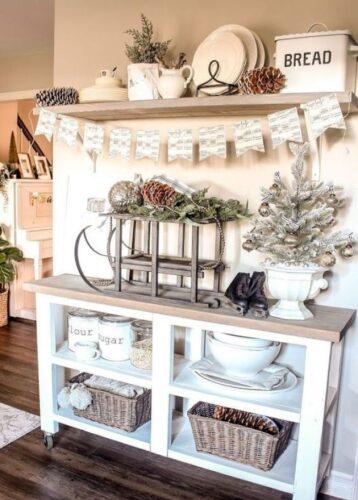 The kitchen is often the center of Christmas between holiday parties and baked goods, the kitchen never stops working. However, that doesn't mean it has to be without a little extra holiday cheer. I love the idea of a wreath on your range hood. Wreaths can also be hung on cabinet doors or on patio windows. China cabinets, or opens shelves are a great place to decorate baking themed Christmas decor. Don't over do it, remember farmhouse decor is simple.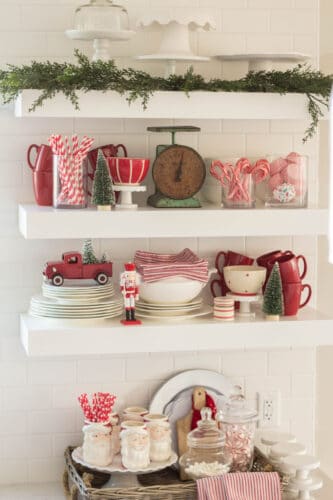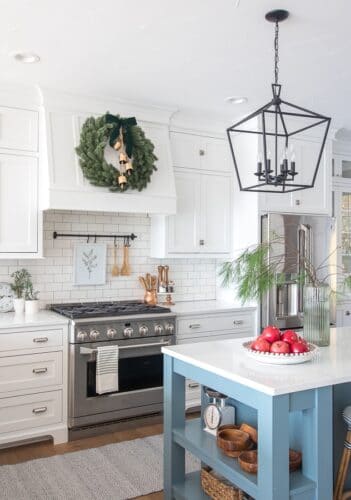 Red and Plaid
In the living room, keep things cozy with reds and soft textures. I love to incorporate natural elements, pine boughs and aspen logs with plaid blankets and furry socks make a beautiful mantel centerpiece.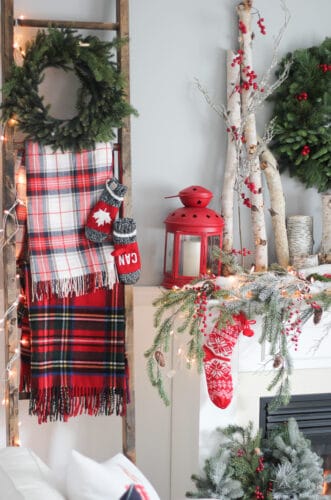 Black and White Plaid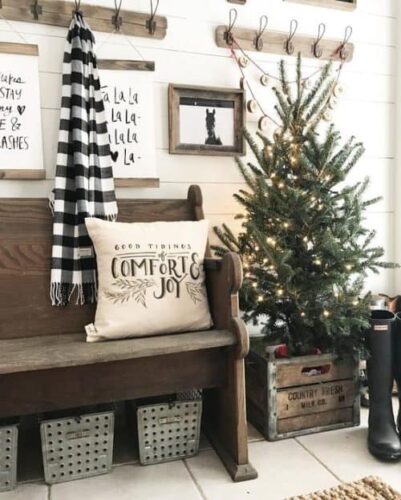 This is one of the newer farmhouse Christmas decor ideas. Black, white and green are the stars of this color scheme. Plaids, checkered or stripped textures add to this beautiful style.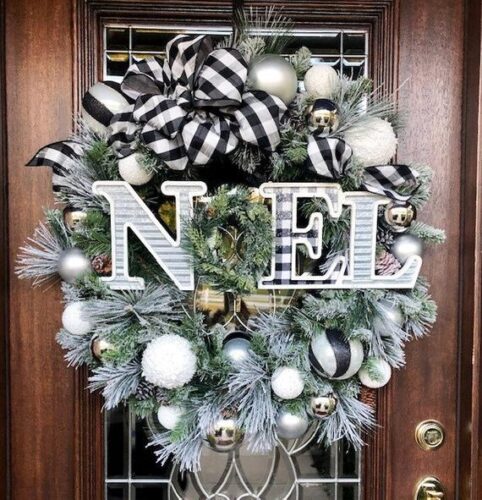 Wooden Christmas Decor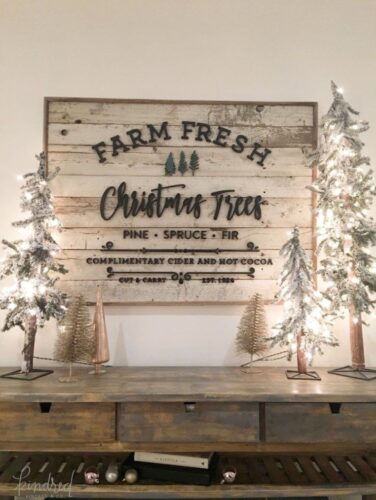 Wood is the base of all farmhouse decor and is a must in your Christmas decor plans. Wooden nativity sets, wooden trees and a stack of wood logs near your fireplace, perfectly complete this look. Wooden signs are a great way to bring warmth into your home as well. Here are some of my favorites you can find on etsy or make your own versions!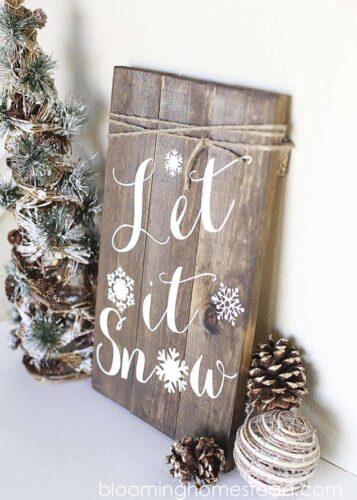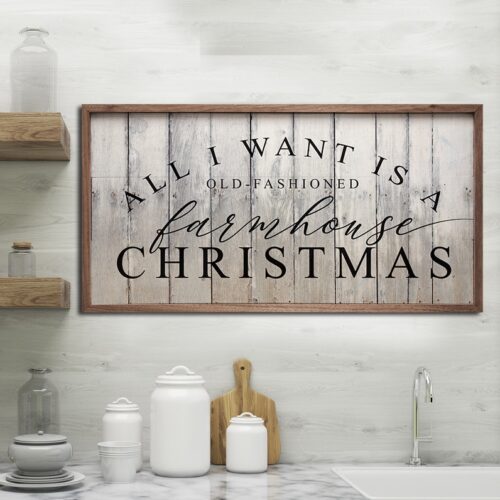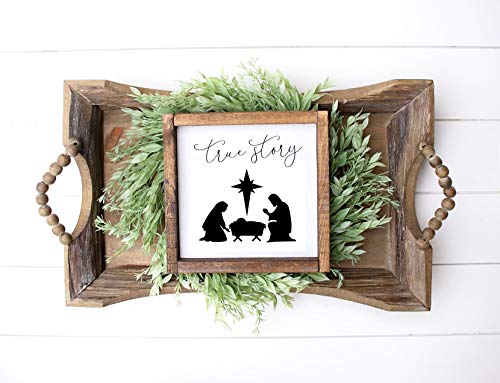 Farmhouse Christmas Signs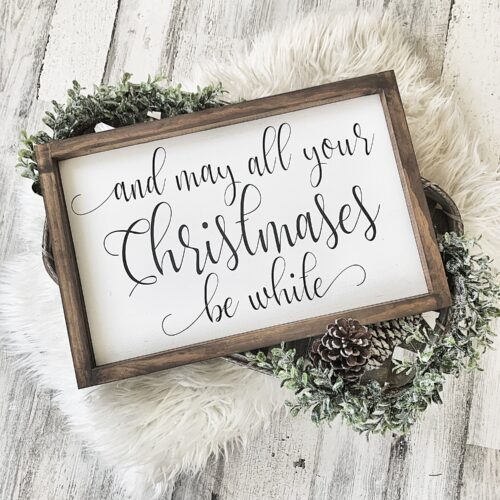 Small typed fonts matched up with long thin cursive lettering is iconic farmhouse decor. Christmas wouldn't be farmhouse'y without it. Here are some of my favorites.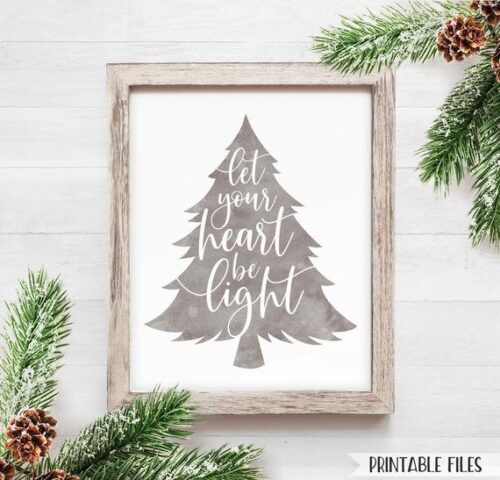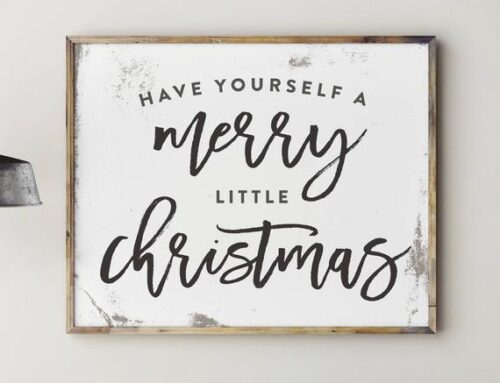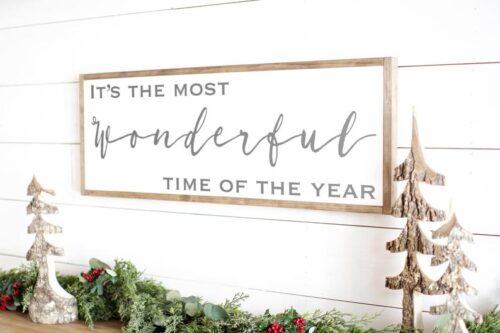 Metal Elements
Farms have metal everywhere, from the milk bucket to hand mixer in the kitchen. Metal is a hallmark element you can add to your farmhouse Christmas decor. I love the use of galvanized buckets holding wood, boughs, blankets or pinecones. The metal from a wagon or sled adds to this farmhouse feel.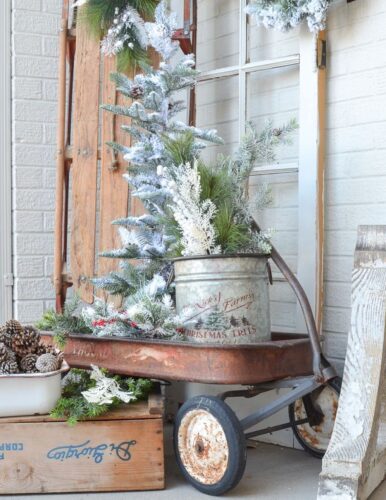 New galvanized village homes are taking place in traditional mini villages with simple beauty. I love how they all match in color yet have a variety in shape and size.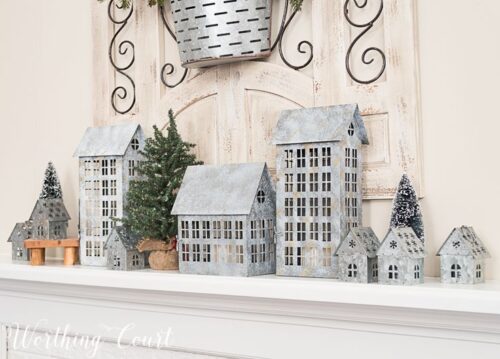 Farmhouse Christmas Stockings
Stockings are the main stars of your home decor, second only to the tree. They are right in front of everyone and mean so much as they are used year after year. Whatever color or style you pick, make sure it is cozy, works with many decoration styles and most importantly you love them! These are my favorite farmhouse stockings.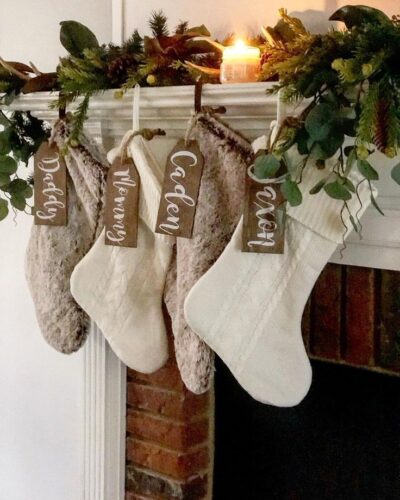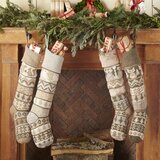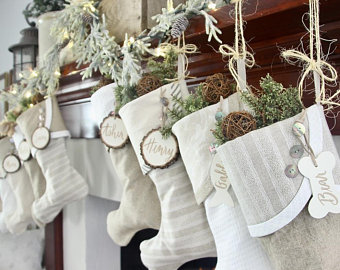 Farmhouse Christmas Tree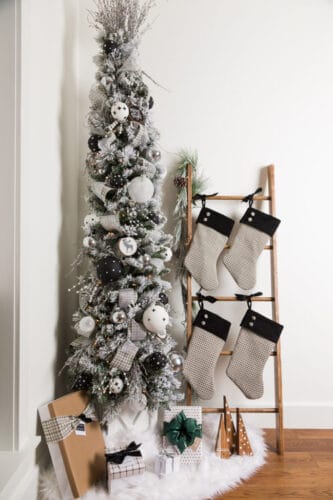 We couldn't leave out the tree on our farmhouse decor list! The tree is the heart of Christmas, and where we gather for parties and dinners. Everyone has their own style and unique ornaments. That is what makes a tree beautiful. These trees all have matching ornaments. Please use these as inspiration, but keep your beautiful keepsake ornaments. Add the new matching ornaments to your existing decorations to keep authenticity to your tree and make it truly your own.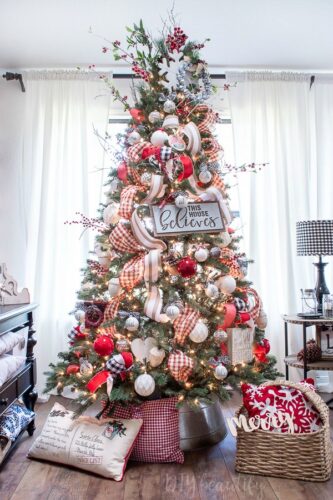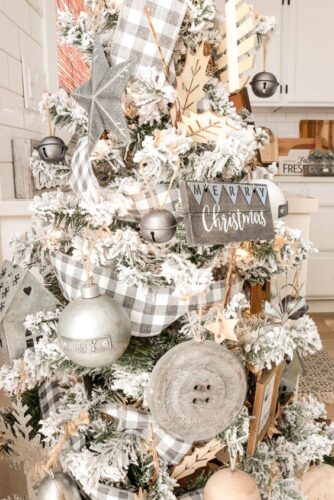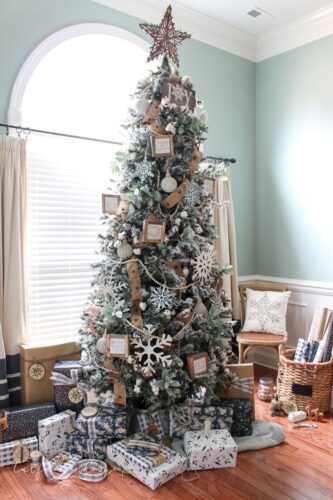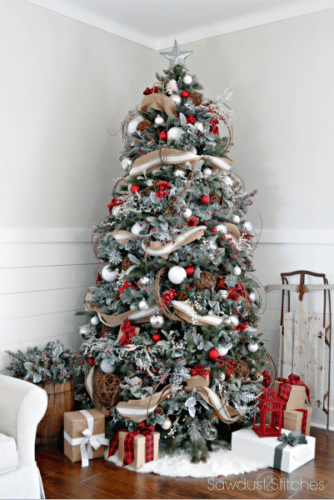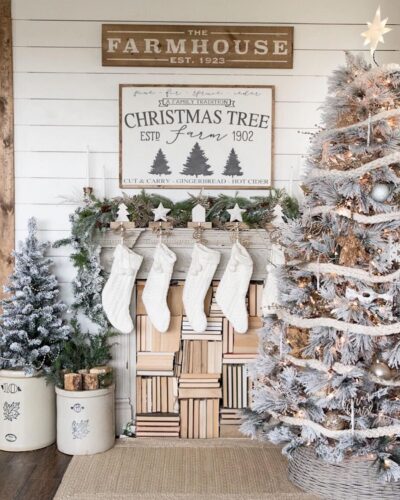 I hope you and your loved ones have a very beautiful Christmas this year!