If you are remodeling a kitchen or bathroom you may end up with some stock cabinets that you don't know what to do with.
 If you don't have cabinets to repurpose, head to your local hardware store, where you can find them at relatively low prices.  There are some amazing ideas to repurpose cabinets.  
Padded Bench 
You can customize your bench by adding your choice of knobs, choosing a fabric for the seat, and your choice of paint or stain. You can make the bench as big or small as you like by choosing different size cabinets, but usually the cabinets made to go above the refrigerator work well for this project. Add molding and furniture feet to the bottom of the cabinets and use particle board or plywood for the seat.  You can glue a piece of foam to the seat that is cut slightly bigger than the board, then before attaching it to the base of the bench, add your batting and fabric using a stapler.
Here is a great example from Lowes.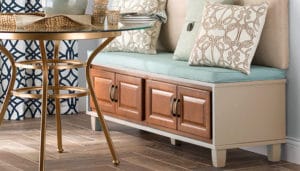 Shelf- Take the drawer front off our cabinets to make the back of a shelf.  Wood from the cabinet can be used for the shelf and sides.  Add some hooks like this pinner did to create a coat rack.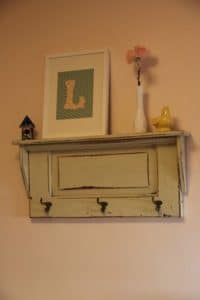 Flip Down Sideboard- This creative idea only uses one cabinet.  Use it outside or in a basement room for a quick counter and storage area.  Here is a great example: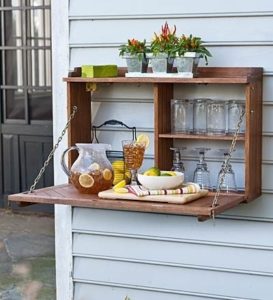 Buffet  Table- Dining room buffets can be expensive, especially for a good quality one, but you can build your own and create a beautiful buffet for your dining room at a fraction of the cost of purchasing one at a furniture store. All you will need is 3-4 stock base cabinets (depending on the desired size of the buffet) some molding, furniture feet, and knobs.
Base cabinets will give you a drawer on the top and a large cabinet on the bottom for plenty of storage for your dishware and table linens. There are so many personal touches you can add to this project, such as the type of molding and feet you use, as well as the ability to paint or stain it to be the perfect addition to your dining room or kitchen.Here is a great farmhouse style buffet table.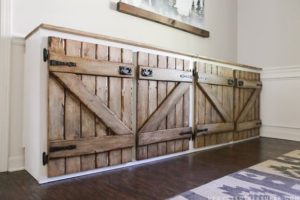 Shanty chic created a similar project here: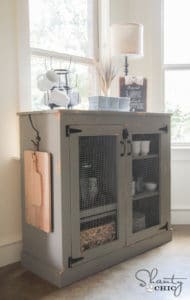 Child Play Kitchen Set- Let your kids benefit from your extra cabinets.  There are so many DIY play kitchens on pinterest, I love how this one used cabinets you already have.  Same money and be a great parent- win win!  Here is a detailed tutorial for you: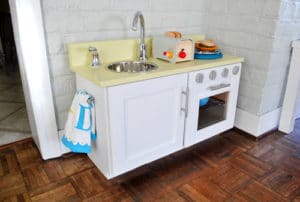 Wall Clock- I love how simple this farmhouse clock is!  You could easily finish this clock in under an hour.  Several different clock kits are sold at craft stores.  All that is needed for this is to paint, and then drill the center hole.  Assembling the clock would take minutes!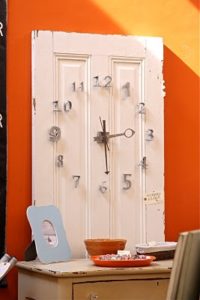 Child's Table-  The door to your cabinet is the star on this project.  Grab some feet from your local hardware store, and using the existing wood from the back and sides of your cabinets you can create a custom table for your budding artist, or lego creator.  Here is the tutorial: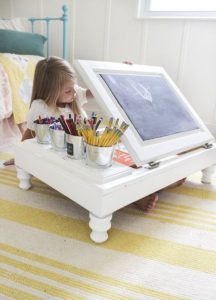 Chalkboard Board- For the most simple makeover, we have a chalkboard painted cabinet door.  Let's Glitter and Glue used her board for a menu, however a family schedule, to-do list, or or a seasonal chalkboard decor board Would also be great ideas.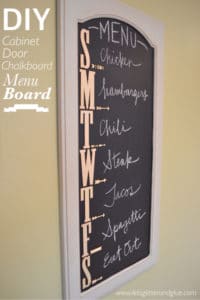 Whatever you choose to do, don't throw out those stock cabinets.  There is so much to make yourself, that will bring beauty to your home.  Good luck on your project!  
Love these ideas?  Pin them!