If you are looking to get a new headboard but don't want to spend more than $50 to get it done, here are a few ways to do it yourself on the cheap.
This doesn't mean that you need to spend lots of time on it either.  Some of these options only require 1-2 hours of your time.
Buy One Used
Search thrift stores or online classifieds for a used board.  I see cheap headboards on Craigslist all the time.  One of the best ways to find them cheap, is to look at bedroom sets.  I've sold lots of bedroom sets and headboards can be hard to sell.  Call someone who is selling a headboard as part of a bedroom set and ask if you can buy just the headboard at a discounted price. You can paint it any color to match your bedroom style.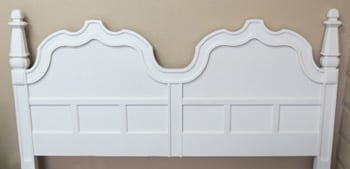 Fabric Headboard
I love this tutorial of one that was made from from a pegboard with some foam and fabric.  She claims to have done it for less than $10 and with less than 1 hr of time.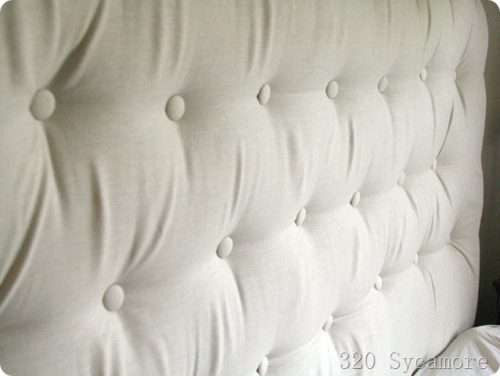 There are also other ways you can build one cheaply by attaching wood beams to a board and then covering with fabric, painting or staining the wood.   Here is a tutorial for this style. http://www.mayricherfullerbe.com/2015/06/diy-upholstered-twin-headboards-easy-way.html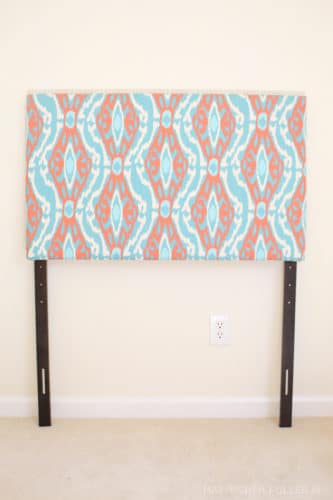 The headboard doesn't necessarily attach to rails.  If you can use cheap wood and get your fabric at a discounted price (use the 40-50% off coupon at JoAnns) then you should be able to complete the project for under $50.
Paint on Headboard
Instead of actually creating a headboard, you can also just nail trim to the wall (painted) and frame fabric or paint the inside of that space to make it seem like there is a headboard, even though there isn't.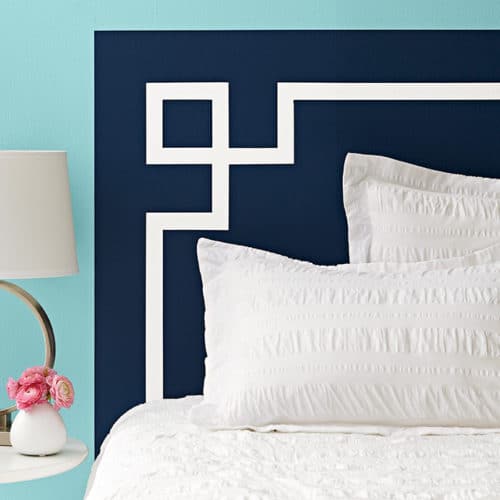 You could also use wallpaper inside that space if you found a wallpaper design you liked.  This is probably one of the cheapest options and possibly the easiest in that you only need to pay for the trim and a little paint or fabric.  The only drawback, is that you would have to repaint that wall when you move.  Unless you can do it with fabric that will detach from the wall easily.  That way you may be able to do it with just a few holes to fill.