I am loving the DIY painted rug trend, there are several great options out there.  These three rug painting techniques seem to be the most popular. Check out the slideshow below and learn how to create your own custom rug.
When picking a rug to paint, the thinner the rug, the better the results. If the rug is smooth, even better.  Carpet remnants make great painted rugs, as do jute rugs, IKEA rugs, or other inexpensive home store options. Typically, a carpet remnant or low-cost rug should be around $25 or less. There are three basic DIY techniques for rugs.
This rug was created with not paint but a marker!  Yup, you read that right. Sharpie's to be exact. This is a very distinct style of rug, but you can't argue with the results. With just a ruler, sharpie, and some cardboard, Katie Nathey from Upcycled Treasures created this masterpiece. Sharpie's work surprisingly well, because they create a nice straight, thin line to work with. The tribal design that Katie chose was perfect for a Sharpie rug. Of course, this method is time consuming, but also gives you instant gratification as you see your pattern come to life. Katie went over her lines a total of three time before they were dark enough.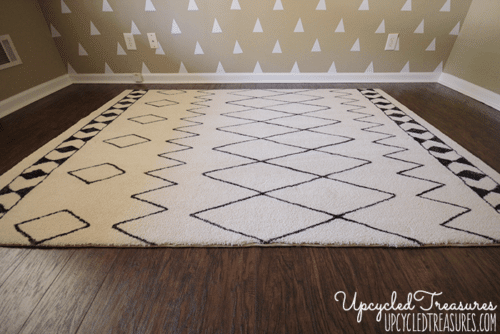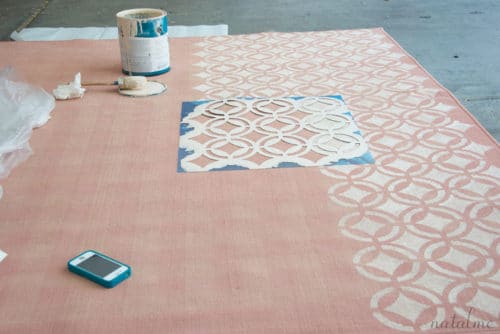 You can use any type of latex paint to paint a rug, but there are a few tips and tricks to be aware of before you start. Fabric paint may seem like a good idea, but it is actually much too thin to paint a rug. The rug will suck up all the paint and it will take an extreme amount of fabric paint to get the job done. Flat or satin paint work best. Natalie from Natalme took a pink plaid rug, painted over it and added a pattern with a wall stencil to create this masterpiece.
When using a stencil, start at one end, and work your way to the other. You can use spray adhesive to hold the stencil in place.  Hold the stencil with one hand while you paint with another. Stiff or foam paint brushes seem to work best.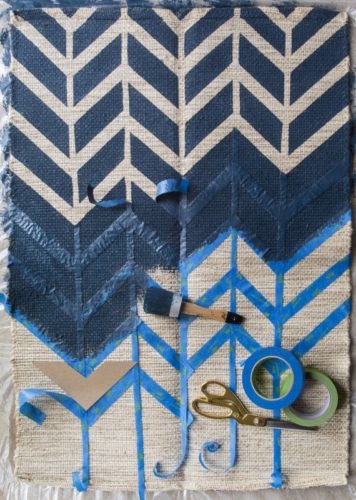 Geometric designs are super trendy right now, and they work perfectly for this technique. If you're a symmetrical, patterned, planned, and Type A person – you can mathematically design a herringbone pattern like this one from BHG.
Otherwise, you can just lay tape down randomly and start painting for a more modern application. Outdoor painters tape tends to stick well to the rug to prevent bleeding and give really crisp lines. Remove the tape when the paint is still wet, to prevent the paint from drying on the tape and pulling up when it is removed.
This is a great way to get a cute design fast and easy. Cookie cutters are perfect for polka dots, a princess theme, seasonal rugs, etc. The sky is the limit because you can mix and match shapes and colors very easily. Simply place the cookie cutter on the rug and either a) paint directly inside the shape, or outline the shape with a sharpie and fill in the design with latex paint.