Every room needs a color that is neutral enough to be versatile, playful enough to be fun, and unique enough to stand out. Gray is that kind of color. Gray has taken interior design by storm because it just fits the bill.
Whether you're going for a sophisticated and elegant aesthetic or a more laid-back country vibe, gray is the go-to for designers. It brings character to space while keeping the mood tranquil.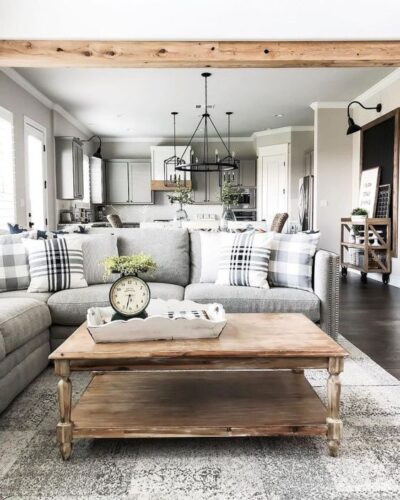 Gray is particularly special in the living room because it allows furniture, art, and accents to take center stage. It also provides a beautiful backdrop for other things in the room to really shine through. Here are some of our favorite living room designs featuring shades of gray.
One of the most popular farmhouse colors is gray because of it's comforting nature and versatility. People are flocking to farmhouse styles in 50 shades of gray faster than ever before.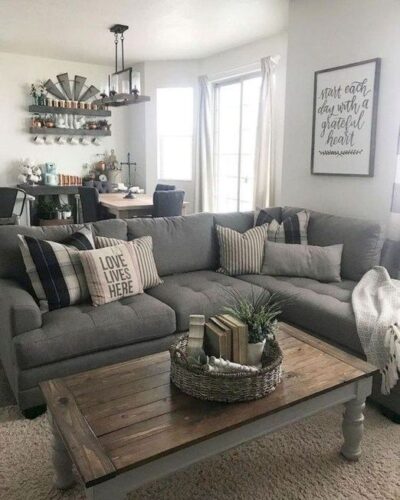 If you're ready to jump on the farmhouse scene and bathe yourself in gray, here are a few things you need to know.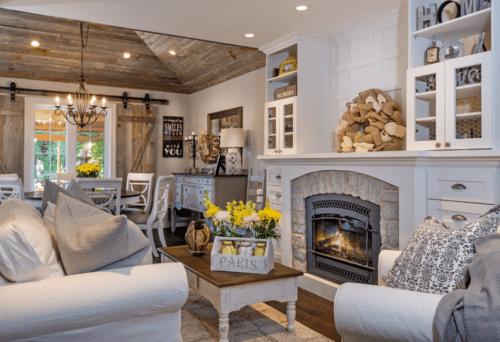 Classic farmhouse style is all about tradition. It's not fussy or stuffy, it's classic and comfortable. It's less than perfect and proud of it. Reclaimed wood looks beautiful in farmhouse style against stark white fabrics and lots of natural light. Classic farmhouse style is cozy, but not cluttered. It's more sophisticated than country style which tends to be a little kitschy.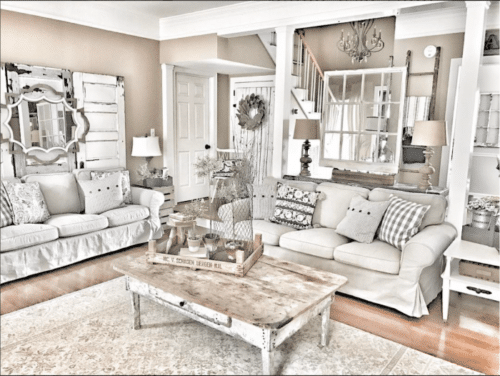 There are a few common elements you'll find in most farmhouse living spaces. These are classic staples of farmhouse style and include: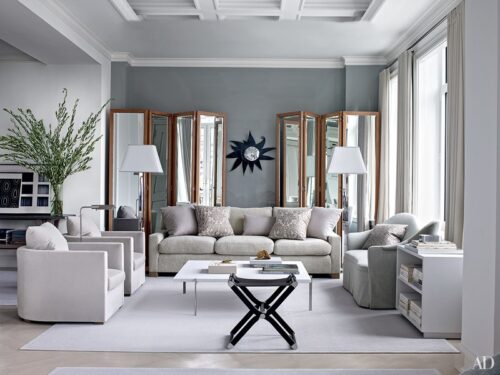 Reclaimed wood
Barnboard details
Big, comfortable furniture
Architectural salvage
Pine furniture
Wrought iron accents
Wide plank floors
Vintage accessories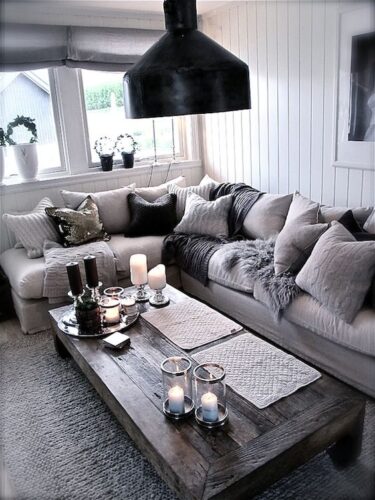 Check out these beautiful images of gray living rooms that have implemented these elements in a natural way.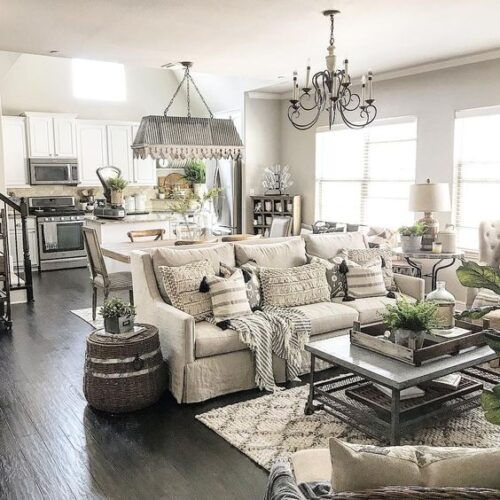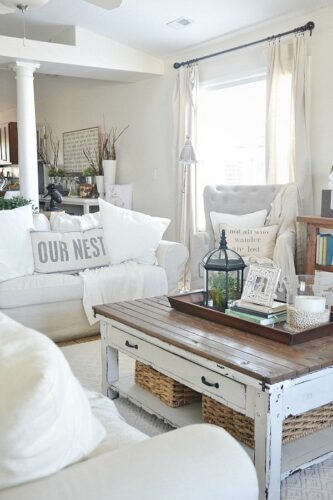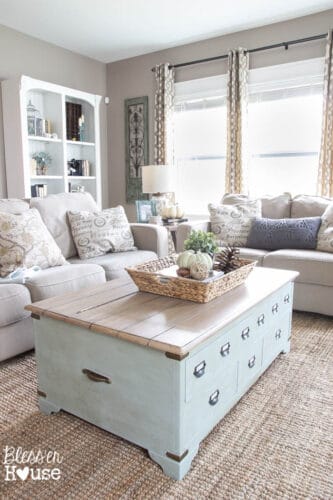 Farmhouse style doesn't have to be rustic. A beautiful, bright, and new house can still exhibit many of the farmhouse characteristics. Farmhouse style is all about relaxed simplicity and comfort. This is good news because it doesn't have to be expensive.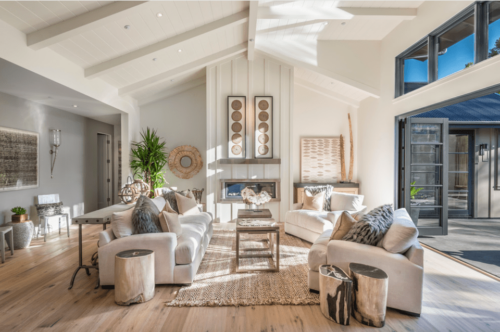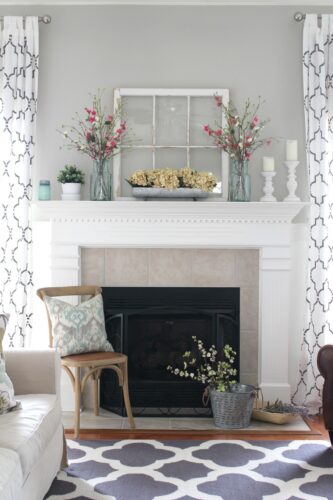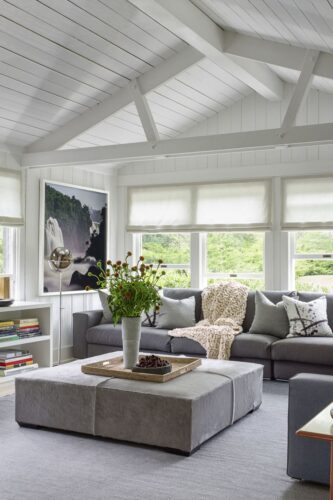 Choosing the right gray for your farmhouse living room can be tricky. You don't want to go to dark, but you also don't want to look too cold and clinical. With about 12 million shades of gray on the market, take your time in choosing the one that's best for you.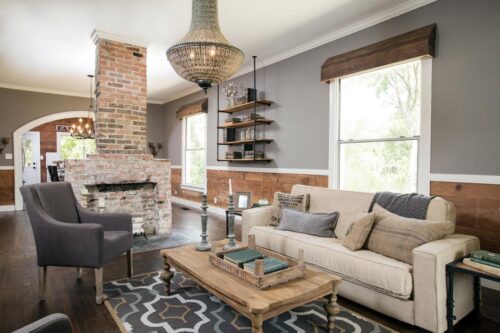 We always recommend buying a few paint samples and painting large sections of your walls to see what looks best before you commit to painting the entire room.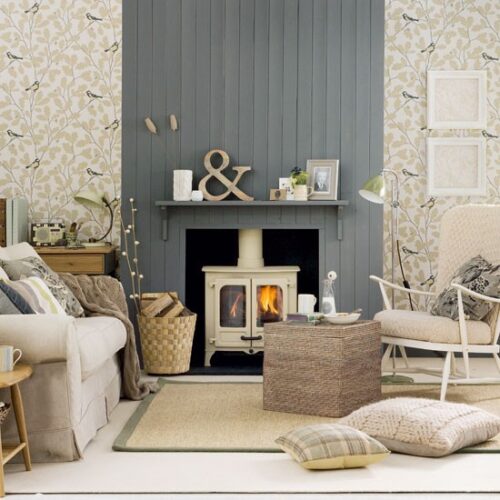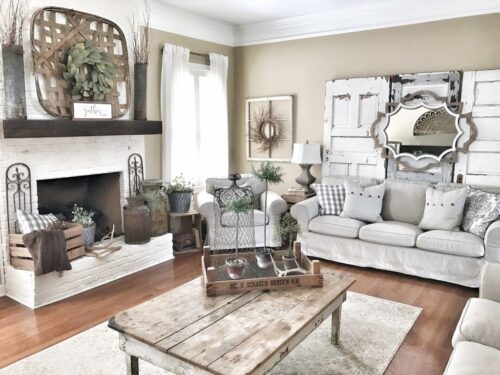 With gray as your foundational color, you can choose a variety of accent colors to bring your room to life. Gray pairs beautifully with natural wood, greens, purples, orange, and yellow. You can incorporate blush and lavender for a more feminine look, or navy and green for a neutral pallet.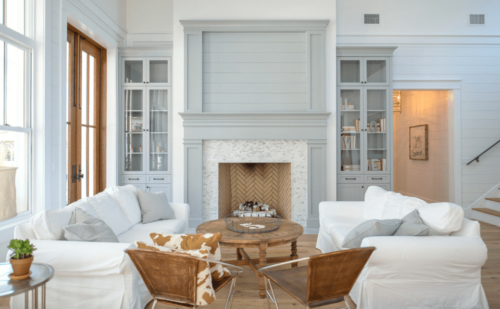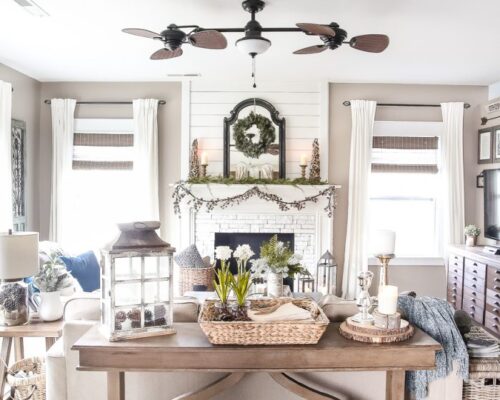 Create the farmhouse living room of your dreams with the perfect shade of gray and a little inspiration.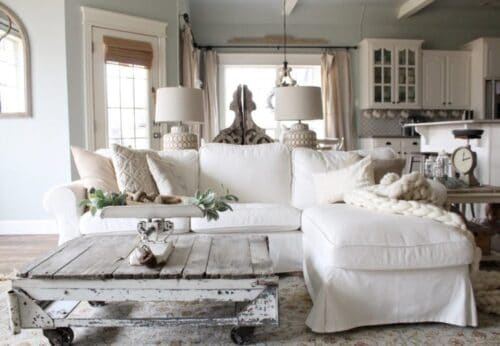 If you love these rooms and want to remember them, borrow a pin from me!