Antiqued items are more popular than ever before and antiqued dressers are leading the bandwagon. There's something sentimental and nostalgic about the "good ol days" that is brought back with antique furniture.
Whether it's past its prime, rough around the edges or orphaned by its owner, there's an appeal to antiqued dressers and designers and decorated can't get enough. Searching for antiques is half the fun. But when you find the perfect piece, it's like you've reached the end of a treasure hunt and won the golden ticket.
Today, they don't make furniture in the same way they used to. Mass production has taken over and truly unique pieces with fine craftmanship are nearly impossible to find. In a world full of fast-paced media, instant gratification and constant updates, many are searching to fill their homes with pieces from a place far away in a time long ago.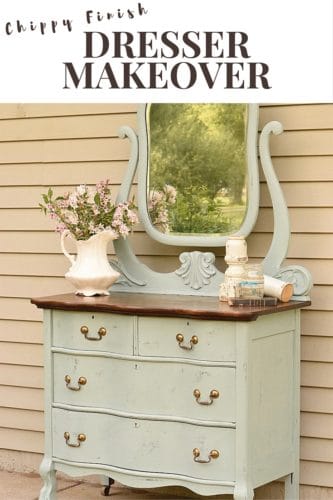 Classic Antiqued White
White is the most popular paint colors for antiqued furniture. Partially because it's easy to get a distressed look with white paint. You can choose a crackle finish, walnut glaze, or a variety of techniques that preserve the look of the original piece while giving it a beautiful finish.
This white dresser was antiqued using sandpaper as the aging material. To achieve this look, paint your piece a little lighter in some areas. An slightly uneven look is the goal. Take 80 grit sandpaper and rough up areas that would get wear and tear such as, corners, edges, near knobs, etc. Don't forget to scuff up sides and the feet of the dresser. Makeitinthemountains.com did a great job on this dresser.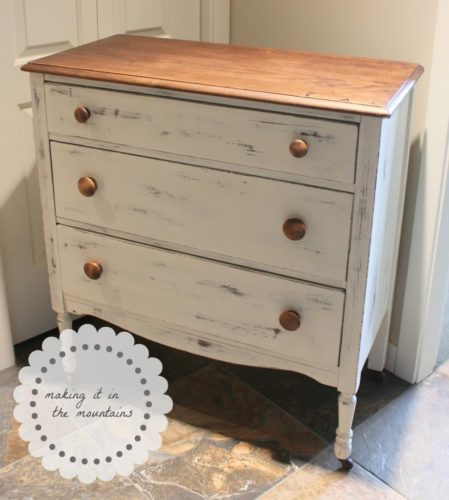 If you are adventurous for a more dramatic look, this dresser as a more chunky distressed pattern. The technique is similar. Paint the dresser, and then use sandpaper to scuff up certain areas. Remember to use the sandpaper by hand. You do not want round circles of distress from your hand sander.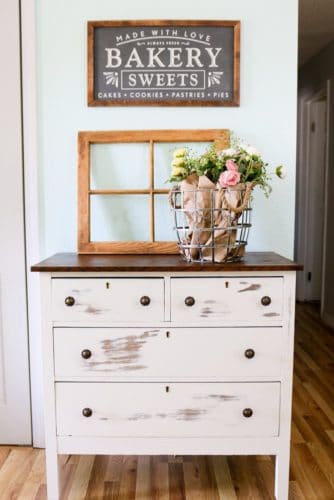 White is also popular because it makes the piece stand out against darker walls and flooring. A beautiful white dresser makes a stunning side table, entertainment center, bedroom accent, or sofa table.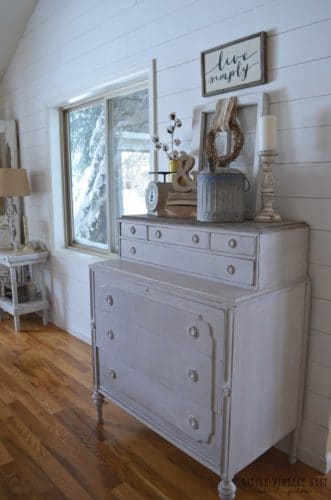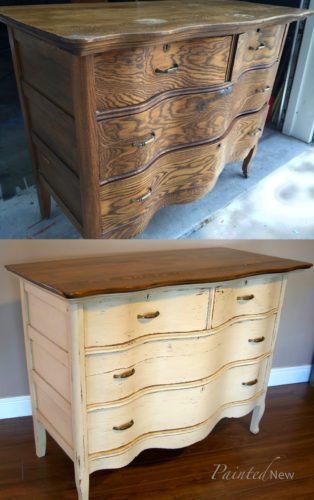 Paintednew.blogspot.com did a great job on this white dresser. She took the over all white look to a creamy antiqued tone with glazes. Remember that no matter what style you create, every piece need to have a topcoat, or protective wax applied. You want your piece to stay looking the same over the years.
Natural Wood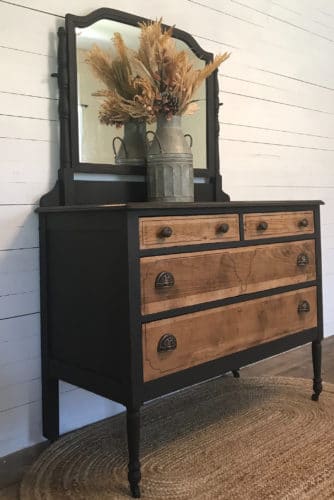 For true antiquers, maintaining the integrity of the original piece is most important. Anytime you are breathing new life into an antiqued pieces, it's important to learn as much as you can about the original wood.
Treating and caring for the piece is critical to maintaining it's original elegance. Revitalizing natural wood can be a tricky process, but when it's done correctly the results are absolutely stunning.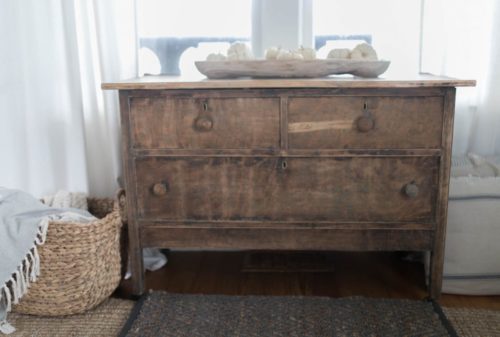 Just like any other project, your dresser needs to be cleaned with a damp cloth. Sand it down until you get the desired texture. Natural wood furniture, requires more sanding than painted furniture, so if you think you are done sanding, do it one or two more times to make sure it is as smooth as possible. When I work with natural wood finishes, I end up sanding it at least 8 times with various grits. Work with small grits first, such as 120, and work up to 250.
Varnish is applied, as well as a top coat to protect your wood furniture.
Blue and Green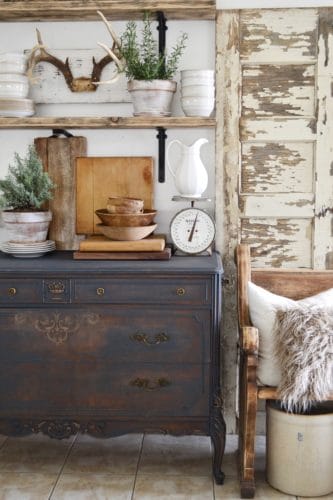 Next to white, blue and green seems to be very popular options for antique dressers. These dressers bring back a retro feel and add a nice pop of color to the space. From a light robin's egg blue to a bold splash of deep teal, these shades lend themselves to adding new life into classic pieces.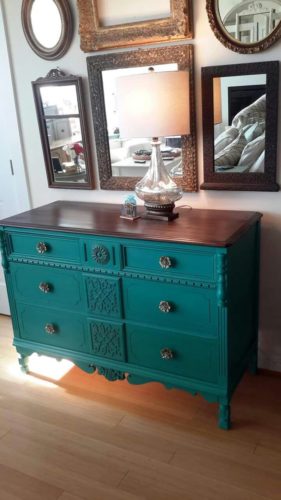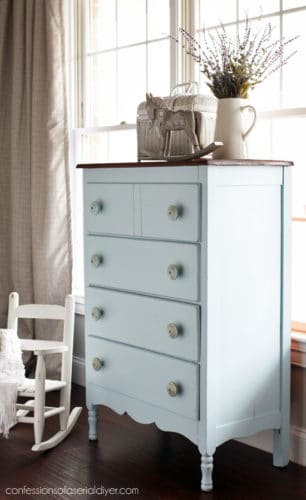 With colors, remember to start off with a good paint. The quality of paint will reflect in the deep rich tones of your color. Pratt & Lambert is a great brand to use. Note that your colors will darken as they dry, so don't panic if your paint can looks lighter than you anticipated.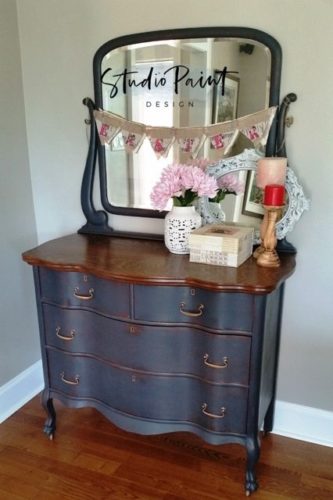 This dresser by Studio Paint Designs was glazed. Can you see the overall brown tone of the dresser? Brown glaze was applied to the edges of each drawer, adding movement and depth to the dresser.
Patterns

Many of the dressers from generations past had hand painted details added by a furniture artist or owner. Sometimes these details covered the entire surface of the piece. Other times it was just a detailed accent. Adding patterns to repurposed or antiqued dressers is one way to help them stand out. You can add your own patterns or create a replica of the original artwork. Either way it's a stunning addition to these beautiful furniture pieces.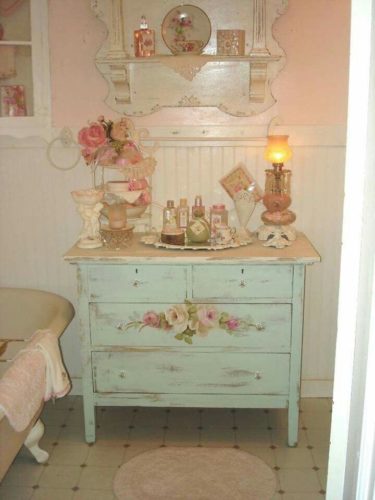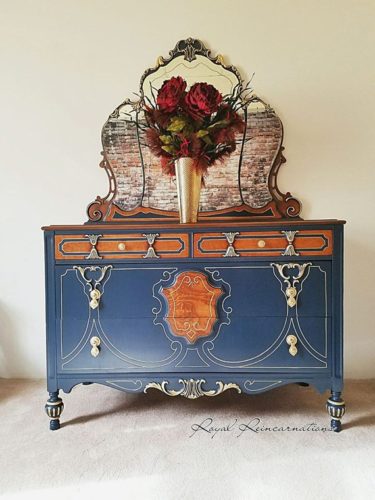 Whether you found a hidden gem that's ready for a fresh look or you've taken something new and want to make it look old, these beautifully antiqued dressers bring character and charm to any space.
Love this article? Pin it!