A kitchen remodel can be really expensive once you get new cabinets, flooring, backsplash, countertops, etc. Here are some ways you can update cabinets, countertops, flooring, backsplash, baseboards and other parts of your kitchen on a small budget with a DIY kitchen remodel. These are some of the best tutorials online to help you do it all, step-by-step!
HARDWARE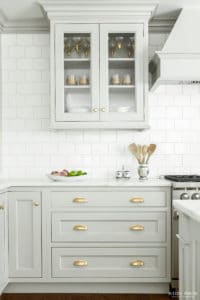 Update your hardware! A big interior design myth is that hardware makes your kitchen look cheap and cluttered- no way! It is just the opposite, hardware adds a finished look to an otherwise plain room. Need advice on what hardware to choose? Check out this article: How to Choose Hardware For Cabinets. New hardware is a simple project you can get done in an hour but makes a big difference.
BACKSPLASH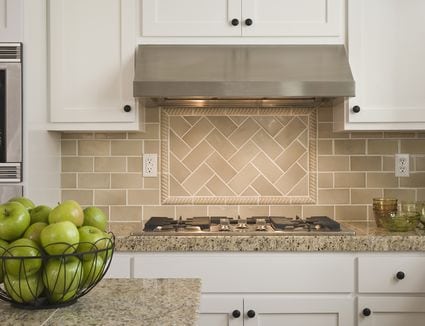 DIY Your Own Kitchen Backsplash! It is easier than you think. The brick backsplash is the current trend, with tile as a classic safe bet. Either way, add color and texture to a boring room with a new backsplash. Your local hardware store sells DIY kits at a lower price than you would pay a contractor, many of which are faux stone images that look just like the real thing. You can save even more by doing it yourself. Click Here for DIY Backspash Tutorial.
TRIM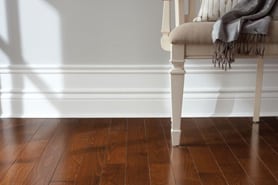 Create an exaggerated baseboard. The larger the trim or baseboard, the more expensive it looks. This is because trim beautifully gives each room a nice clean edge, so the more noticeable the bigger the effect. Replace the small trim with a taller baseboard. If you are feeling up for more of a project, add a crown. I did this to my home, and you would not believe the effect. The rooms feel taller, cleaner, and more open. Look at the top of these kitchen cabinets, that crown is beautiful!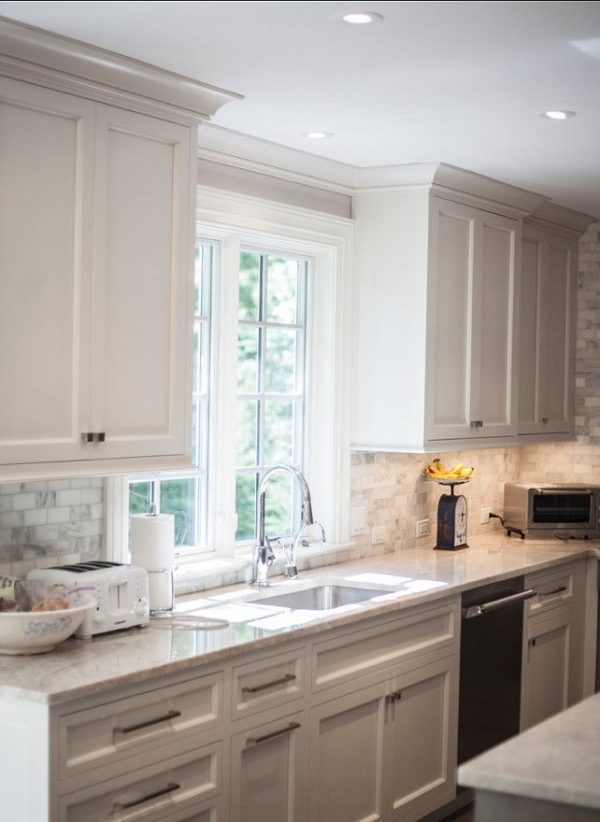 CABINETS
This would be the biggest DIY kitchen remodel project. Look at your kitchen cabinets. They take up so much space and have the biggest impact on the look of your kitchen. Repainting, restaining, or completely rebuilding the face of your cabinets can completely change your kitchen. This project takes skill and time and is not for the faint of heart DIYer. This article is great for repainting cabinets: Painting Laminate Cabinets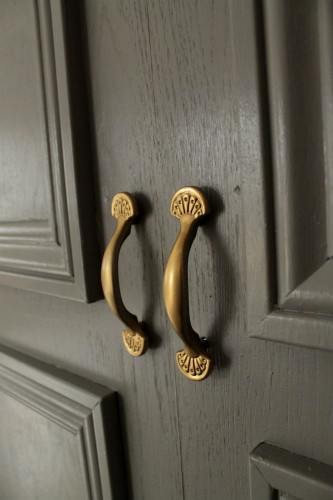 Here is a tutorial on these cabinet makeovers to give you an idea of what you could do if you want to rebuild the face of your cabinets.
OPEN CABINETS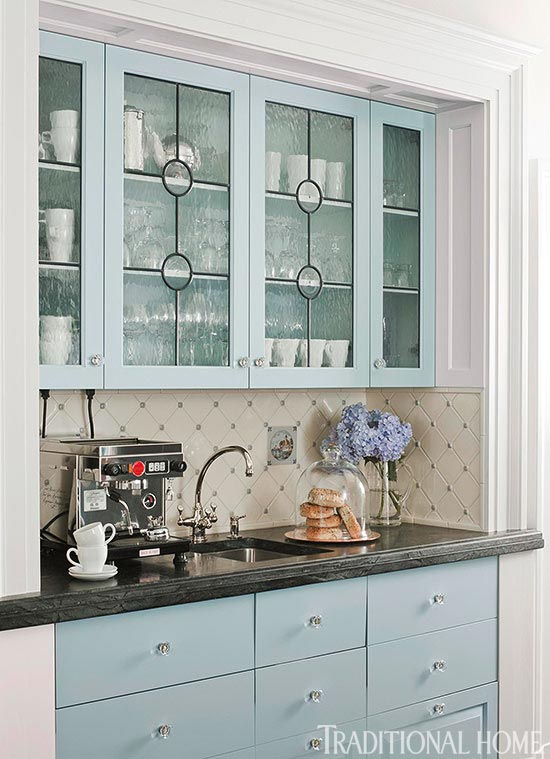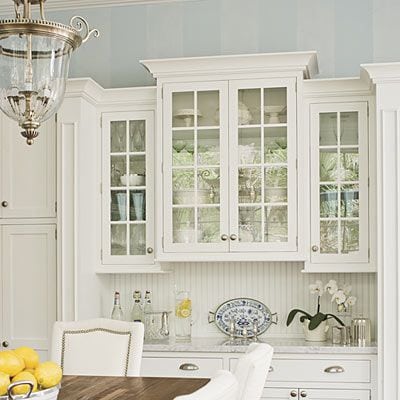 If you have open cabinets consider painting the back a different color, or adding contact paper for a background. The color adds design and a pop of color! Older kitchens have all closed kitchen cabinets. Cabinet faces can easily be removed and replaced with glass doors to give you an instant farmhouse feel, or a built-in china cabinet.
FLOORING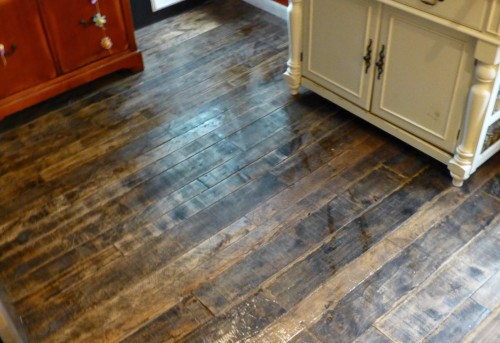 The internet has made DIY projects not only available but successful. Quick learners are able to do several household projects that years ago they would have had to pay a professional for. Hardwood floors are one of those. Home Depot and Lowes sell put-it-together kits that you can do yourself. If you want to save even more money for a true DIY floor check out this article:
COUNTERTOPS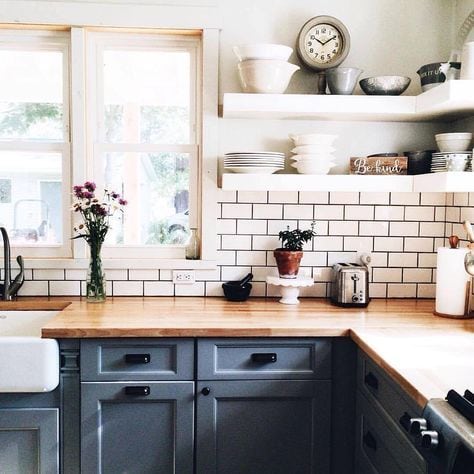 Consider changing your countertops. Block countertops are all the rage establishing a farmhouse look, on a smaller budget. If you still like the rock look, check out the following tutorial for granite countertops.
Faux Butcher Block Countertops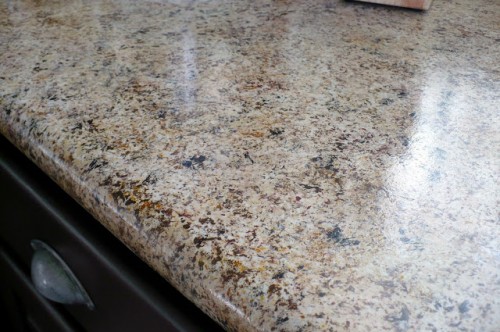 Kitchen Makeovers With Granite
KITCHEN TABLE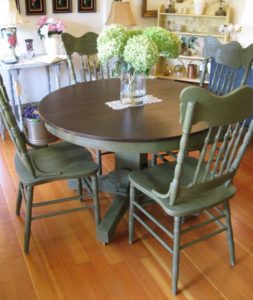 The kitchen table is the most used piece of furniture in your home. It really sets the tone to the whole kitchen. If your table isn't in perfect shape, give it a touch up or do a complete makeover. Check out the following article for great resources to make sure your table lasts!
The 4 Biggest Mistakes People Make When Painting Their Kitchen Table
LINENS
Kitchen linens are the easiest way to change the look of your room. Buy or make new curtains, hand towels, table runners and floor rugs. Notice what a difference these kitchens would be without their linens.