Country Cobalt or Farmland Blue?    Semi-gloss or satin?     Chocolate or vanilla?
Ok, that last one is easy.
But not all decisions are simple, especially for those of us that are indecisive, unsure, (or hungry). There's no mathematic formula to picking the perfect color, or pattern, but gratefully, there is a fairly simple formula for choosing the right paint sheen: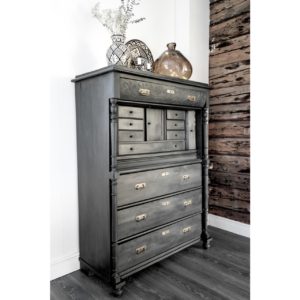 Sheen = Shine = Durability.
The higher the sheen, the higher the shine. The higher the shine, the more durable the finished product will be. Simple, right? Kind of. Let me break it down even further into the who, what, and why of the five most common paint sheens.
Flat Paint
Flat paint is the bottom of the totem pole. It has no shine whatsoever. However, it still has a very important place in the paint world. Flat paint is perfect for covering imperfections. Because it doesn't reflect any light and carries a lot of pigment, it's a great cover up. If the paint counter was a makeup counter, flat paint is the concealer. The downside? It's really hard to clean. Scrubbing flat paint will likely take it right off the wall. However, it makes a great backdrop for a pop of pattern on your wall.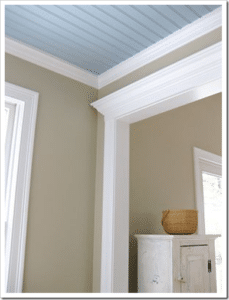 Eggshell
Eggshell is essentially flat paint with the tiniest itty bitty hint of luster, like a chicken egg (hence the name). It is only a fraction of a step above flat paint, and is often used for areas, spaces, or furniture that will not get a lot of bumps or scuffs, but just need a good solid pigment covering.
Satin
Satin is a nice paint that is velvety, smooth, and just enough reflection to make it more durable than either flat or eggshell. It is perfect for high traffic areas because it is easy to clean and wipes up well. However, it does show roller or brush strokes, getting a smooth application or making touch ups can be tricky. Both Satin and Semi-Gloss can be used indoors or outdoors.

Semi-Gloss
Semi-Gloss is a more durable sheen than satin, making it good for areas that take a lot of abuse, like trim work, kitchens that are susceptible to moisture, drips, grease, and constant cleaning. However, the more sheen you get, the more it's going to show imperfections underneath, so prep work becomes more important, and application should be done carefully.
High Gloss
High Gloss is the best of times and the worst of times. Think of car paint, or appliance paint that is ultra-shiny, super tough, and very hard. It is most commonly used for trim, doors, and cabinets that are under constant use. Pack plenty of patience, and don't skip on the prep work because high gloss will show every imperfection underneath. Gloss is the perfect accent color if you're looking for a pattern effect. Use high gloss paint over a matte or eggshell paint in the same color, looks beautiful!