One of my favorite childhood stories was Matilda. I love that little girl and her imagination, but do you remember Mrs. Trunchbull and the chokey? In my childhood, painting the deck was the figurative equivalent of being locked in the chokey. Painting the deck ALL day long, seemed like cruel and unusual punishment.
With the exception of composite wood or manufactured products, all wood, even pressure treated lumber needs to be protected against the elements if you want it to last. Paint is a good way to keep your deck looking brand new. As an adult, I actually enjoy painting the deck (shocker, I know). I love seeing the instant change it makes in the entire look of the house. Over the years I have picked up a few tips on how to repaint your deck the correct way that makes it easier, faster, and more beautiful than ever.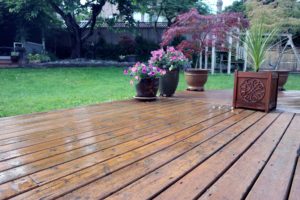 Start with a good cleaning. This is such an important step. Don't think that a good sweeping is good enough, it's not. Really clean the wood thoroughly with a pressure washer to remove all dirt and grime.  You can add a regular deck cleaner as well, and for an older deck, you may need to use a paint remover to get rid of old product buildup.
After it is clean, allow the wood to try for at least a couple of days. (Check the 7-day forecast before you start this process, you need several days of sun from start to finish.)Once the deck is clean and dry, start to sand. As a child, this was done with a sanding block (hence the reference to torture), but using a big floor sander is often too much power for uneven deck boards, but a belt sander works like a dream.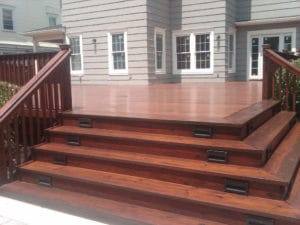 Start with a heavy grit (50) sandpaper and then repeat with a ligher grit 60/80). Unfortunately, you will have some areas a belt sander can't reach, so you may still have a little sanding to do by hand.
When it comes to choosing a paint or stain, some people prefer a clear coat to protect the color of the wood. Unfortunately, clear coats provide no protection, so a solid stain or paint is the best option for maximum protection.
Painting methods vary depending on who you talk to, but I have found that painting is best done as a two person job, one sprayer, one roller. Start by spraying a generous coat of paint on the wood and then follow with a roller to spread out puddles and work the paint into the wood and down the cracks. You want a good coat of paint, but not too thick otherwise it won't dry evenly.
Start with an inside corner and work out to avoid overspray onto the house. Spray the paint parallel to the deck boards and use a brush for control around railings and posts. Most decks, especially old decks require two or three coats of paint at least every other year.