Re-purposing or transforming a piece of furniture often requires you to start with a worn down piece of furniture. Here are a few ways you can repair damaged wood furniture, without having to fully refinish it or redo the entire surface of the piece.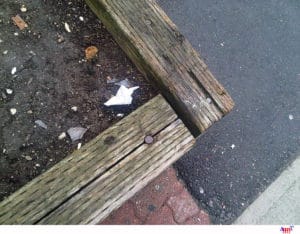 Gel-Stain
If you have nicks or scratches that are exposing the raw wood, you can brush on a gel-stain. You should be able to match it to your existing stain color.
Remember to brush it on with the wood grain, not against the grain in order to get a smooth, even look that doesn't stand out.
Use Wood Filler and Touch Up Paint/Stain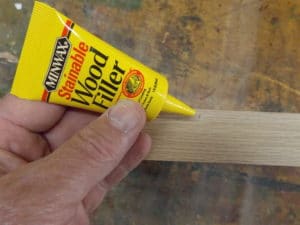 If you have a significant hole dug out of your piece or the damage needs a little more than just color touch up, you can use wood filler. Fill the hole with wood filler. Once you have the wood filler smoothed out and shaped to fit the piece, you can sand it a little, then stain it or paint it to match the rest of the piece.
DIY Mixture: There are a few recipes you can make at home that are great for touching up wood: 1/4 Cup Canola Oil & 3/4 Cup of White Vinegar
Denatured Alcohol
Denatured alcohol is great for removing stains and markings on furniture, just be careful, because denatured alcohol will remove small amounts of water based paint.
Clear Fingernail Polish
You can also use clear fingernail polish to touch up damaged furniture if the color or stain is still intact but the clear finish is damaged or chipped.
Use the fingernail polish to touch up the area and then using the 1600 or 1800 grit sandpaper, restore the sheen to match.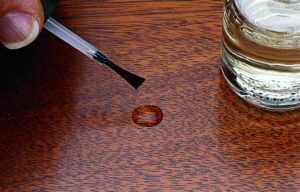 Stain Marker/Pen
If you just needs a little color touch up to cover the exposed raw wood, a stain marker or pen should do thetrick. Find a close color match. Just remember to wipe off the stain that overlaps onto the existing finish and then maybe apply a little furniture wax over the top and buff, to match the sheen.
Furniture Wax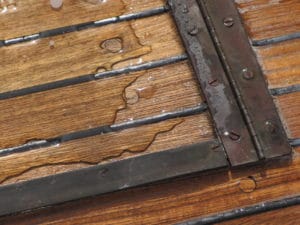 If the color or stain of your piece is fine, but there is scuffing on the clear finish, you can also apply furniture wax to the piece and buff it, for an even finish. Apply only a thin layer to the surface and use a dry cloth to wipe it around as evenly as possible. Then, wait a couple of days for the wax to set up and then buff it well for a nice sheen.
I hope these tips help with your repair project!