The hardware section of Big box stores can be overwhelming, I'm here to help. First off, you likely adding hardware to your cabinets, because you are reading this article- so go you. Many people choose not to add the hardware, due to the cost, indecision or just for the blank look, but trust me the real first mistake is not having them. Cabinet Hardware adds value to your home, an elegant finish to the look the hopefully ties into your appliance finish, and they save the life of your drawer!
In my first kitchen, I had no handles or knobs. I figured it wasn't too big of a deal, and had no money anyway. Months turned into years and the utensil drawer, the cupboard the housed my plates, you know the frequently used cupboards and drawers were the first to show wear and tear. About one inch above each drawer it looked like a cat attached to the drawers. It was just me, with my non-manicured hands, slowly ruining the integrity of the cabinet face. Spending 4$ on a pull to protect a $350 cabinet, seems pretty reasonable to me.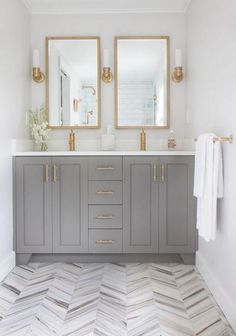 I will be referring to pulls and knobs.  Knobs are small and mounted with one anchoring screw.  These are often round or square and traditionally are found on cabinet doors.  Pulls are referring to handles, or longer grips that have two screws securing each end. These are traditionally used on drawers.  
#7 COST
This brings me to the first mistake people make, cost. As I mentioned, these cabinets are very expensive no matter where you get them, and they need protection. However, probably have more drawers and doors than you thought you did. Most kitchens have 25-40 drawers and cabinets. Hardware runs from $1-$6 each, do the math before you put your order in.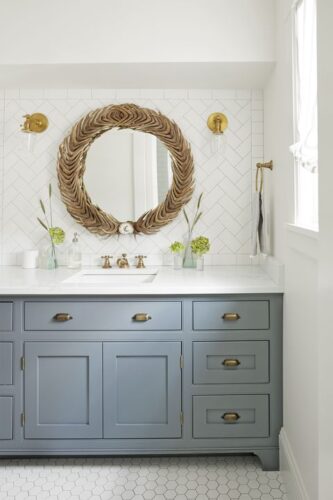 # 6 TRY SOME
When I redid my kitchen, I thought I knew what hardware I wanted, but I wasn't entirely sure.  I picked out one pull and one knob.  I installed them and gave them a few days.  Turns out they were perfect.  I loved them and went back to get the remaining cabinet hardware piece.  If you are going to spend hundreds of dollars on hardware, make sure you like it before you install all 30 of them.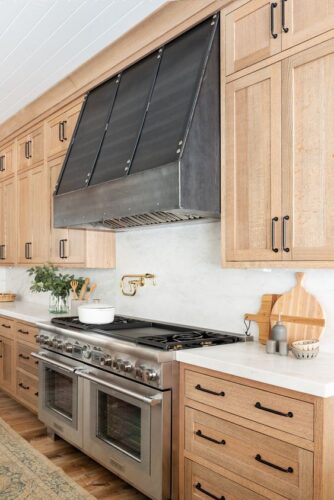 #5 FORGETTING TO MATCH
Cabinet hardware should match existing metalwork such as your sink faucet, or appliances. This creates a unified look in any kitchen or bathroom. Decor can always bring in different elements, a brass clock in an industrial kitchen warms the decor. There is a time and place to mix and match finishes… but not with hardware. Pick the same knobs and pull for the entire room, and make sure it matches the main finish in the room. This establishes a great diving board to work off of.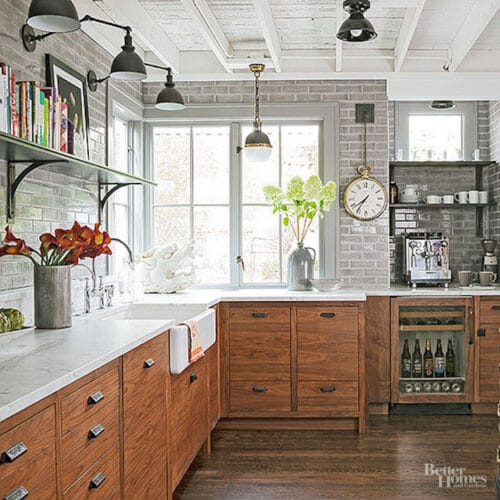 #4 AVOID TRENDS
In the '80s clear knobs were all the rage, followed by brass and flower-painted pulls in the '90s.  The early 2000s is where bronze hardware shined.  My point is, unless you want to redo your hardware every 10 years avoid trends.  
Look at your cabinetry.  It is their time to shine, not the hardware.  The hardware is the cherry on top, but it isn't the ice cream. They don't need to be the attention grabber.  To stay on the safe side choose silver, black or white handles for a classic look that will withstand the times.  To be in with the times but not overly trending try gold, aluminum, or chrome.  
Trendy colors that most likely will have a short life are Brown, Brass, Bronze, and Copper.  
With that said, this is your home. You have my permission to do whatever you want. Order those bubblegum pink handles, if that's you! Just know you might change your mind in the future.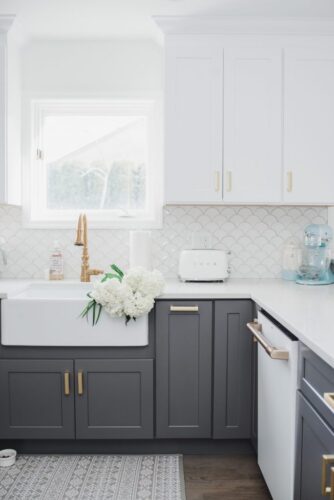 #3 BEWARE OF EDGES
This kitchen looks amazing right? I stayed at a Vrbo that had hardware like this. It is sleek, beautiful…but the edges are like little grappling hooks ready to grab you as you walk by to put away your goblet. There were so many times each day the pocket of my pants or shorts, would catch on these handles. You seriously would not believe it! This goes back to my #2 advice. If you love handles with open edges, try just a few out. Walk by them often and see if they are the right cabinet hardware for you.
#2 STANDARD SIZE
Hardware comes in all sizes. The size you need to care about is the distance between screws. This only has to do with pulls, since knobs can easily be upgraded or switched. If you purchase your brass vine pulls that have screws that are 2 ¼' apart and you want to change them, you will have a big problem finding a pull in that size, let alone one you like. Standard screw sizes are 3-5 inches. Keep your hardware in this range, on increments of ¼ inch and you will be set.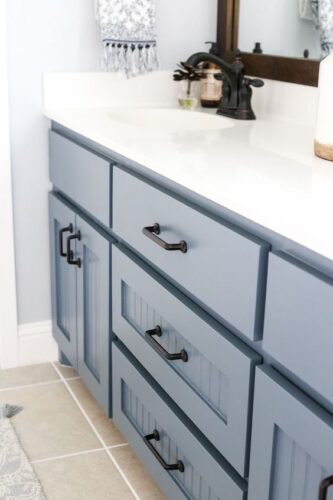 #1 EASE of CLEANING
Whether it's toothpaste from the bathroom or marinara sauce from the kitchen, your hardware is going to get dirty. The cabinet that houses my garbage bins is the #1 messiest pull it's followed closely with the handles on my fridge. If you have little people in your home as I do, remember that these pulls and knobs need to be easy to clean. Choose the handpainted, elaborate handles for retirement days.
To install your hardware, use a wooden template. Measure twice, drill once, and then use that template on all your cabinets so they are exactly the same placement. It is best to start on a cupboard that is inconspicuous.
Love this article? Pin it!