Everyone has a bathroom, the difference lies in whether you are comfortable with allowing people to use it or not. Beautiful bathrooms don't require a huge investment of money or require you to run out and buy all new cabinetry. In fact, you will learn that with bathrooms less is more.
Beautiful bathrooms have a clean spacious feel, and yes you can achieve that even in the smallest of bathrooms. Let me show you how to decorate your bathroom in a way that is your own style, and one you will be proud to share with visitors.
#1 Lighting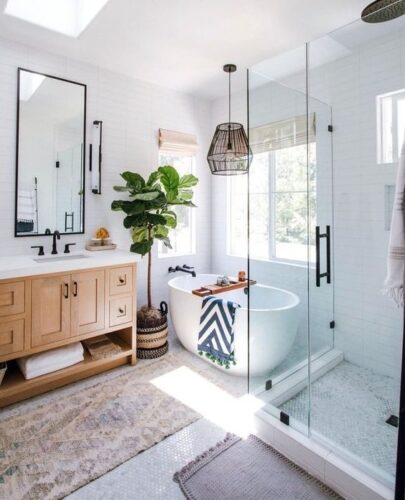 You will see a large amount of lighting in every bathroom photo in this article. Lighting is #1 in how to beautify your bathroom. If you have a window, do NOT cover it in drapes. Open it up. Add a privacy film if you prefer, but let that light in! If you don't have a window, invest in a good light. You will see some bathrooms that are small and darkly painted, but they have adequate lighting.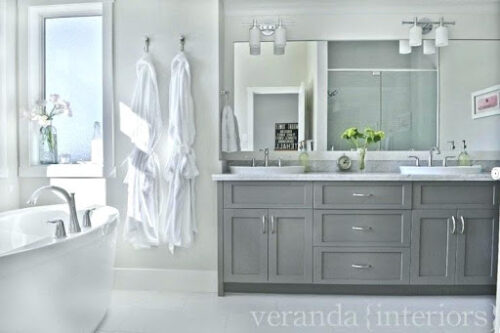 Each of these beautiful bathrooms is clean. That is a given, but when our counters are filled with toiletries, frames, candles we never light and soap that isn't used for washing, it never looks clean. Keep toothbrushes in a drawer, your hair dryer and curling iron get stored away.
#2 Simplicity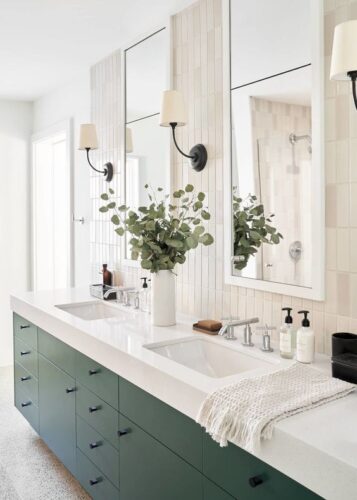 This bathroom is a beautiful example of a simple counter. Have soap, towels and maybe one or two other things at the most. A clock or a plant is always nice and then stop. You do not need to decorate your bathroom to make it beautiful, wall colors, and smooth countertops will do that.
#3 Simple Flooring
Simple flooring is preferred when you are trying to have an elegant bathroom. You want the eye of the visitor to be anywhere but the floor. Add a fun accent wall or decorative tile as a backsplash, but the flooring should be simple. Look at these two bathrooms:
One has a very busy looking floor, and it draws your eye downward. Towards the hair, the dirt, and away from the beautiful mirrors, and shower.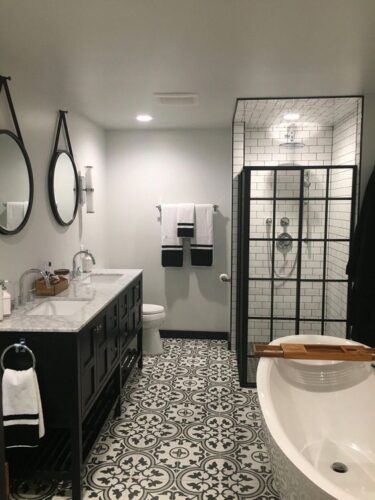 It is completely distracting.
This bathroom has a very simple flooring, and so your eye looks for something beautiful bounces around the room and you see the warm wood cabinets, the twin mirror on the wall, you notice the warm wood ceiling and the industrial chandelier hanging. Your eye takes in the whole room, and though all these elements individually are "simple" or 'plain" they don't fight for your attention, so they are more harmonious.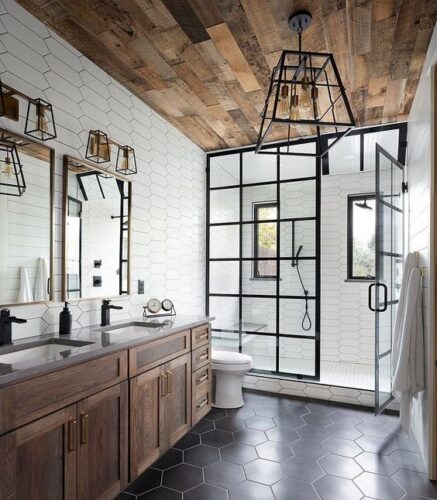 #4 Patterns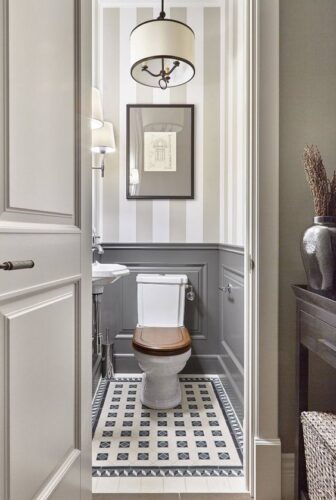 If you are looking for an elegant bathroom, look no further than the classic pinstripe look. This bathroom is rather small but is screams sophistication and elegance. The wallpaper is simple with a neutral tone that doesn't compete with the other elements at work. This floor works well as it is the same coloring pallet and ties the grays all together.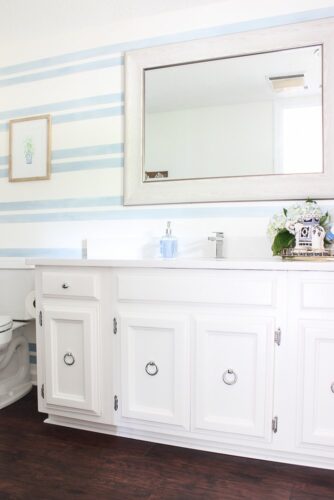 This other bathroom looks great with horizontal stripes. Again the colors are muted so they aren't demanding your attention, just gently pull it up and along the wall.
If you don't want a large pattern on the wall, choose a shower curtain, or a framed artwork on the wall that adds some dimension to your bathroom.
#5 Hardware
Hardware not only protects the wood of your cabinets chrome getting scratched by fingernails but it also adds so much elegance to your bathroom. For years I had cabinets without hardware, I just never got around to purchasing them. Years later the face of my cabinets were damaged, and look even more run down. After getting new cabinets, I got pulls and knobs. It has made a world of difference!
Check out this gray bathroom below. It is beautiful but doesn't it look like something is missing?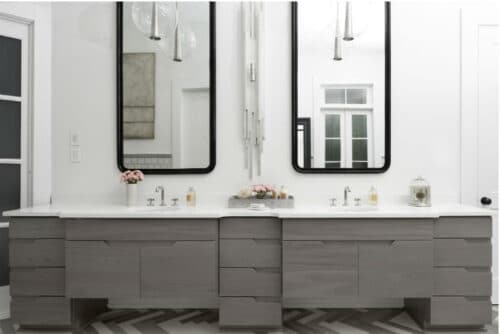 Now look at this one. The metal hardware just finishes off the cabinets, so they are complete.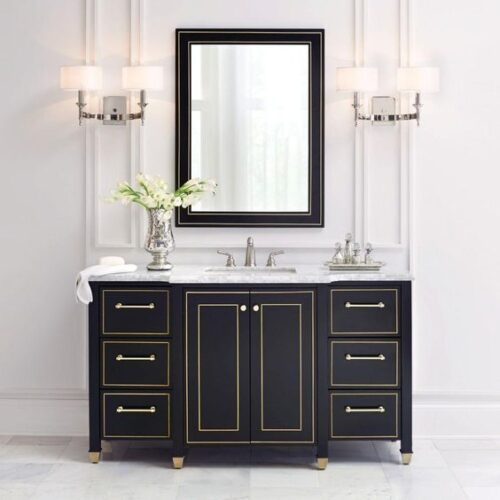 This black bathroom looks incredible with the gold trim and gold handles.  No matter what metal you prefer, add hardware to your cabinets.  They will last longer and will look fabulous!