Here are some GORGEOUS bedroom makeover ideas for you. Whether you have a boy's or girl's room, these images will give you inspiration on how you can improve your child's living space.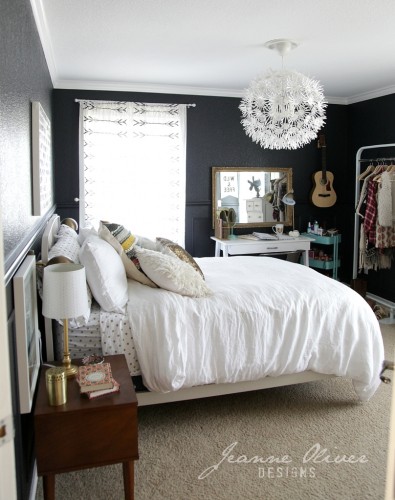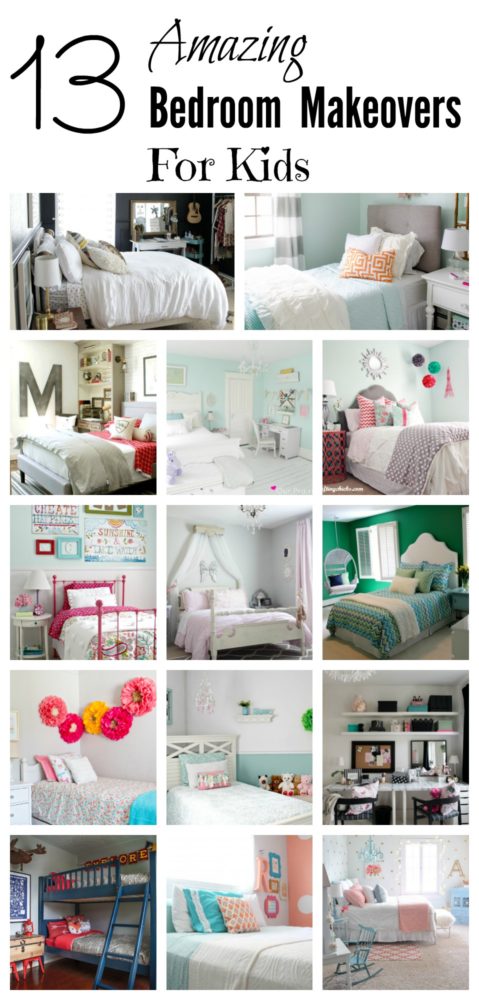 Teen Girl Bedroom Transformation
Teens love unique things such as the ball light, the window drapes or the fun guitar on the wall.  With teens you can go with an out of the box idea and it works, so be open to what they want in a room.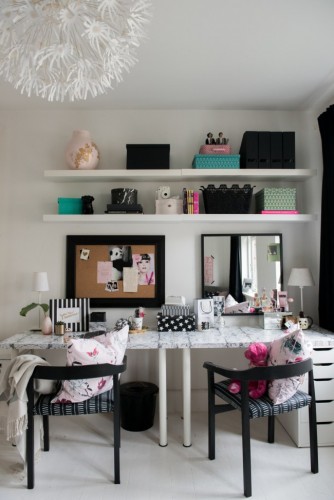 Teen girls MUST have a mirror in their room, and if it is near a desk, even better.  Your bathroom will be less crowded and your teen will have her must wanted space.  Trust me this is a great upgrade.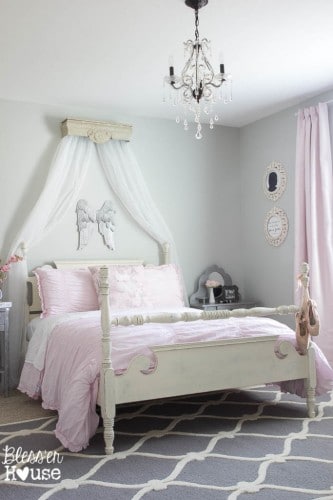 Pinks look better when they are soft, and gray is a natural friend to any pastel color.  I love how they  used the wall to create the illusion of a princess bed.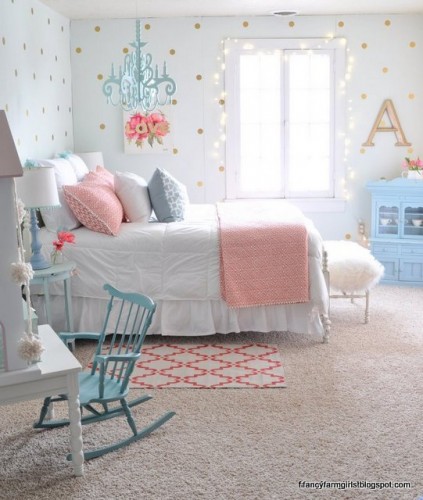 Coral, blue and gold are the key colors in this room.  The fairy lights around the window work beautifully with the gold sparkles on the wall.  Rugs on the carpet and pillows are great color vehicles in a room.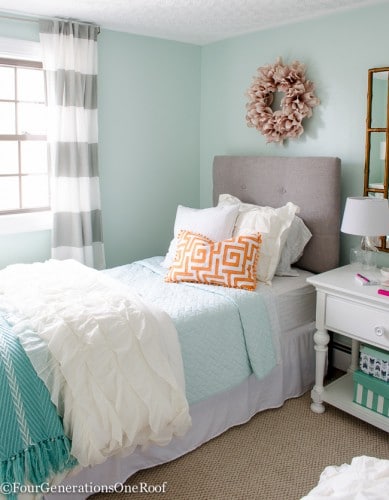 Sophisticated Teen Girls Bedroom 
This room stuck to the 3 color rule as well with orange, gray and teal.  Gray works so well with any color scheme.  A wreath above the bed is a simple touch to add color to the wall.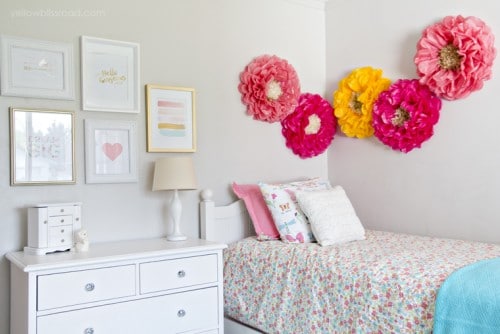 Pretty Little Girls Bedroom Upgrade
This upgrade was very low cost featuring new betting, a painted lamp, wall flowers and dollar store frames with self printed quotes and images.  Super simple for the smallest of budgets.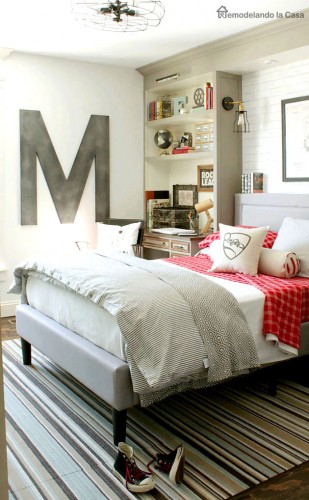 Teen boys don't have to have blue in their room.  Go with their favorite colors, or colors from a favorite sports team. Red, orange, green and even blue all work well with …you guessed it gray.  That is why we all love gray!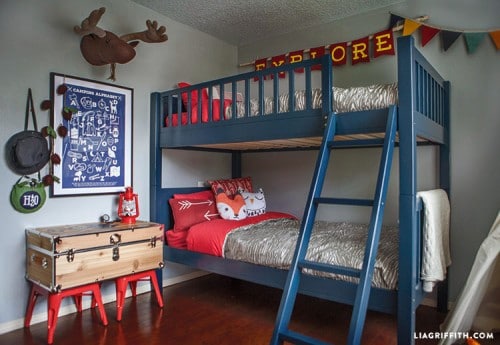 Don't ever worry about painting a wooden bed frame.  It is so simple and makes a big difference.  My young boys wanted a batman room.  I painted the walls a gray like this one and spray painted their bunk beds jet black.  They looked so beautiful, and it took me all of about 20 minutes.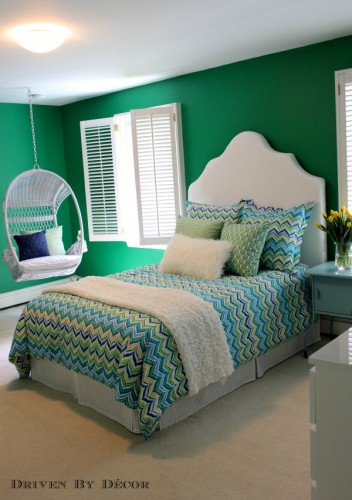 Green Tween Bedroom
Green is a very hard color to work with on walls.  This is a great example on how to pull it off.  Everything in the room needs to be lighter, to balance the weight of the walls.  The floor must be light, and windows bringing in natural light is a must.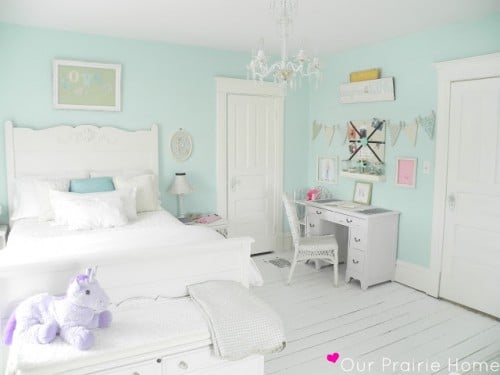 What a beautiful room! I love the hardwood flooring.  With so much white in this room the walls needed to be colored and the blue chosen is beautiful.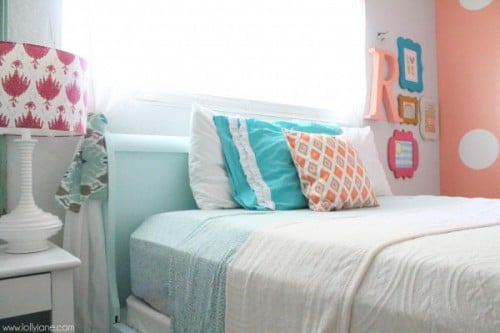 Coral Tween Girl Bedroom Transformation
This is such a fun color scheme for a girls bedroom makeover.  It is one that won't have to change any time soon.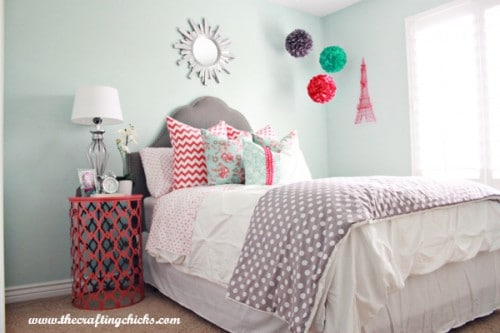 This room really is quite simple when you look at it.  It has so many fun patterns on the pillows and bedding that there doesn't need to be more on the walls.  I love the mirror above the bed.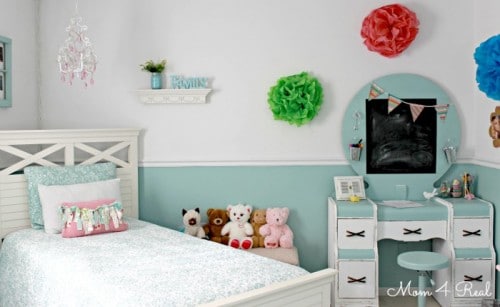 This bedroom makeover is so perfect for a little girl who wants to be all grown up.  It looks sophisticated yet fun.  I would get a larger shelf on the wall, so it doesn't look to bare.  I love the chandelier over head.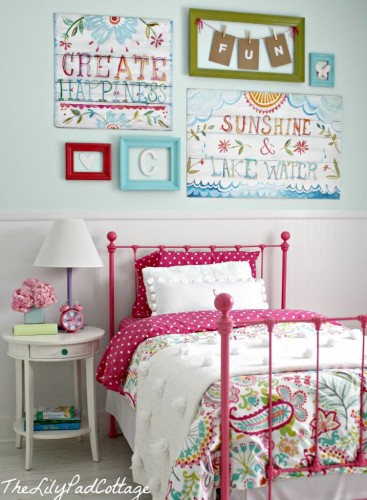 Who doesn't need a reminder to be happy.  The colors in this bedroom makeover and the quotes on the wall exude happiness.  It is bright and colorful and would work for any young girl or tween.