Painted Furniture Ideas
I don't know about you, but in my house at least once a day I hear the words, "Mommy, how many days until Christmas?" To my kids, it doesn't matter if it's January, July, or December 26th, they always want to know how many days until Christmas. Usually I can fend them off by reminding them we don't have a Christmas tree in the middle of summer, but once the décor comes out, they REALLY need to know.
I've always thought advent calendars are fun for two reasons. First, they give the kids a constant reminder of exactly how many days until Santa arrives so they can keep track themselves. Second, it's a great way to count down to Christmas enjoying traditions and treats along the way. Here are several of my favorite Christmas countdown ideas that are fun for kids and adults of all ages.
Who doesn't love brown paper packages tied up with string? Fill each package with a treat, an ornament, or a small gift to countdown the December days.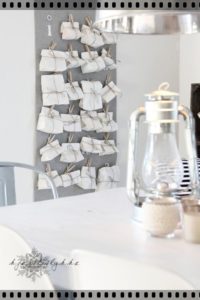 This is a super easy wooden advent you can make yourself with the help from the clever ladies at Shanty2Chic.com. They used basic 1×3-foot furring strips and clothespins to create a darling Christmas tree shape. You can put a gift bag, number tag, or even just some cute pictures on each clothespin and take them down one by one each day.  

I love this DIY countdown to keep in kids rooms. Just a basic metal cookie sheet becomes a cute magnet board with a little vinyl added. Viola! You're done.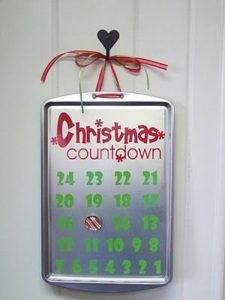 How darling is this little snowman character? Simply move his nose from number to number from 24 to 1. This can be made with wood, cardboard, or even a paper plate and crayons.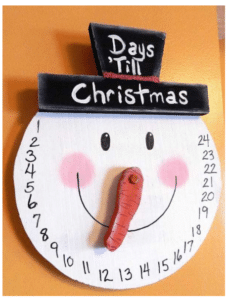 I love this idea because it is so much easier than it looks. Can you believe this is not a chalkboard at all – nor is it magnetic! It's simply a piece of black foam board and a little wreath on a push pin. Genius! Just frame the foam board, add vinyl numbers and find a little market you can hang on a push pin and move from day to day. Love this!
Classic block countdowns are probably one of the easiest advent options because there's no maintenance, upkeep, or daily to-do associated with this one. Simply grab some blocks and a wood scrap, paint, cover, and you're done. You can use it year after year and the kids love to move the blocks around to count down each day.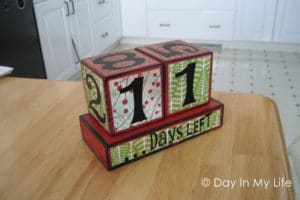 How cute is this? It's just a charger from any craft store, painted with a little chalkboard paint in the center. Add some vinyl lettering and you're done. You could even do the lettering with a sharpie or a paint pen to make it even easier. Super simple and super effective, that's a win-win!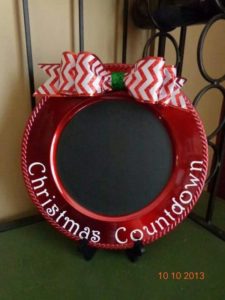 This larger-than-life countdown is so fun for kids because of its sheer size, you can lean it against any wall or at the end of the hallway and enjoy a statement décor piece and a Christmas countdown in one.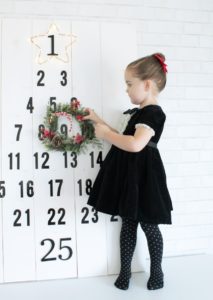 Combine the simplicity of wood blocks and chalkboard paint to create this easy Christmas countdown that anyone can enjoy.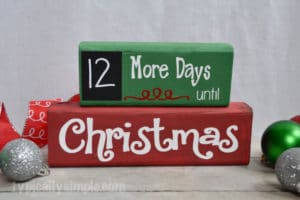 I love this idea for counting down to Christmas with books, simply wrap up 24 Christmas books, unwrap one book each day to read together. We started this tradition several years ago, the last book we open is a new book to read on Christmas eve. The kids love opening up books they haven't seen for a year and reading Christmas stories each day before bed.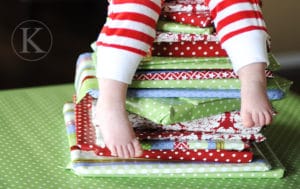 Similar to the Christmas book countdown, this is a spiritual version that tells the story of the birth of Christ by reading a few scriptures every day leading up to Christmas eve. What a wonderful way to remember the reason for the season each day.

It's tradition bingo! Enjoy time together and check off all your favorite traditions while counting down to Christmas. When all the activities are done, it's time for Santa to come!