West Elm has been the name for the newest and greatest home decor…until now. DIYers are taking beautiful West Elm decor ideas and making their own. Saving hundreds of dollars in the process and in many cases building something higher quality.
Not a DIYer, but want to save the cost? I got you covered. I have found beautiful West Elm look-alikes on Amazon.com for a fraction of the price! Check out these amazing projects and deals to bring beauty to your home, without hurting your wallet.
DIY West Elm DIY Projects:
#1: Simple Bench
This simple bench cost $699 on West Elm, Carmona made this bench for $15. Check out her blog for detail tutorials on how to build this bench out of one piece of treated lumber, and a 2×4.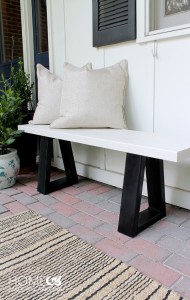 #2 Ladder Bookshelf
West Elm has so many beautiful bookshelves on their site. Most have a very simple modern look, which is great news. It means they are something you can totally copy, and save hundreds of dollars. This tutorial does require you to have some power tools to cut notches out of the shelving.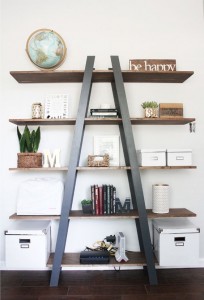 DIY West Elm Inspired Ladder Bookshelf
I loved the original bookshelf and this one looks even better. This is West Elm home decor at its finest. Simply Elegant.
#3 Light Pendant
West Elm introduced the beautiful curve of the wood hooped light. We all love it, but don't love the price of $189. This tutorial shows how to make this same look for $40 using wooden craft hoops, like these wooden bamboo hoops . You will need a pendant light kit to hang it. You can find several online, this Rubbed Bronze Mini Pendant Kit looks like the one pictured.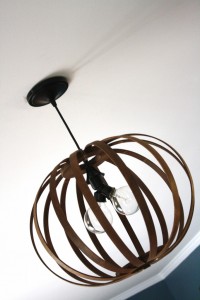 DIY West Elm Brentwood Pendant Light tutorial
#4 Wooden Plant Stand
Plants stand are all over West Elm, and this beauty runs for $125 each stand! If you have an electrical saw, and a kreg jig you can make this one with heytherehome for $10!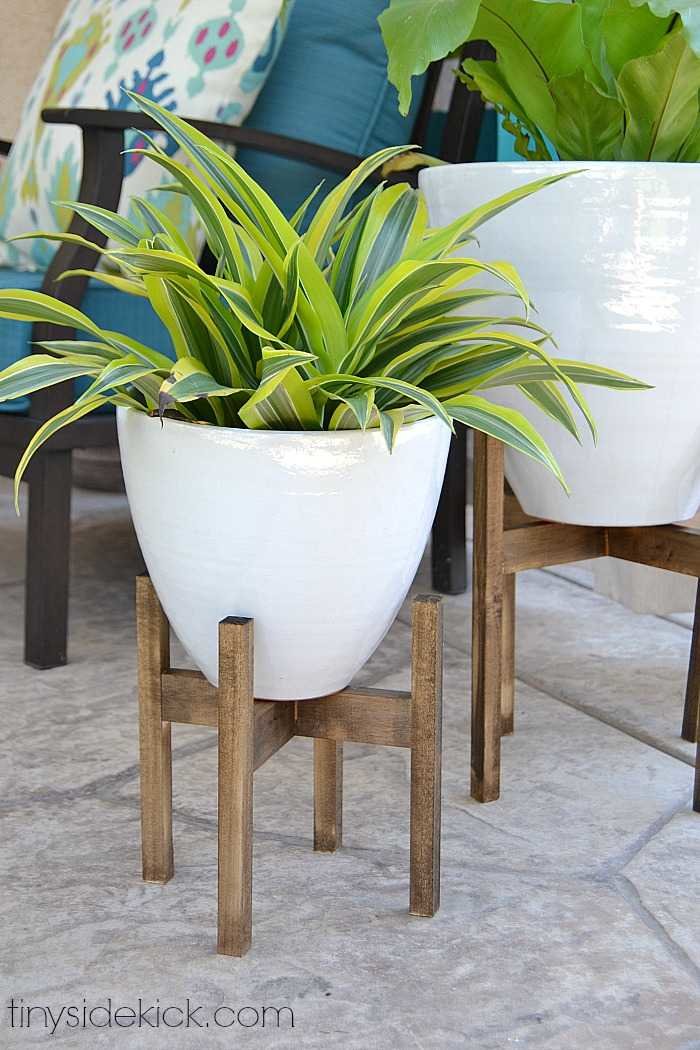 If you don't have those supplies or are in a time crunch like I was, you can find these stand on Amazon for a fraction of the price of West Elm. Check out this one on Amazon, it could be in your home in 2 days!
#5 Succulent Plant Stand
This plant stand is another great way to save money. The store sells it for $99, and you can make it at $6. Grab you keys and head over to your local dollar store, purchase 3 white ceramic bowls in various sizes. Grab 2 glass dividers. Hot glue them together and your done!
For details to the tutorial check craftberrybush.com here.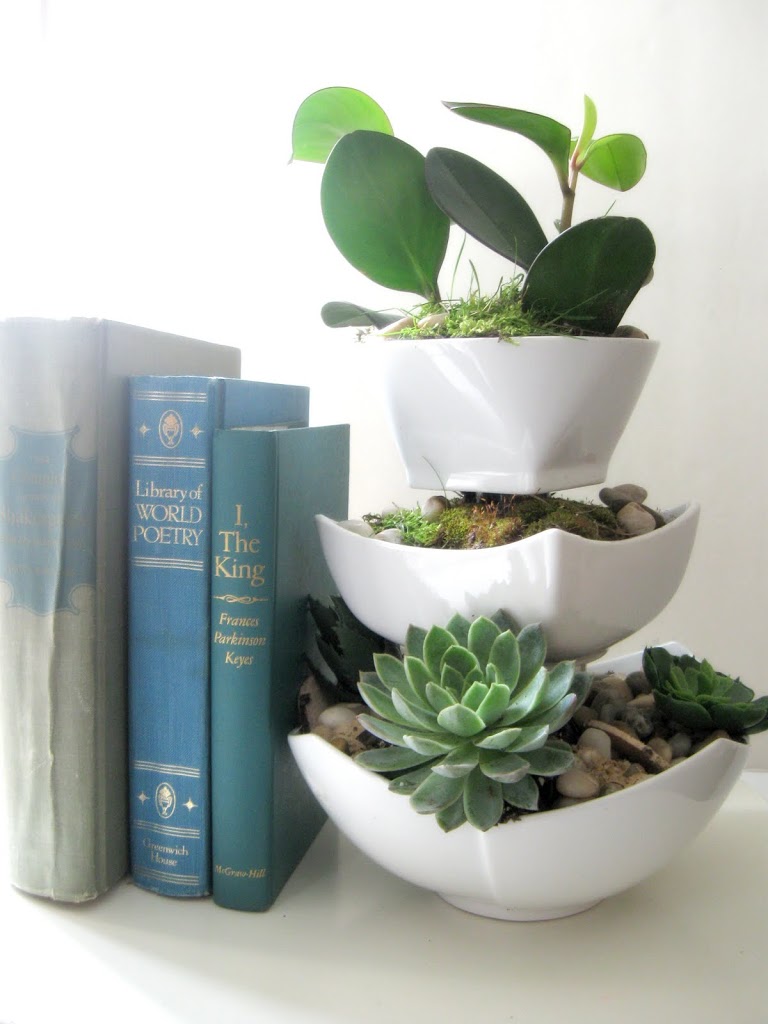 #6 Fabric and leather Poufs
I love me some poufs!  These are adorable and perfect for a theater or gaming room. These pouf retail for $249. You can make them for about $5 each with this great tutorial. You need a sewing machine, so borrow one if you don't have one.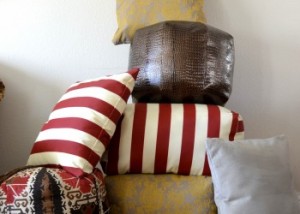 #7 Chevron Headboard
This project saves you the most money on this list, but is not for beginner DIY builder. This beautiful headboard project and will save you so much money, if you have the skills to help pay those bills. This wooden headboard runs for a huge $1800!! You can build it for about $50! Leading this to give you the most bang for your buck.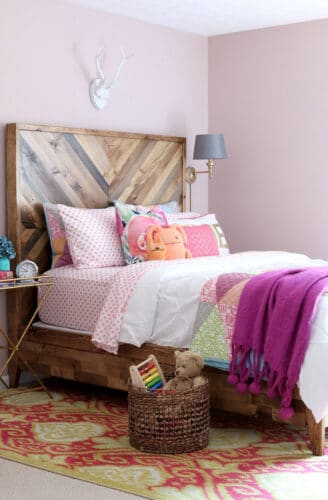 Check out the link here at jenwoodhouse for the tutorial details.
#8 Butler Stand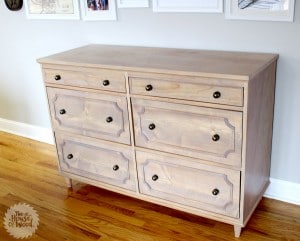 DIY West Elm Inspired Butler Stand
This tutorial is to build an actual dresser from planks of wood.  If you have the tools you can build it! If you are a beginner, check out your local Craigs list to find an old dresser and repaint it, to get the same look.
If you need more info on how to repaint furniture, you are in the right spot.
#9 Nightstands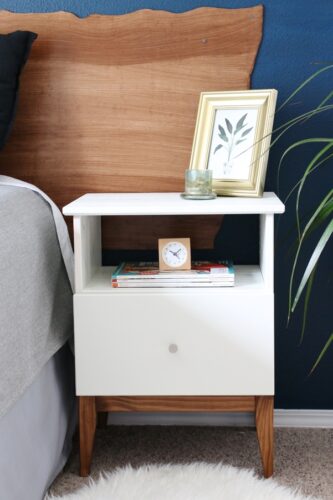 This adorable elegant night stand retails for $330. Which is down right funny to me. Especially when Ikea has a look a like sold for $45!
You do need to build the bottom wooden platform, which is simple with this great tutorial from petitemodernlife.com
#10 Wood Stump
Where I live, finding a wood stump is not challenging at all. Most neighbors have them, and the local tree nursery sells them for just a few dollars. Which when I saw West Elm selling this tree stump side table for $300, I knew it had to make my list.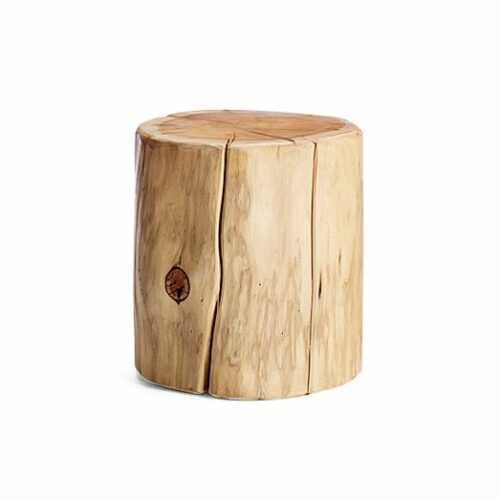 Tree stump side tables bring the warmth of wood and the rustic feel of the stump into your home. Once you find your stump, you can leave the bark on, or gently pull it off and sand it down to mimic this West Elm look. Stain it if you'd like and give it a top coat of polyurethane.
If you live in an area that tree stumps aren't a dime a dozen, have no fear. I have you covered. Amazon really does have it all. You can check out these natural tree stumps they have.
#11 Food Trays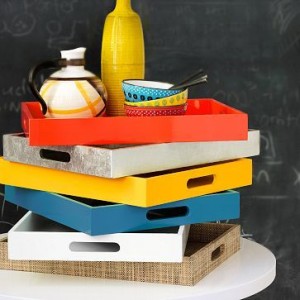 DIY West Elm Inspired Lacquer Trays
I use trays all the time in the kitchen and also on coffee tables for decor. They are so versatile having some in every color is very useful. Check out this tutorial to create the same look for less.
#12 Tripod Floor Lamp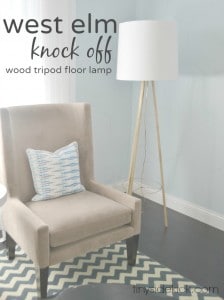 DIY West Elm Inspired Tripod Floor Lamp Knock-off
Same money building your own floor lamp! The retail cost is $250, this DIY one is $40-$70. You will need this lighting kit: Make A Lamp Kit along with wood and hardware you can find at your local hardware store. An identical lamp shade can be found here:
Amazon Look -a- Likes
I hear you. You don't have a workshop, or any fancy saws, but you want to save money. Here is a list of compiled West Elm look a likes, for a fraction of the cost.
These are all on Amazon, so you can certainly enjoy your 2 day shipping!
#1 Geometric Pillows
These pillows are simple, but add variety to a solid couch, save the $40 price tag, and purchase yours on amazon.com for $7 each! These are pillow cases, so you will need your own side pillows to fill them.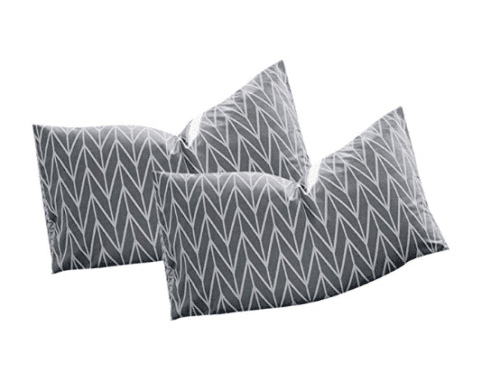 Gray White Geometric Pattern Pillow Cases
#2 Weave Hampers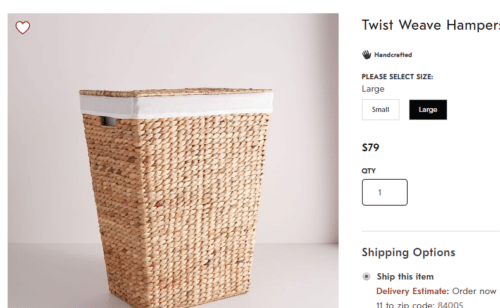 This hamper runs $79 each, for a total of $140 for a set. Amazon's hampers are $52….and they come with a lid!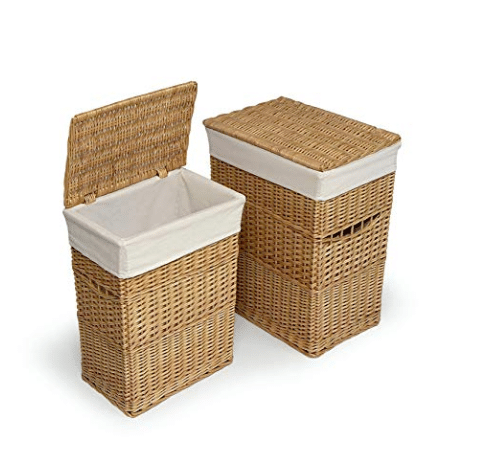 Wicker Two Laundry Hamper Set with Lids and Fabric Liners
#3 Outdoor storage trunk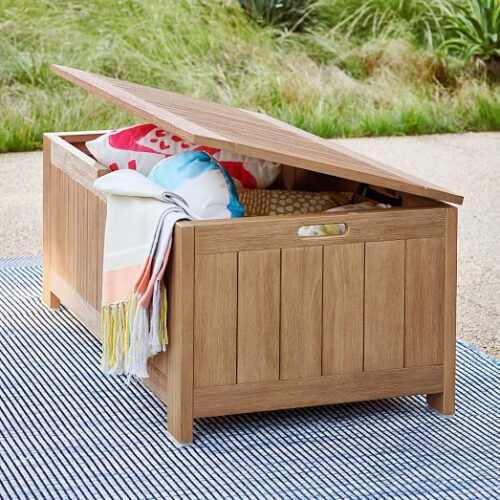 This outdoor storage would be so helpful for all the outdoor toys, towels, squirt guns, and yard tools. The $700 price tag is not helpful.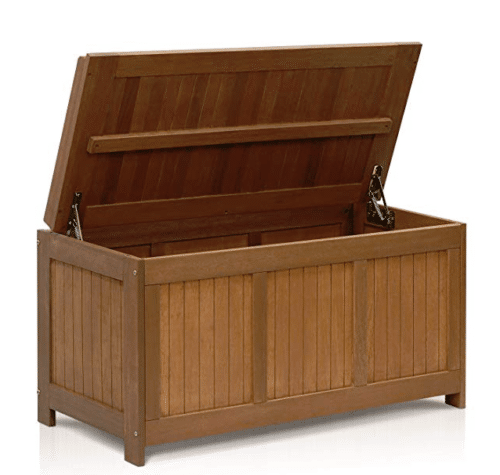 Furinno FG17685 Tioman Outdoor Patio Furniture Hardwood Deck Box in Teak Oil, Natural
Thank you amazon for building this beautiful steal, of hardwood with a soft close lid, for only $158!
#4 Leaning Bookshelf
West Elm has so many bookselves…so many! This popular one is a simple leading shelf, perfect for an office or living room. What isn't perfect is the price tag:$279
For the perfect match you will need to paint and stain the ladder shelf, but this one is a beautiful $28!
#5 Modern Bookshelf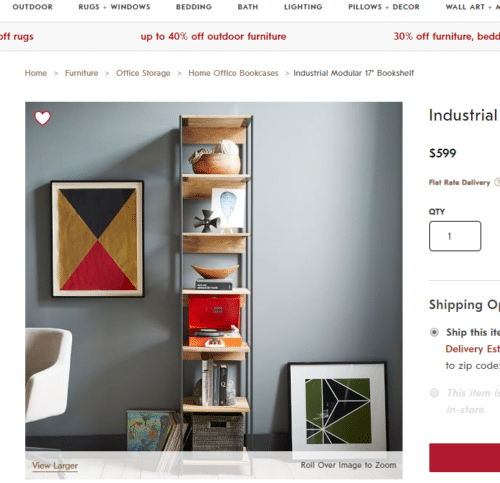 You choose, metal and wood bookshelf with square openings: $599 or $77.83….. the link is below… you're welcome.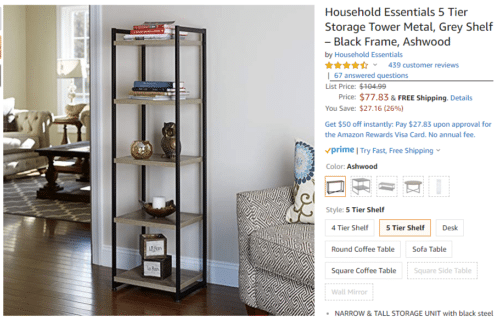 Household Essentials 5 Tier Storage Tower Metal, Grey Shelf – Black Frame, Ashwood
#6-Wall Hanging Yerbamala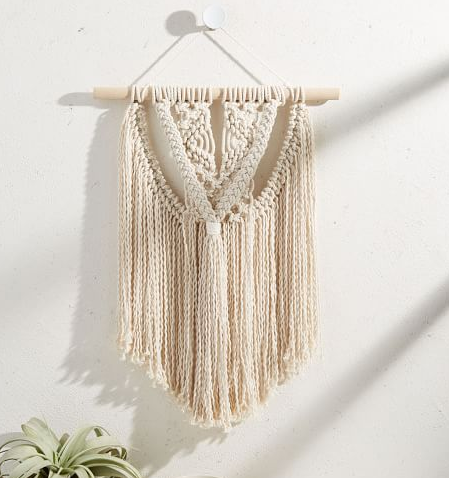 Which one is a West Elm for $70 and which one is on Amazon for $18.
If you guessed that the more intricate tied hanging below is the cheaper Amazon find- you are right! I find it more beautiful, at a fraction of the cost.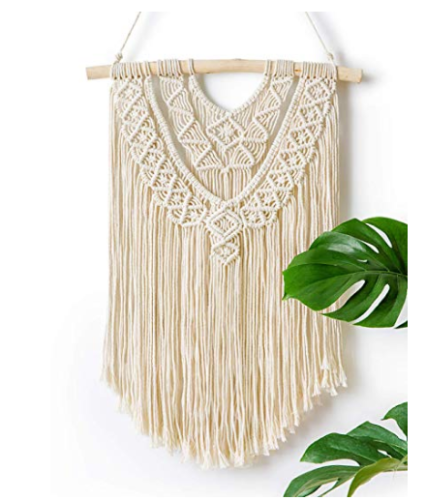 Mkono Macrame Wall Hanging Decor Boho Chic Bohemian Woven Home Decoration for Apartment Bedroom Living Room Gallery, 17″ W X 24″ L
#7 Cable Knit Throw
This was another fun one to compare, one is $150 and the other is $50.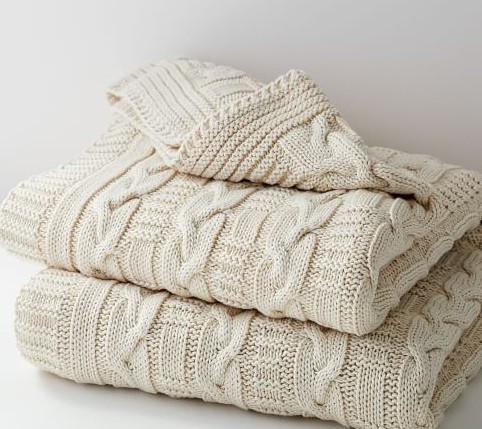 This one below is from Amazon. Not only is it cheaper but is has a sherpa lining, making it even more cozy. It also comes in 7 different colors!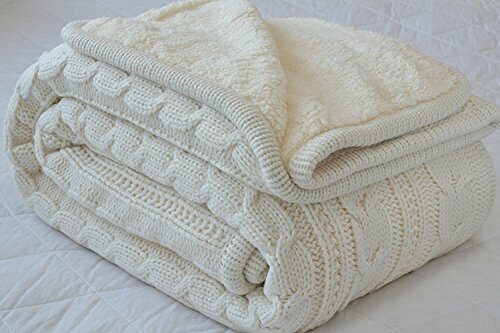 Comforbed Classic All Season Soft Cable Sweater Knitting Throw Blanket Quilted Throws with Sherpa Lining for Bed Sofa Couch Decor Cream 51×63 Inch
#7 Plush Gray Area Rug
Second to bookshelves on the West Elm inventory are rugs. They have lots of rugs…but not as many as Amazon.
These look-alike rugs, feature one, that is $1000, and the other a 1/3 of the price, at $300. The one amazon sells, is twice as thick, and comes in 10 different colors, and 21 different sizes and shapes! Thank you!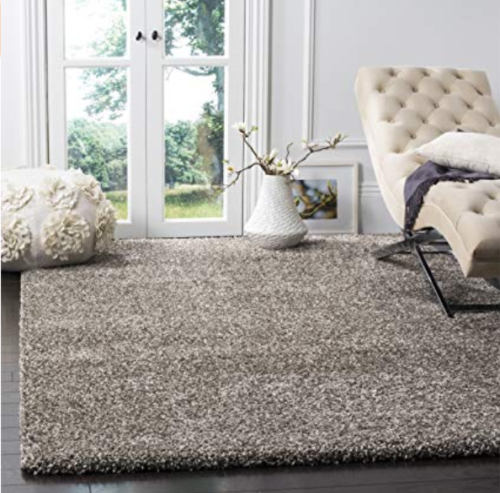 Safavieh Milan Shag Collection SG180-8080 Grey Area Rug (8′ x 10′)
I hope this article has helped you with your home decor needs, and inspired you to think big, and spend little when it comes to your home!
Pin these ideas to remember for later!