Here are some of my favorite West Elm home decor hacks!
Get the same look with lots of your home decor for so much less money by DIYing your own furniture, pillows, cushions, decor accessories and more!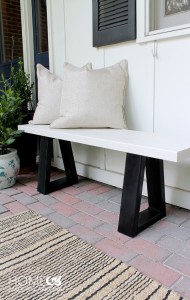 Make this beautiful bench yourself with this helpful tutorial.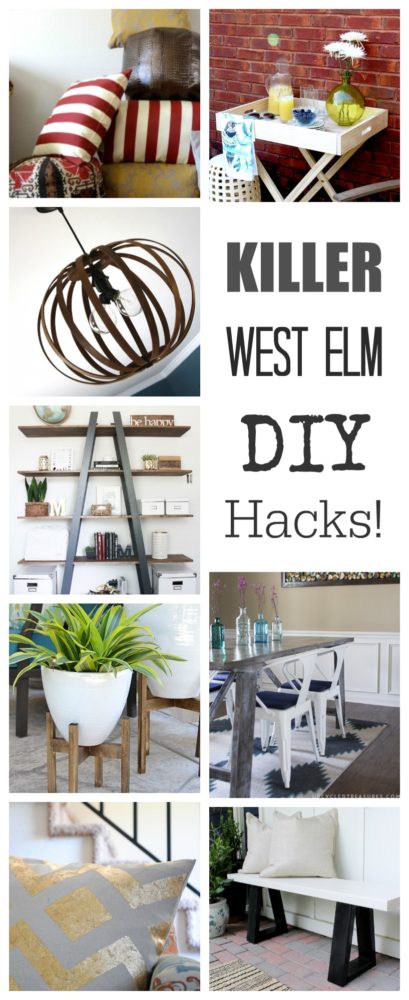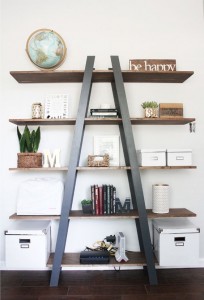 DIY West Elm Inspired Ladder Bookshelf
I loved the original bookshelf and this one looks even better.  This is West Elm home decor at its finest. Simply Elegant.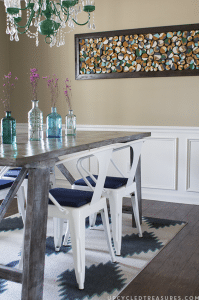 Painting rugs is easier than you think, check out this article for more details : 3 Easy Ways Paint a Rug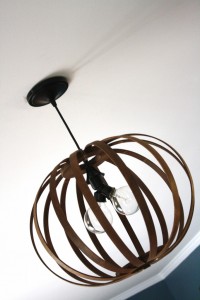 DIY West Elm Brentwood Pendant Light Knock-Off
West Elm= $189, your version=$40  This pendant is pulled of by using quilting loops and floral rings.  You can purchase a  pendant light kit at Amazon or your local hardware store to hang it properly.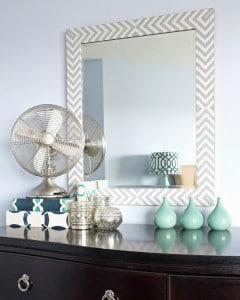 DIY West Elm Inspired Herringbone Mirror
Dress up your existing mirror.  I love this West Elm home decor idea!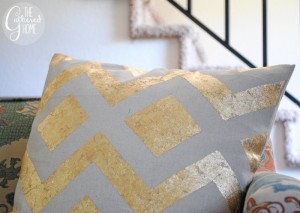 DIY West Elm Inspired Metallic Pillow Covers 
West Elm=$40, your cost=$16. Gold leaf will fade and flake off during pillow fights so display these pillows as decor, not functional pillows.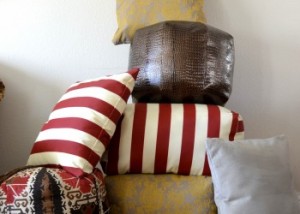 DIY West Elm Inspired Pouf Hack
I love me some poufs!  These are adorable and perfect for a theater or gaming room.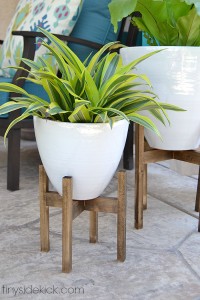 DIY West Elm Inspired Wooden Plant Stands
These pot stand are beautiful and they make give your plants the height they need to be noticed.  Two thumbs up for this West Elm home decor idea.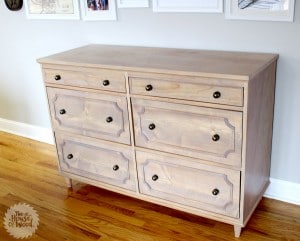 DIY West Elm Inspired Butler Stand
This tutorial is to build an actual dresser from nothing.  If you have the tools you can build it!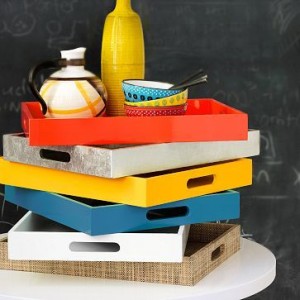 DIY West Elm Inspired Lacquer Trays
I use trays all the time in the kitchen and also on coffee tables for decor. They are so versatile having some in every color is very useful.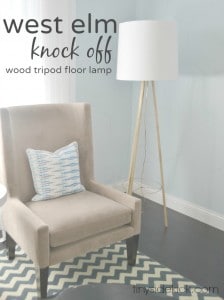 DIY West Elm Inspired Tripod Floor Lamp Knock-off
Same money building your own floor lamp!
(Visited 110 times, 1 visits today)