There are a few basic options for top coating your painted furniture. Here is an overview of what the main differences are (for water based furniture paints)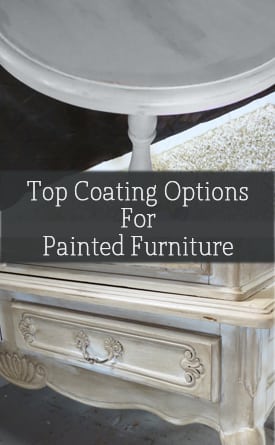 Here are some of your basic options for top coating your painted furniture, whether you have painted with latex, chalk paint or milk paint:
Wax – with wax, you basically have 2 options: Dark wax or clear wax.  Even if you want to apply dark wax over the top to create an antiqued look, you will need to do a clear coat of wax over the whole piece, before you apply any dark wax.  Wax is a top coat that helps seal in the paint and provides good protection from spills, liquids, etc.  It's not durable enough to use on outdoor furniture though.  I would recommend an outdoor furniture sealer for that.  You can also use wax on kitchen tables, but keep in mind that it will melt under heat, so you'll need to always use a hot pad or avoid placing hot items on the table, if you go that route.  Wax is applied with a brush or I use a cotton rag.
Polycrylic & Polyurethane – These two clear coats or similar enough that I will cover them together.  They basically have the same application and the same properties.  Although I think polycrylic is a little more durable, so I use that over Polyurethane.  They are basically water based clear coats, similar to latex paint, but clear.  They are very durable and Polycrylic is what I have over on my latex-painted kitchen table.  These clear coats are a little glossier than wax.  You can apply them with a brush or a sprayer.  I recommend a good brush for application.
Outdoor Furniture Clear Coats – There are a few outdoor clear coats that I would recommend.   One is Miniwax Helmsman Spar Urethane.  I would also recommend using a marine grade clear coat designed for protecting any outdoor equipment or furniture.
Image of armoire courtesy of Burlap & Bees Interiors in Folsom, CA.