A new year brings new colors, and spring is the perfect time for a kitchen painting makeover! Did you know there are interior designers around the country that note past decor fashions, check out the newest paint colors, and predict what will be popular in the coming year? Yeah neither did I. How convenient is that, they do the research, you pick your favorite shade!
Of course, there are some classics like white on white, that will never go away- and nor should they, but this year there are new trends that incorporate natural elements with a hint of bright color here and there.
If you are thinking of starting a kitchen makeover or building a new kitchen this year, check out these top kitchen color trends for your home.
Haint Blue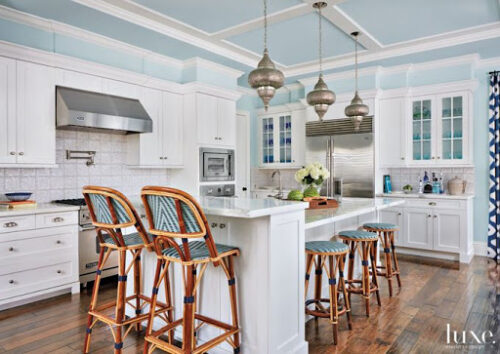 This kitchen kept the overall color neutral white, with a pop of Haint Blue in the ceiling, Crown molding, and bar stools. Wood accents and metallic finishes look great with this blue.
Black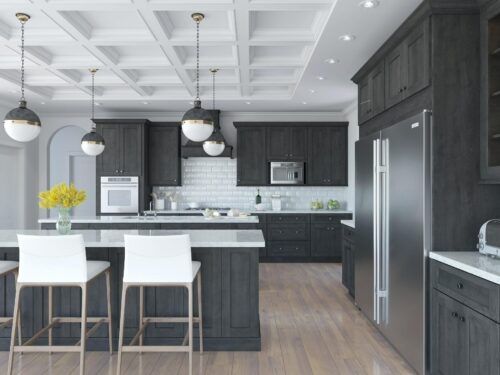 This made the list in 2019, and is still expected to be a big color in kitchens. Make sure you don't overdo it and focus the black on being away from the airy ceiling. Black pairs great with warm wood and crisp white tiles, and don't get me started on how fabulous it looks next to gold!
Black's favorite cousin Charcoal is also in for those not ready to dive into deep black. It still gives the wow factor when contrasted with white.
Sea Green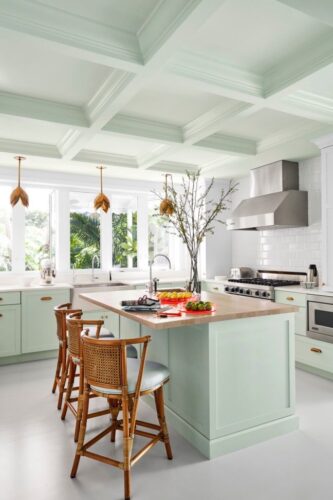 If your kitchen is has a cottage feel, look no further, you can end the article now. Sea green is the answer to all your problems. You can use it without worrying about overdoing it, and it goes with so many other colors. It creates a light, serene feel to an often stressful busy room. Yes, Yes and YES!!
Peacock Blue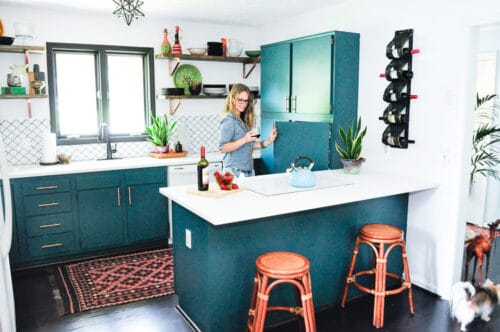 If your kitchen is contemporary by design, Peacock Blue is a great paint color for you!  This color made it's mark in 2018 but has kept is popularity with the help of online designers like Joann Gaines, and Bella Tucker.  This blue is the perfect hue- it is vibrant and fun, yet muted enough to add a calm, elegant look.  
Multi-colored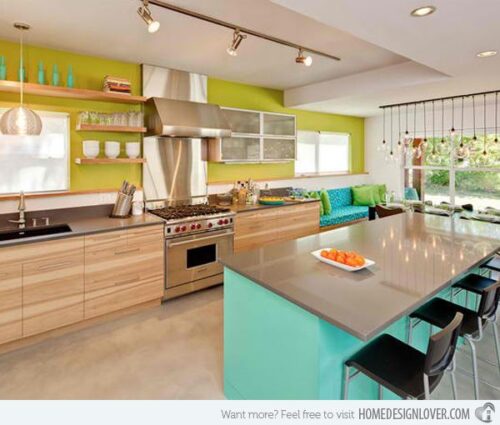 Yes, you read that right. 2020 is the year for vibrant colors to boldly take their place in the kitchen. As long as you have a strong wood or white presents to ground these colors, you can pick really any color, or colors you want! Limiting your kitchen to one color is so 2019. This year multi colors are in for the kitchen. You can achieve this by picking an accent color for cabinets and then purchasing your kitchen aid, or microwave in a fun new color as well.
Now if you aren't one for vibrant hues, you probably fall into our last category.
Muted colors.
And number one…..
Naval Blue
This kitchen paint color was crowned color of the year by Sherwin-Williams.  It is expected to make its debut in all rooms of the home, mainly seeing it in the kitchen.  Accent this one with a soft pink or gold for an elegant kitchen look.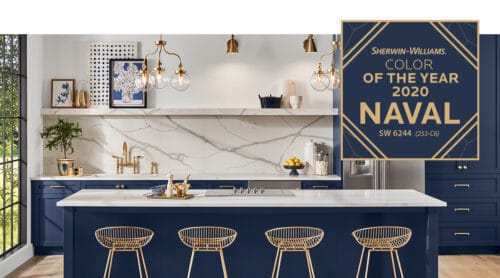 Not only is Sherwin- Williams in love with this color, but so is the rest of the world! Pantone, a universally used color management firm and Pinterest also picked Classic Blue that has a nearly identical color to Naval Blue.  It sure is to be a classic accent to kitchens for years.
If you need help painting your kitchen projects check out this article about 7 common mistakes people make during a kitchen make over.. If you are repainting your kitchen cabinets click here and here to learn great tips and if you are repainting your kitchen table you must read this article.
Learn what you can before you start your can to insure the best final results! If you love these colors, pin these images for future reference!