If you would like to paint a piece of furniture metallic, but haven't decided specifically which shade or color you would like to do. Here are some ideas of metallic colors and shades that I like and are popular right now: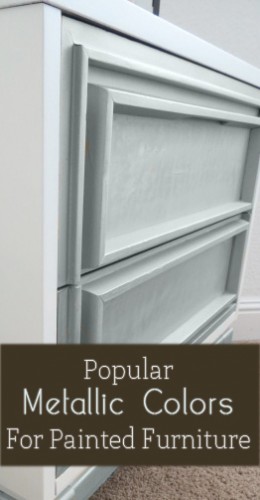 Silver – Martha Stewart has a good silver color (silver leaf).  It's part of the precious metals line.   Another silver color I like is the Rustoleum Hammered Silver in a spray can.  It has a more realistic silver look, in my opinion than Rustoleums regular metallic (silver) in a spray can, which I think looks too fake.  You can also do silver leafing, which is a little more complex, but the color will be the real thing.  Another option is to go with an aluminum color by Rustoleum.  It's available in a spray can and in a quart can.  Modern Masters also has a huge selection of metallic silver paints.
Nickel – For a nickel look, I like Krylon's satin nickel finish.  It comes in a spray can, which is extra convenient.  Another metallic color that is close to this is the Martha Stewart Precious Metals line in "tin".
Faux Zinc – To get a zinc finish, I use Martha Stewarts Quayside with black glaze and a white wash over the top.  For more specific instructions, visit this tutorial.  Also, Modern Masters has a nice selection of paints that would make great base coats for a faux zinc finish – like smoke & pewter.
Gold – With gold, you have the option of gold leafing, for the genuine gold look.  Of course gold leafing is a more complex process than just painting the color on.  Other colors I have found and liked are: Martha Stewarts Vintage Gold Satin Metallic Paint.  I also like Ralph Lauren's Parlor Gold.  Modern Masters also has a nice Pale Gold paint.  Gold is also great as an accent color on beveled details of antique painted furniture also.
Pearl – Modern Masters has quite a few colors that would work well for this look – oyster, champagne, copper and more.  Modern Masters has a huge selection of metallic paints that are worth checking out before choosing a color.  Martha Stewart's Precious Metals – bone, would also make a great pearl color.
These recommendations are based on my experience and opinions.  I receive no compensation for any of these recommendations.