You never have a second chance to make a first impression, and when guests come to your home, the front door is the first thing they see. I love a bright and welcoming front door.
 Learn how to paint your front door correctly with these great tips.   It makes your guests feel comfortable and at ease as they enter your home, and helps a house sell faster too!  
A screechy, rusty, peeling old door is distasteful and uninviting. Plus, it's a pretty quick and easy project you can complete on a weekend. The hardest part is picking your favorite color.
Your front door should coordinate with your home colors, but should be a contrasting shade. Dark colors look beautiful on doors, as do bright reds, pretty blues, and deep greens.  The possibilities really are endless.  Once you have your paint color chosen, paint your front door so it will last years!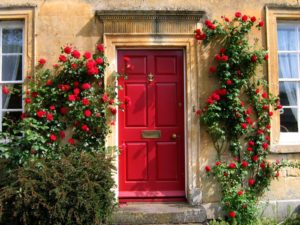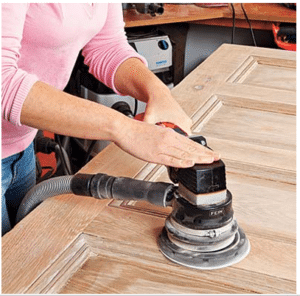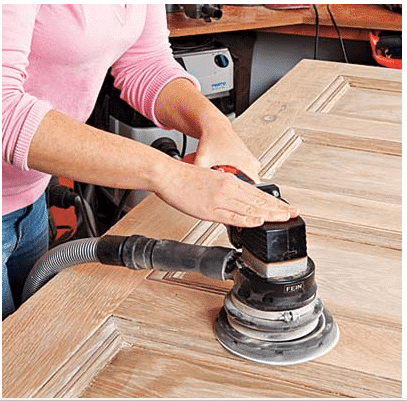 When you're ready to paint, remove all hardware and clean the door REALLY well. Then start by sanding your door down as much as possible. It's not necessary to strip all the existing paint off, you're just trying to roughen up the flat surfaces of paint. Hand sand the areas with molding or crevices and then wipe the door clean.  Elevate your door by using two 5 gallon buckets works great, and allows the paint to dry more smoothly than painting your door while its vertical.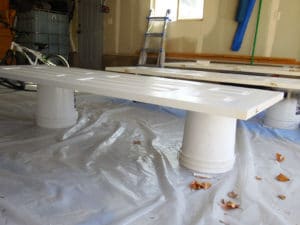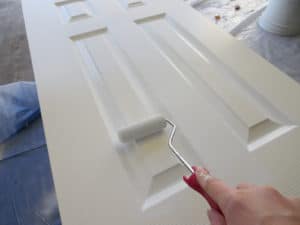 Use a primer to coat the door and allow it to dry completely. Then run sandpaper over the primer to ensure you have a smooth finish. If necessary, you can do another coat of primer to smooth out any bumpy areas.  
Start painting the detail areas with a brush, and then use a small roller for the flat panels. You will likely need at least two coats of paint to achieve a smooth and professional finish. Allow the door to cure completely, and reattach the hardware. If your hardware it outdated as well, use a metallic finish spray paint to update that as well! Painting your front door doesn't take long, and is a low cost upgrade.  If you have any questions, please ask!  Post any pictures of your front door when it is done, I love to see DIY projects from readers.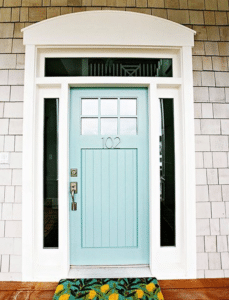 If you want to replace your old front door check out this article: 3 Ways to Repurpose an Old Door .