Before doing any kind of paint spraying, whether you are using spray paint or an actual paint sprayer, you need a spray paint station.  Setting up some kind of an area for painting protects your current environment from overspray.
Spray paint stations can cost a few bucks, or as much as $25.  If you are using the station often this more permanent option may be exactly what you need.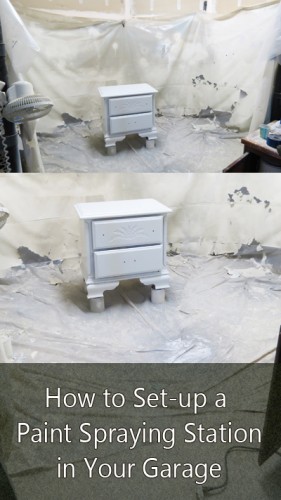 Location
Outside it the best place to spray.  If you are spraying a wall, or something inside that must stay inside, follow the same steps but be over cautious in your taping and cover area.
I like to paint outside on my grass.  I set up a paint station, but also know that if any overspray gets on my grass, it will easily be removed during the next mowing.
Garages or unfinished basements work well also, but don't give you the clear air.  With that same note, they don't have wind, so accuracy is best achieved here.
Start with the Floor
Use a plastic drop cloth to cover your flooring.  Fabric drop clothes will soak in any paint and allow it to seep onto your floor.  3-5 mm thick plastic works well.  Lay out the plastic flat and use duct tape to tape it to the garage floor, or use blue tape if you are using a basement area.  If you are working outside on your yard, tent stakes or buckets work well to hold down the cloth. 
For a small project, use a doubled up plastic table cloth, you can find at a dollar store for your flooring.  This is material is too thin to not double up.
Create walls
Using more plastic sheeting to create walls.  If your project is small, a right angle area is all you need.  Use a staple gun if you can, duct tape if you need, to attach the walls as high as you can while letting the wall overlap the floor sheet.  
Purchase one
A spray painting booth can be bought, and run for $40-100.  That is just silly.  They are pretty much a pop-up tent.  If you want to purchase one, search for a 2 person tent, or a pop-up tent like this one that is $15 .   Purchasing a tent is great if you will often spray paint small items, and don't have space for a permanent spray station. Allow several hours of drying time before you fold up your tent.
Make sure you have a bucket of water, as well as a scrub brush.  If any overspray does become a problem, you can quickly remove it.