Whether you are remodeling project is small or large, you don't want to waste time.  When I prepared for our remodel I heard horror stories about projects that were supposed to take 2 months, stretched out to 9 months.  Why would it take longer than you plan? Two answers, lack of organization and depending on other's timeline.  

This article will give you the timeline my husband and I used for our remodel. We did our complete upstairs, replacing the flooring, rebuilding walls, paint, trim, doors, cabinetry, etc. We did everything…and we did it in 3 months time…working evenings and Saturdays only. Everyone told us we were crazy, and that it would take longer. It didn't.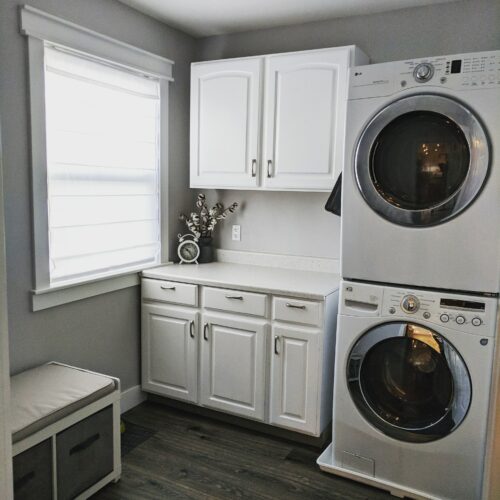 We were very organized and we didn't depend on timelines of contractors.

Get Organized
1- Electronic To-do list
My husband and I quickly learned that we didn't want every conversation to be about the remodel, and even worse have miscommunication about the timeline.  We used an online software to create a timeline, and check off items once completed. This way my husband at work, could see what I worked on while he was gone, and what was next on the list to do.  Your running list will keep you on track so you don't waste any time. 
Also, keep a shopping list on your phone.  Throughout your project, you will remember "we need more blue tape" or " we are one outlet too short" yet when you are at the store to buy your paint, you can't find your slip of paper, or remember what little things you needed.  Keep, is a great app that allows you to keep notes. Add items to the list every time you remember them.  
2- Weekly meetings
Each Sunday night we met and reviewed our timeline, which helped clarify what our priorities were.  We set goals for certain things to get done, by specific days. If the cabinets needed to be in by Tuesday, for the countertops to come on Wednesday, we discussed it Sunday night.  We could then plan to stay up late if needed on Monday and Tuesday.  
Review your supplies, and make sure you have everything you need for the job. Buy MORE than you think you need, you can always return what you don't use, but Home Depot is not open at 11pm when you run out of tile spacers for your last wall.  You also don't want to waste 2 hours of labor hours, running from store to store for more blue painters tape. 
Your Timeline
Our timeline was flexible.  Some projects, like plumbing when way faster than we thought.  Others such as laying tile took longer. If you finish a job quicker than you thought, give yourself a fist pump, and then keep working.  Don't take the rest of the day off, because in the near future you will probably have a job that takes longer, and you will appreciate being ahead of your schedule. 
Here is what our timeline looked like below.  The jobs were done in order of priorities, such as picking out our cabinets, which take 2 months to get to us, was more of a priority, than picking out the wall color, that could be chosen and picked up in one day.  Painting needs to be done, before flooring, to avoid spilling on your new carpet, etc. 
There are also some jobs you can start while finishing others.  For example, our drywall mud was still drying in the kitchen while we worked on installing some paneling on a different wall.  
Plan:  picked out as much as you can in this stage, what kind of flooring, what color of cabinets, paint colors, appliances, ceiling fans, countertops, tile for walls, and floors, etc.  The more you plan before you are working long labor hours, the better. Also, give anything you know you don't want away weeks before you start.
Timeline Example:
Obviously, the size of your project will affect your timeline. Add extra days if you think you need it.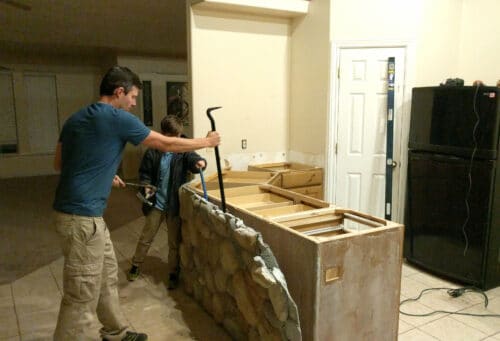 Demolition– 1 day: remove flooring, casing, baseboards, cabinets, faux rocks, shelves, furniture, old showers, tubs, etc. … we completely gutted out our home by 3 pm. You can read more about it here.
Plumbing– 3 days: plumbing changes or fixes require access to the floor, so this must be done first, if your project warrants it.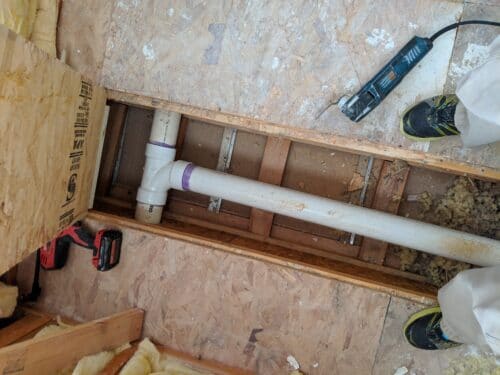 Electrical– 1 day: Electrical requires access to walls, so do this well before any drywallers come over. If you have supplies, this is usually a simple task you can youtube your way through.
Drywall– 5 days: One day to lay the drywall on, and 4 days to mud and sand.
Wall Building– 5 days: Add any paneling, wainscoting, trim around the windows, and baseboards. A hammer and nail can do this job, but a brad nailer will do it 4 times faster. Consider purchasing one if you are DIYer. I have used mine many times after our remodel for crafts and other household projects.
Paint– 4 days: Cieling was painted on day one, we taped and painted the walls on day two. We waited a few days before we painted the trim. A paint sprayer really helps save time, if you have access to one, consider renting or borrowing one.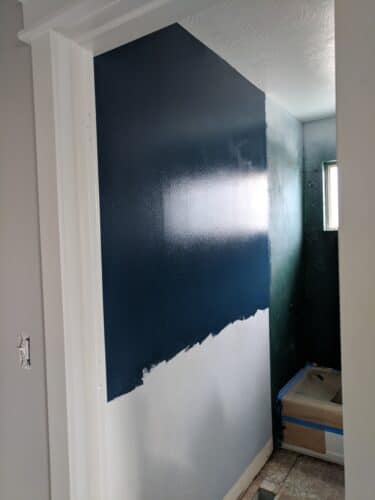 Bathrooms– 2 days: Install any tubs or showers
Cabinets– 3 days: If your cabinets are light, such as stock cabinets in the bathroom, these will sit on top of your flooring, and be installed after the flooring. If you are installing any cabinets in your kitchen, because of the weight of the countertop, they will need to be installed BEFORE your flooring.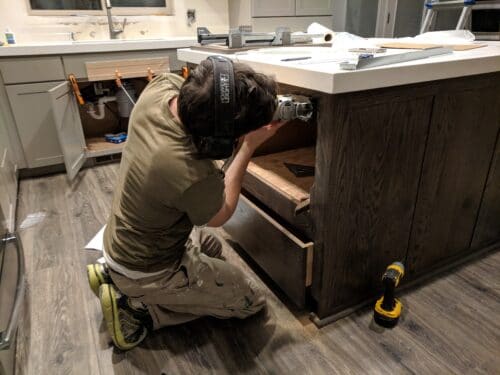 Flooring– 9 days: We installed laminate flooring in our entire home, kitchen, laundry, bathrooms and bedrooms, so this was our biggest task taking up 7 days. Then we took 2 nights to install tile in our two bathrooms.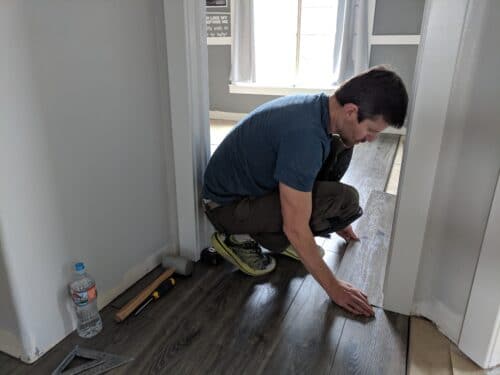 Cabinets– (see above note)
Tile on Walls– 4 days: We tiled the walls in each of our bathrooms, and installed subway tile in our kitchen. Each of these took about 4 hours to lay the tile and then needed to be grouted the following day.
Doors– 2 days: One day we painted our new doors, the other day we installed them.
The following days were filled with installing appliances &  light fixtures, moving in furniture, cover outlets with covers, install floor vents and make our house a home.  
Please plan for more days than what I listed before.  During our remodel we had school plays, dance recitals, and yes- date nights where we didn't talk about the remodel.  Take a break here and there to avoid getting burned out. These are also great days to run to the store for more supplies.   
Don't depend on other's Timelines
When you hire a carpenter to install your cabinets, but he can't be there until 2 weeks out, and then when he arrives, it takes longer than expected, or heaven forbid he has the wrong order, you are entirely dependant on his timeline.
Now you have to call your countertop company and tell them to wait because the cabinets won't be ready in time. Oh but your countertop company has other customers as well, and the next opening is in a month.

Jobs that get pushed back, have a huge ripple effect on your entire timeline. It is frustrating and I don't recommend it.

Do the work yourself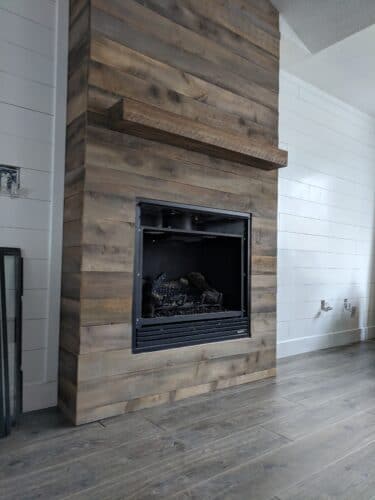 The DIYer has 100% control of how long they work and when they work. We hired out some drywalling, and our countertops. Everything else we did. This gave us control on when we wanted things done.

We installed flooring, rewired lights, moved a toilet from one side of the bathroom to the other, we built our cabinets and then installed them, we tiled hundreds of square feet of tile, and yes we painted every inch of our home.  We put our heart into each job and gave it more attention than many subcontractors would. We did the job and did it right!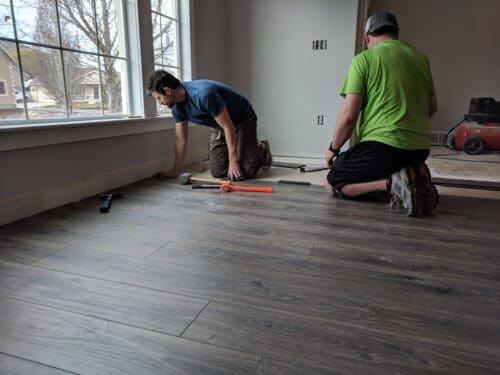 Some nights we worked until midnight, others we didn't even lift a finger to take a mental break, but it was all up to us. And it was amazing!

When we started our project I didn't know if we could do it all. I didn't know how long it really would take, but we tried. We made our to-do list, planned it all out and took the plunge.
I hope this article helps you with your remodel. If you have any questions, please feel free to comment below.

Purchase More
There is nothing like spending 1 hour on your Friday night, driving to town to pick up one annoying item you need, to complete your project.  Running out of supplies, adds so much delay to your project, even if you are able to drop everything and run to the store.  
Always purchase more supplies than you think.  Buy one extra bag of mortar, to compensate for the mortar that set too quickly to use.  Pick up two extra outlet covers for those ones you missed. Home Depot and Lowes, have amazing return policies.  When I was finished with my remodel, I returned all the unused merchandise and got $100's of money back. No questions asked.