You can achieve a shabby, aged or antiqued finish on your furniture or wood projects using a spray paint. There are a few different ways to do this, depending on the type of finish you want.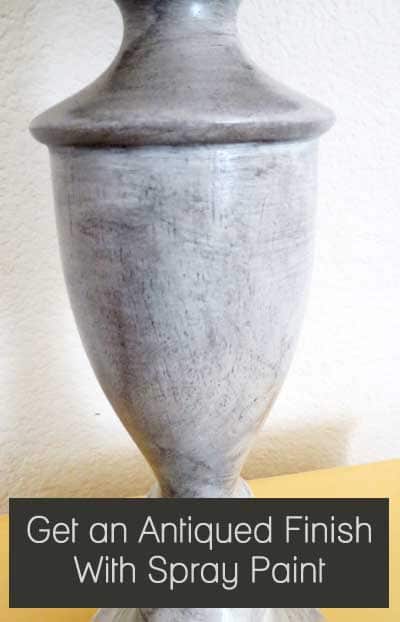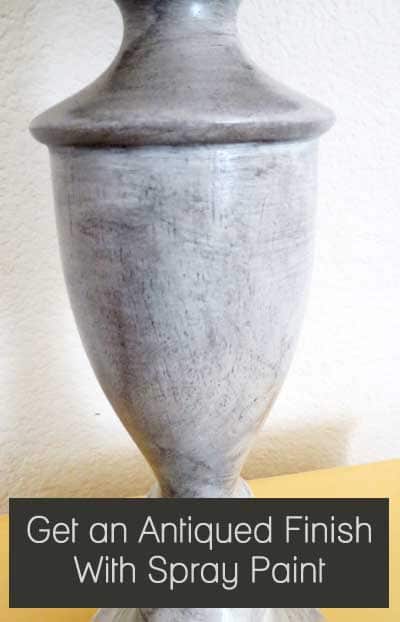 The first step is to spray paint just as you would normally. If you need to prime first, go ahead and do that.
Painting – After you are finished with 1-2 coats of spray paint. The thing about spray paint is that it usually comes in a satin finish. So, if you want to age or distress the piece, you will want to take away some of the shine. You can achieve that by sanding the piece with 320 or 400 grit sandpaper. Once you are finished sanding. Clean the piece thoroughly.
Then, you have a few different options.
Distressing, Glazing & Waxing – If you want to go for a more distressed look, you can sand the edges of the piece, down the wood in some small spots. Then, you an rub on a dark wax. You can use ASCP dark wax, but it's pretty pricey. I tint my Johnson's wax with walnut stain. You can also apply stain to the parts of the wood that are showing through, just wipe off quickly. You can also skip the sanding and just wax with tinted wax. OR you can wipe on a glaze mixture. The glaze mixture I did in the picture shown above was about 3 parts glazing medium and 1 part paint. When glazing, you can just wipe it on with a washcloth. Then, I let it sit for a minute and then wipe it off and let it stay in the cracks of the piece.