One of the most useful kids playtime pieces is a sandbox. Whether you're 2, or 12, a sandbox can keep kids entertained for hours. For children with an imagination, a sandbox can become anything they want it to be, it's a whole new world of possibility with just a bucket and a shovel. 
For moms, sandboxes tote several benefits when compared to other outdoor play options. First, they are clean (relatively speaking), just a little shake shake, or a sprinkling of baby powder and sand falls right off of hands and legs, making it easy to come in and out without too much sand getting trampled through the house.
Sandboxes require no prep, just go outside and play. Lastly, they are inexpensive. They aren't going to get a hole and leak or pop and be worthless the rest of the summer. They are easy and inexpensive to maintain throughout the year.
If you're ready to take on the challenge of creating a summer oasis for your own little ones, look no further. We have gathered up the five major ways most people build their own sandboxes. Of course, you can buy a plastic sandbox from any big box store, but these DIY sandbox ideas provide a little something extra with plenty of space for friends and family to join in on the fun.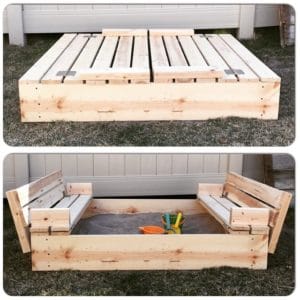 Seats Sandbox. I like this one because the seats make it easy for moms to join in on the fun without having sand creep into my underwear. I have a nice place to sit and enjoy spending time with my children, and they have a great place to play.
Build-in Sandbox. This is such a beautiful project, I love the finished result. A built-in sandbox is a great idea if you have lots of kids, and are committed to the idea of a permanent playground in the backyard. It's seamlessly integrated with the rest of the backyard and still has a nice edge to keep the sand contained.
Table Top Box. Not quite ready to install a permanent sandbox? No problem. Take a kids picnic table and convert it into a sandbox combo. This gives kids the opportunity to play with the sand without having to sit in it.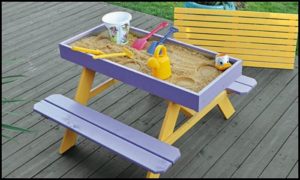 Bedding Box. Use what you already have by clearing out a small section next to the house for a sandbox. Chances are, your kids are going to play in the dirt anyway. If you can't beat 'em, join 'em.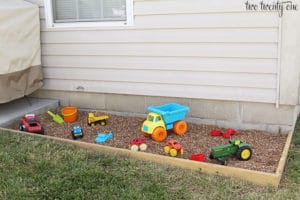 Sailboat Sand. If you're ready to take on a challenge, pick up these plant from Ana White and build your kids their very own boat box and sail away on a summer of adventure. I love that this structure has shade to keep the sand and the kiddos cool, and still has small benches for mom to enjoy the afternoon as well.