Here are some garage makeovers that will motivate you to want to makeover your own garage! Make your garage space more usable, clean and organized!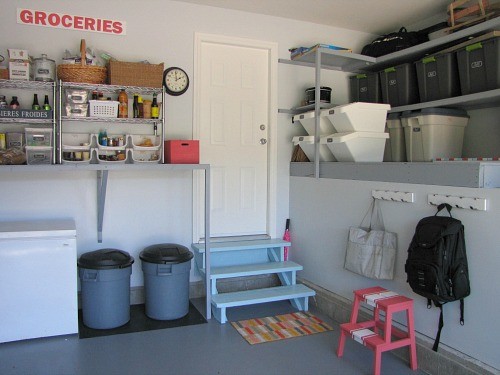 This garage features great wall storage.  Large totes are set on deep shelves, and industrial wire shelves nearby handle smaller light wight items. A step stool kept close by makes it easy to actually reach those storage bins.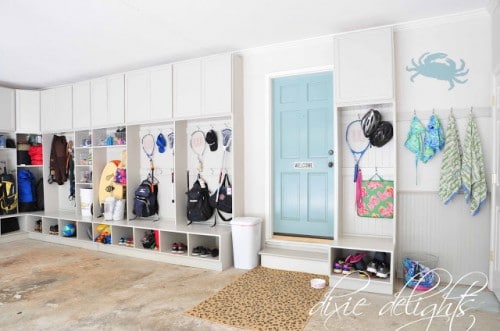 This garage has turned into a mudroom with personal locker styled storage areas.  I love it!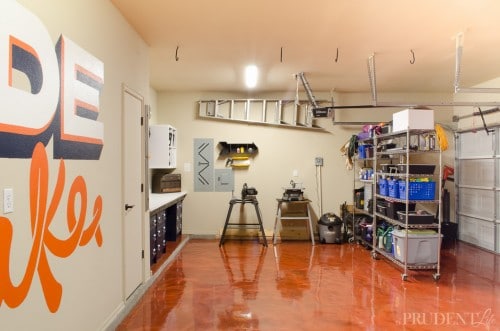 Staining your garage floor not only makes your garage beautiful, but it helps it stay clean and feel more of an extension to the home.  Wheels on your shelving make them portable.  Paint on the walls- add your own personality with a favorite sports team or pattern!  Check out this article for more info: How to Paint Your Garage Floor.
Painting your garage door and adding an address can spruce up the entrance.  I so love this storage wall as it is adjustable!  On the opposite wall notice how high the storage goes up.  Use every inch of your walls!  I put my Christmas decorations up at the highest (most inconvenient location) with sports gear and camping gear down lower (which we use more often).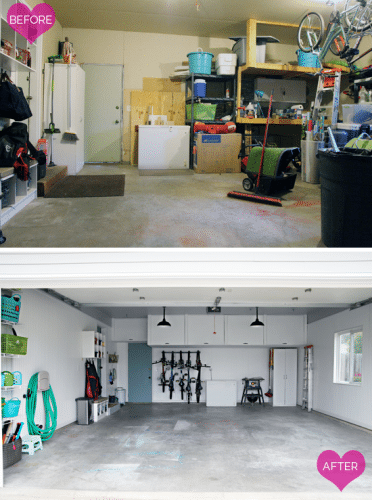 This is why we have garage makeovers.  They make your living space so much better!  Aren't you just happy looking at this before and after picture.  Gut everything out of your garage, install storage!  Then repaint.  Put everything where it should and get rid of anything you have used in the past 12 months and wallah a new clean garage!