I was finally able to try a faux zinc finish!  I love the look that the Restoration Hardware pieces that have this finish.  If you are intersted to learn how to achieve this look, click the arrow to see my step by step instructions.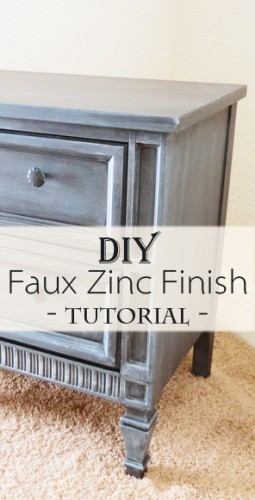 I started with this nightstand & removed the hardware, did a light sanding and cleaned it thoroughly with a wet washcloth. I masked the drawers, behind the front face of the drawer, since I'd be doing some spraying.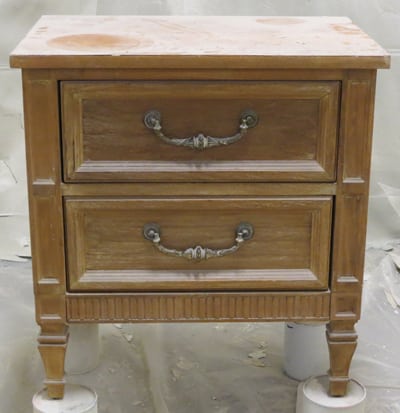 I primed with cover stain's oil based primer in a spray can.  I, then painted it with Martha Stewart's Metallic latex paint "Quayside" I probably could have gotten away with using a sample size, but unfortunately they don't do samples of the metallics. Then, I used a 4″ foam roller and a paintbrush to painted the entire thing with the Quayside metallic paint.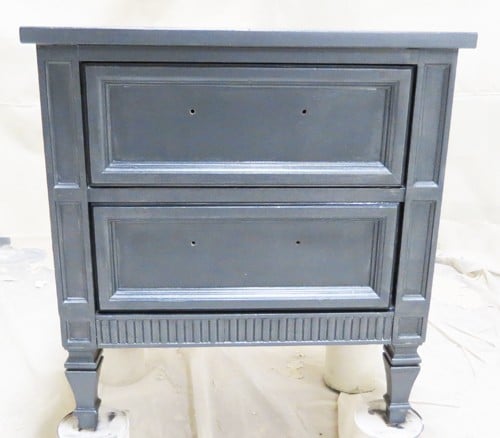 I  mixed a little black paint and glaze mixture (1:1) and wiped it on the nightstand with a washcloth.   I rubbed the glaze over the detailed and edges, trying to make it subtle. Then, I did the same thing with a white glaze. I tried to really rub the details to get some layering of the colors.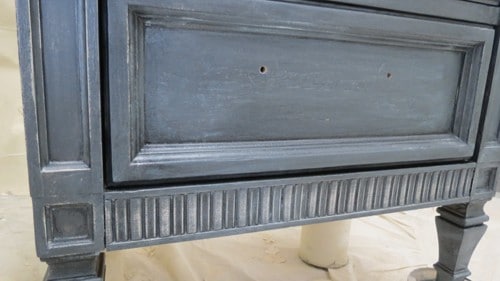 For the hardware, I wanted them to match the piece, so painted them with the same paint.  I think it turned out great! I want to try it again on something else!  If you try this technique let me know how it goes and send a picture!