As the leaves begin to don their vibrant hues and the air becomes crisp, it's time to usher in the season of pumpkin spice lattes and cozy sweaters. Fall is a magical time to transform your home into a warm and inviting haven, and what better way to do so than by embracing these 7 fall home decor tips!
In this article, we'll explore seven must-have tips for infusing your farmhouse-style home with the essence of autumn, from porch displays to painted furniture. Get ready to dive into a world of rustic elegance and cozy vibes!
Porch Perfection: Create a Welcoming Entrance
Your front porch sets the tone for your entire home, and during the fall season, it becomes a canvas for displaying your love for all things cozy and rustic. Begin by swapping out your summer planters with robust mums, ornamental kale, and charmingly twisted branches. Add a statement-making wreath adorned with dried florals, miniature pumpkins, and a burlap bow.
Enhance the ambiance with a pair of vintage lanterns or galvanized buckets filled with logs, perfect for chilly evenings. To complete the look, layer a neutral-hued doormat that adds texture and warmth to your porch.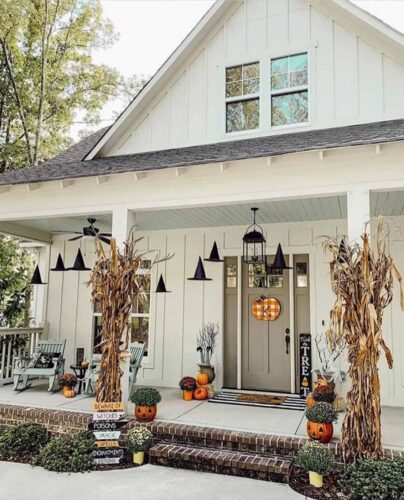 Painted Furniture: The Art of Autumnal Transformation
One of the most enchanting fall home decor tips is its ability to seamlessly blend old and new elements. This fall, consider incorporating a piece of painted furniture that captures the essence of the season. A vintage side table or an antique dresser can undergo a stunning transformation with a coat of earthy, muted tones like deep olive green or warm pumpkin spice. Distress the edges to lend an authentically weathered appearance, and top it off with a vase of dried wheat or a mini pumpkin display. This painted furniture piece becomes a focal point that radiates fall charm.
Countryside Couture: Layered Textiles
Autumn is all about wrapping yourself in layers of warmth, and the same concept applies to your farmhouse-style home. To infuse your living spaces with the cozy feel of fall, layer textiles with varying textures and patterns. Drape chunky knit throws over sofas and armchairs, and swap out lightweight summer pillows for plaid or houndstooth cushions. A natural jute rug laid over hardwood floors adds warmth underfoot and contributes to the rustic aesthetic.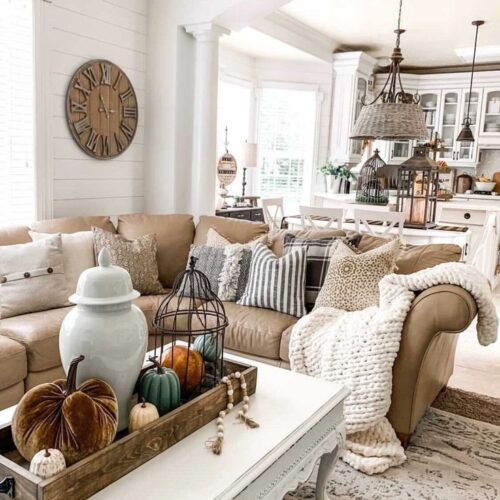 Harvest-Inspired Centerpieces: Dining Delights
Transform your dining table into a scene straight out of a countryside harvest festival. Opt for a burlap or linen table runner adorned with pumpkins, gourds, and dried corn cobs. Incorporate wooden candle holders with tall, tapered candles to cast a warm, inviting glow during intimate gatherings. For an extra touch of farmhouse charm, use Mason jars as glassware and tie them with twine or raffia bows.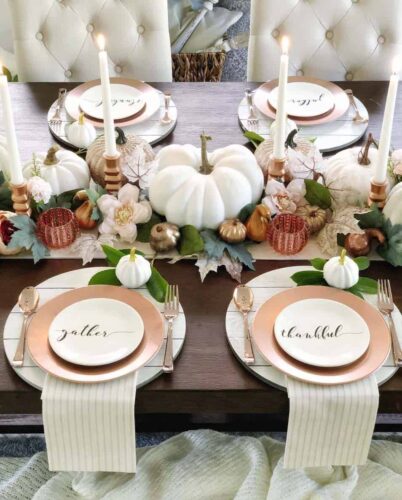 Whimsical Window Dressings: Seasonal Curtains
The windows of your farmhouse-style home are like picture frames that capture the changing beauty of the outdoors. Swap out lightweight summer curtains for fall-inspired textiles such as plaid, buffalo check, or even burlap. These fabrics not only add warmth but also create a sense of rustic elegance that complements the overall farmhouse aesthetic.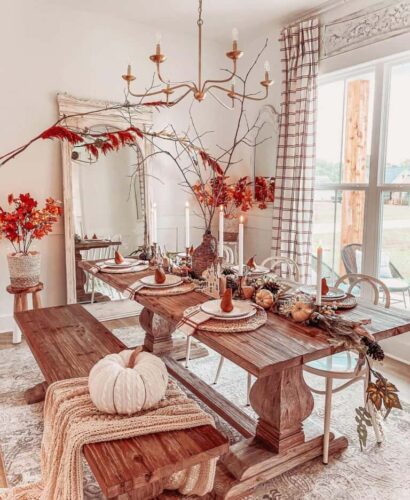 Nature's Bounty: Bring the Outdoors In
One of the most delightful choices of fall home decor tips is to lean into the abundant natural beauty that surrounds us. Embrace this bounty by incorporating elements from nature into your decor. Gather pinecones, acorns, and branches to create charming vignettes on mantels, coffee tables, and shelves. Arrange them alongside LED candles or string lights for an enchanting, woodland-inspired atmosphere.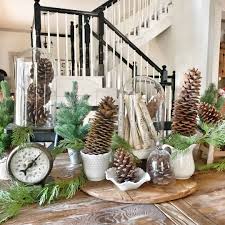 Pumpkin Spice & Everything Nice: Kitchen Accents
The heart of any farmhouse-style home is often the kitchen, and it's no different when it comes to fall decor. Transform your culinary haven by adorning open shelves with a collection of vintage mason jars filled with cinnamon sticks, dried orange slices, and cloves. Display heirloom pumpkins on the countertops, and consider swapping out your everyday dishware for charming, autumn-themed pieces.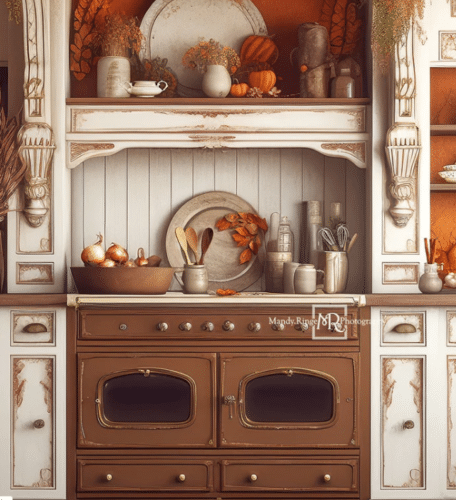 As autumn unfurls its beauty, it's the perfect time to infuse your farmhouse-style home with the warmth and charm that defines the season. By incorporating these seven must-have fall decor tips, from porch displays that welcome guests to painted furniture that captures the spirit of fall, you'll create a cozy haven that pays homage to the timeless appeal of farmhouse living. So, grab your pumpkin spice latte and get ready to revel in the magic of fall within the embrace of rustic elegance!
For more fall decor ideas check out 11 Fall Front Porch Decor Ideas
…and if you want to remember this post, pin it on your fall Pinterest board!