I've been wanting to try out a few different formulas online for getting the sea glass or tinted glass effect on glass bowls, vases, etc.
I started with a mod podge and paint formula that I found online – FAIL.  It didn't work.  Far too streaky, all wrong.
So, I cleaned it off the glass bowl and started over. 
I scrapped the mod podge plan and started over with Elmer's glue & food coloring. I also found some new little glass containers to experiment on that had a little more of a rough surface that I thought would be a little more conducive to being painted
.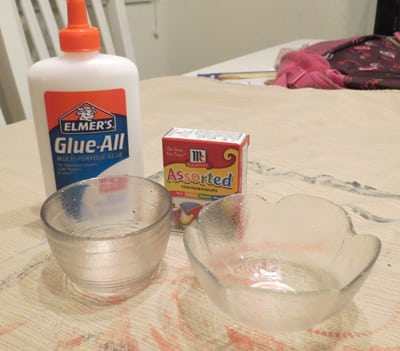 I mixed 2 Tbl of Elmer's glue and 5 drops of blue food coloring and 5 drops of red. I mixed it will my paint brush and the turned the cups upside down over my hand and painted around the sides and bottom, wiping the mixture on with a washcloth over my finger.
I used a blow dryer on low to dry them quickly so that I could set them down and handle them.
It worked like a charm.  I ended up doing 2 coats, but maybe could have done with just one.  They will look great with some little tea lights!
Here's a final picture!