Shelves in any room can be a place to add color and decor to an otherwise boring wall.  Shelves can  be functional and keep rooms organized and clean.  Laundry rooms attract clutter like lint on the dryer vent.  My laundry room connects to our outside door.  It is also very small, so it is always messy.  
Restoration Hardware shelves are ridiculously easy to make and completely transformed my old laundry room.  If your laundry room needs more color, or more shelves space to be organized make these!  They have changed my life- seriously.
Supplies can be found at the local hardware store.  Did I mention these Restoration Hardware knock offs are a faction of the cost?  These are regularly $350. DIY Restoration shelves will cost about $50.  Oh how I love saving money on DIY projects.  
Supplies:
2x8x4 pine board (you can get one cut to this length)
2x8x10 pine board (which you will cut in half, so you have 2 five foot pieces)
3 oz of wood stain- I used Wood Finish wood stain: Jacobean
Industrial Hardware pieces:
2 8 " long pie with caps
2 16" long pipes with caps ( my store only had 12" so I added a coupler and a 4" pipe)
4 wall attachment pieces
Spray paint for metal (optional)
Once your wood is cut to the correct length of 5 feet and 4 feet, sand them down with a hand sander.  If you don't have an electric sander consider purchasing one.  They are very reasonable and will be used in 90% of the DIY projects out there.  Did I mention it will save you hours of work?  This Electric Palm Sander is what I use.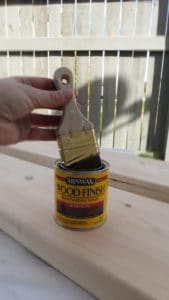 Then apply the wood stain according to directions. When you first brush the stain on, it will look very dark. Don't freak out, it will be lighter once removed.  Let the stain soak into the wood 5-10 minutes then wipe clean.  That is it!  Instant beautiful dark wood!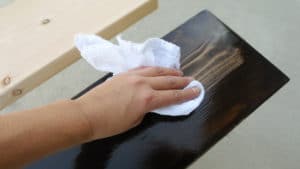 For the hardware, use your trusty Goo Gone to remove all labels and their sticky residue for a smooth pipe.  Assemble the pipes with their caps and wall attachments by simple threading them together by hand.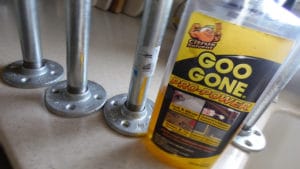 The caps I bought were a darker color and I prefer a darker metal look then the aluminum, so I spray painted my pipes (completely optional).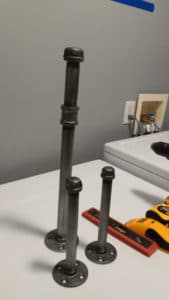 Use tape to lay out where you'd like the shelves to go, making sure they are level.  Use a stud finder to find the studs where the hardware will be attached.  These shelves MUST be installed in the studs.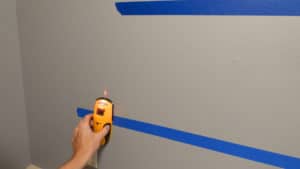 Drill 2 screws into the attachments making sure your holes are vertical (holes should be in a diamond shape).  If you screw them in with the holes making a square shape they will be too wide to hit the stud.  There is no need for the screws on the sides, as they will just go into drywall.  My hardware was place about 8 inches inward from my shelf edges.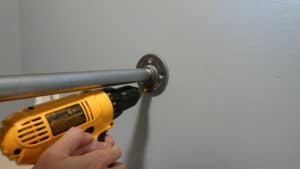 Lay your beautiful stained wood on top and – you are done!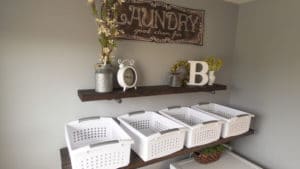 Add your decor, or our functional items to your hearts content.  This restoration hardware shelf has been the easiest DIY project I have EVER done, and I wish I had done it sooner.